12.03.08
home | metro silicon valley index | features | silicon valley | feature story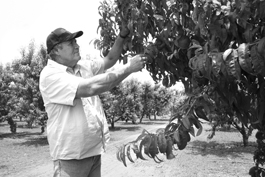 CROP ZONE: Owner Andy Mariani surveys the fruit that makes gifts from Andy's Orchard unique.
Food & Drink
Andy's Orchard is arguably the premier rare fruit grower in the county. Owner Andy Mariani grows hundreds of varieties of cherry, peach, plum, nectarine, apricot and other stone fruits on 28 acres just west of the Anderson Reservoir. The best time of year to visit is the summer. That's when his myriad varieties of rare stone fruit are ripe for the picking. But the second best time to make the trip down to Morgan Hill is right now. Andy's sells many of his fruits in dried form. The chocolate-dipped Blenheim apricots are great, but for me the specialty of the house is the sugarplums. Even though I've heard mention of sugarplums innumerable times in "The Night Before Christmas," I never stopped to think about them as an actual food product. But before the rise of mass-produced candy, the sugarplum was a coveted seasonal American sweet. Essentially a stuffed prune, Andy's sugarplums are made with dried apricots, walnuts, almonds, lemon juice and honey. Packed into ornate half-pound and 1-pound wooden gift boxes, the sugarplums are only available in November and December.
  Meat lovers could do all their Christmas shopping at Dittmer's Gourmet Meats and Wurst House. The Mountain View butcher shop and sausage maker is one of the few remaining specialty butcher shops in the Bay Area. Dittmer smokes his own bacon, cures his own ham and makes his own sausage. Sausage, both uncooked and cooked, is the specialty of the house. If you're going to be giving sausage, it's best to give the cooked variety. It keeps better in a gift box. (Keep it refrigerated right up until you hand it to the lucky recipient.) Check out the double-smoked paprika sausage. It's like snapping into a really, really good Slim Jim. Dittmer's thick and smoky bacon is another surefire gift.
If you have a tea drinker on your list you've got it made because tea drinkers are easy to buy for. Unlike coffee, the world of tea is vast and varied. All coffee tastes like coffee, but tea comes in a huge variety of flavors and varieties. There's always something new to try. Then there's all that great tea brewing paraphernalia. Some tea lovers would rather drink dirty toilet water than enter a shopping mall, but they must make an exception for Valley Fair and its two tea shops, Lupicia and Teavana. The Japanese-based tea shop and importer Lupicia features more than 200 black, white, green, oolong and special seasonal teas. The teas are displayed in clear-lidded canisters so you can sniff and examine before you buy. They'll also make you a sample cup of tea. Teavana, also in Valley Fair, has a wide range of teas and a great selection of teapots, cups, books and other various tea accoutrements.
Wine may be best of gift of all. Who wouldn't like a carefully selected bottle of wine? OK, people who don't drink probably wouldn't appreciate a bottle of alcohol, but everyone else is going to love you for thoughtfulness, especially if you shop at an independently owned wine merchant like Uncorked, Grapevine or Vintage Wine Merchants. These neighborhood wine sellers specialize in hand selected wines that you're not likely to find in the supermarket liquor aisle. Plus, they have the knowledgeable staff to help pick out the perfect bottle for the oenophiles on your list.
Why buy a box of See's candy when you can get something infinitely more interesting and delicious at Saratoga Chocolates? Saratoga Chocolates operates its tiny storefront business in downtown Saratoga. The family-run business makes more than 20 flavors of ganache-filled chocolates and caramels as well as solid bars and dipped dried fruits and nuts. Flavors include Valencia orange, dark chocolate, chai tea latte, hazelnut and vanilla caramel.
If you're like most people, you have a bottle of olive oil in your cupboard that's been around for months. The bottle probably spent months in transit and on the grocery store shelves, too. What all that means is that your bottle of EVOO is no damn good. It tastes nothing like what fresh pressed, well cared for olive oil is supposed to taste like. Olive oil is a seasonal food product and as such it must be handled with care. Go to Campbell's Olive Bar. They'll tell you—and let you taste—what you've been missing. The downtown Campbell store sells only 100 percent extra virgin olive oils. The olives used in their oils are crushed within four hours of picking and held in airtight containers during transit. The food lover on your list will appreciate the difference.
Shop Local
Andy's Orchard
615 Half Road, Morgan Hill. 408.782.7600.
Dittmer's Gourmet Meats and Wurst House
400 San Antonio Road, Mountain View. 650.941.3800.
Lupicia
2855 Stevens Creek Blvd. (Valley Fair mall), Santa Clara. 408.246.5800.
Teavana
2855 Stevens Creek Blvd. (Valley Fair mall), Santa Clara. 408.244.0455.
Uncorked
1389 Lincoln Ave., San Jose. 408.2937574.
Grapevine
14500 Big Basin Way, Saratoga. 408.741.9000.
Vintage Wine Merchants
377 Santana Row, San Jose. 408.260.1115.
Saratoga Chocolates
14572 Big Basin Way, Saratoga. 408.872.1431.
Olive Bar
 232 E. Campbell Ave., Campbell. 408.370.1901
Send a letter to the editor about this story.