12.03.08
home | metro silicon valley index | features | silicon valley | sports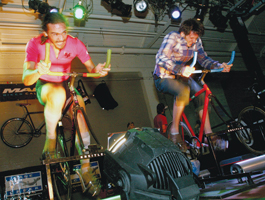 Photograph by Felipe Buitrago
SPINNING THEIR WHEELS: Maurice 'Captain Spandex' Monje from SJ Fixed raced Devon 'D-Mac' McDonald, a San Francisco resident who also rides with SJ Fixed, in the final of the Gold Sprint. Monje took first, reaching the 1,000 meter mark in 39.52 seconds. McDonald came in at 40.62 seconds.
Fixed Race
By Felipe Buitrago
TRAINERS ARE an essential part of cycling, whether it's to warm up or avoid riding the couch while watching television in the off-season. But what if you could actually race on the trainer? That's the thinking behind Gold Sprints, which are bike races held on static trainers. Using fixed gear bikes, the front wheel is removed and the fork is mounted on a stand while the rear rolls over two cylinders connected to a digital readout that calculates speed, distance and time. These races are usually held at bike expos, messenger races and swap meets, like the one held at the Cow Palace in Daly City last week, where San Jose's own SJ Fixed riders tore it up. SJ Fixed is short for San Jose Fixed Gear, a social bike club that rolls mainly on track bikes every Tuesday and Thursday from San Jose State University. The club has grown from the five who started it to almost 300 members in a year and a half. Not everyone from SJ Fixed made it to the Cow Palace, but those that did performed very well and three riders got to the finals. The race consists of pedaling for 500 meters' distance. The strategy: go all out. With sub-20-second sprints, the expression "ride till you puke" cannot be truer than in Gold Sprints. Especially if you reach the final where the distance is doubled. And if you happen to make it this far, pray that you don't tie like Karla Kingsley and Beth Newell. The two ladies from Oakland had to chug a beer, then pedal another 500 meters to decide the winner. Those blue buckets between the riders are there for a reason.
Send a letter to the editor about this story.