12.05.07
home | metro silicon valley index | features | silicon valley | sports news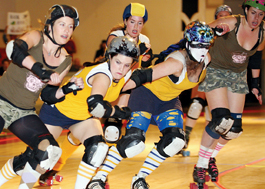 Photograph by Boss Hogg
WE BE JAMMIN': San Francisco ShEvil Dead Captain Miss Moxxxie (far left) makes a move to the outside, getting past the Wrecking Belles blockers in the October bout.
Wrecking Ball
By Felipe Buitrago
MAYBE Elton John was referring to Roller Derby when he sang, "The fever's gonna catch you when the bitch gets back," because when the Bay Area Derby Girls come back to town for one last apocalyptic championship smackdown, things are gonna heat up. On Saturday, Dec. 8, San Francisco's ShEvil Dead will go against the Richmond Wrecking Belles at the Civic Auditorium in San Jose. The Belles took out the Oakland Outlaws in November in the last bout of regular season 72–45. It won't be the first time the powerhouse team from Richmond have gone at it with the Dead—they took down the ShEvil ones in their opening meeting. In fact, the S.F. derby grrrls have been working on getting their groove after underperforming this entire season. Can they make one of the greatest comebacks in BADG history, or will the Wrecking Belles light the funeral pyre? For more information and tickets go to www.bayareaderbygirls.com.

BAY AREA DERBY GIRLS The BADGirls roller derby championship bout happens Saturday, Dec 8, 7:30pm. Tickets are $17/$20. 18 and over. San Jose Civic Auditorium, 135 W. San Carlos St., San Jose, www.bayareaderbygirls.com.
Send a letter to the editor about this story.