December 6-12, 2006
home | metro silicon valley index | features | silicon valley | sports news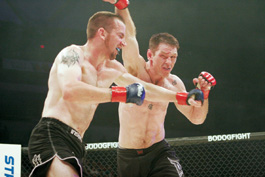 Holy upper cut, Batman! Jason 'Live Wire' Von Flue could've been one of the Joker's henchmen, but he decided to fight Eric Wray instead.
More Bang for Your Buck
By Felipe Buitrago
WHEN fighters with names like Duane "Bang" Ludwig and Jason "Live Wire" Von Flue go at it in a cage, you'd think the bad guys from the Batman TV Series had gone beyond Thunderdome. This recipe of one part "ka-pow" and one part Master Blaster makes for a piping-hot Mixed Martial Arts Strikeforce event, the Triple Threat, at the HP Pavilion on Friday, Dec. 8, 10 bouts with three title bouts in three classes. Bobby Southworth, from the Ultimate Fighter TV show's first season, will be in the cage against Vernon "Tiger" White in Strikeforce's first light heavyweight championship bout. But let's not forget about San Jose Sabercats own lineman and undefeated superheavyweight contender Rex Richards, who will be making his Strikeforce debut in the Triple Threat event. At 6 feet 5 inches and 300 pounds, not to mention his brown belt in Brazilian Jiu-Jitsu, he will face off against Kyle Leviton—6 feet 8 inches and 290 pounds, proficient not only in Brazilian jiu-jitsu but kickboxing as well. After landing as a free agent on the Sabercats AFL team, Richards made a fearsome debut in mixed martial arts by taking down his opponent Ashley Rivers in one minute and 24 seconds. Also on the card is Cung Le. This San Shou kickboxing champion will be facing Jason "Live Wire" Von Flue, one of the contestants in Ultimate Fighter's season 2 and quite a match for Le. Appetizing preliminary bouts start at 6pm and the undercard action is served at 7:30pm. Dessert is only for those who finish their dinner. For tickets, go to www.ticketmaster.com.
Triple Threat, presented by Strikeforce, happens Friday, Dec. 8, at 7:30pm (preliminary bouts at 6pm) at the HP Pavilion, 525 Santa Clara St., San Jose (831.287.9200; www.ticketmaster.com)
Send a letter to the editor about this story.