12.12.07
home | metro silicon valley index | features | silicon valley | sports news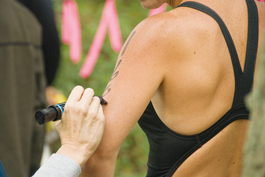 THIS ISN'T MIAMI INK: This is how you keep your race number in the water, on your bike and while you run.
Training Daze
By Felipe Buitrago
AFTER packing in a turkey on Thanksgiving and then scarfing down another mother lode of food during the December holidays and washing it all down with eggnog, you start wondering what is going to happen with all that excess insulation you've built up. Especially when summer is right around the corner. Fear not that moment where you dare to bare your swimwear. Running, biking and swimming are great ways to stay in shape. But you need more, you say? A triathlon may be the answer, but you better start training now. On May 8, the UVAS South Bay Triathlon will be firing the starting gun not only for the back-to-back three-quarter-mile swim, the 16-mile bike ride and the 5-mile run but also for the series of five events (four of them triathlons) that are scheduled throughout the summer of 2008. These races are notorious for requiring athletes to be in peak shape since all three disciplines are cardiovascular exercises. The most notable of this type of event is the San Jose International Triathlon that will be held on June 8. This particular race draws participants from all over the world and the 1,500 spots for competitors sell out long before the day of the race. The arduous competition covers a total of 51.25 kilometers—that's almost 32 miles. The distance is divided into a 1-kilometer and a one-quarter-kilometer swim, 40 kilometers by bicycle and a 10-kilometer run. So while you're fueling up this holiday season remember: bragging about the belly ain't the same as bragging about a triathlon.
The UVAS SOUTH BAY TRIATHLON happens next year on May 8, and the SAN JOSE INTERNATIONAL TRIATHLON happens June 8. For more information go to japroductions.athleteslounge.com.
Send a letter to the editor about this story.