12.17.08
home | metro silicon valley index | features | silicon valley | sports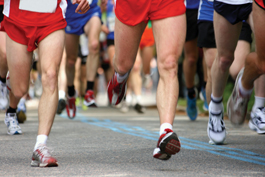 THE FIRST STEP:
Whether it's your first run on the way to fitness or you're staying on track, you certainly won't be alone on the Resolution Run; there will be well over 300 runners with the same goal.
Running Resolute
By Felipe Buitrago
A NEW YEAR'S resolution to get in shape can end up like that famous quip about the weather—everybody talks about it, but nobody does anything about it. This year, however, can be different with the Los Gatos Resolution Run on New Year's Day. The five-mile run takes participants from the Los Gatos High School track out to Lexington Dam and back, and is the perfect way to start a year of personal fitness success. Staying accountable to one's self in such matters isn't always easy, but this event allows for a support group of sorts, being family friendly—it even includes a kids race for those runners under the age of 13. Runners who sign up right away can shave some extra bucks off the registration fee while they shave off the pounds.
THE 14TH ANNUAL LOS GATOS RESOLUTION RUN NEW YEAR'S DAY 2009 happens Thursday, Jan. 1, at Los Gatos High School Track, 22 High School Court, Los Gatos. Start time 9am all divisions: kids races will follow. To register, contact Athletic Performance at 408.354.7365. For more information go to www.theathleticperformance.com.
Send a letter to the editor about this story.