12.19.07
home | metro silicon valley index | features | silicon valley | sports news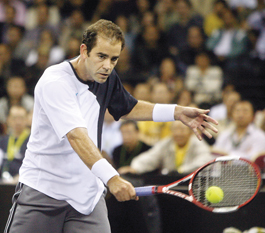 Photograph by Ted Aljibe/AFP/Getty Images
NUMERO UNO: For six years (1993–98) Pete Sampras took on present World Ranked No. 1 Roger Federer, and won in straight sets in the last game of the exhibition tour in Macau, China.
Sampras Comes to HP
By Felipe Buitrago
JUST HOW good can retirement be for a professional athlete? Michael Jordan was pretty antsy and had to get back on the court more than once. And I'm guessing former tennis pro Pete Sampras likes the down time, but it looks like he has an itch he has to scratch. Although not officially out of retirement, Sampras has now taken on the role of playing exhibition matches around the world. This son of Greek immigrants and record holder of 14 Grand Slam Titles will be playing an exhibition match in the up and coming SAP Tennis Open at HP Pavilion in San Jose. Sampras, a.k.a. Pistol Pete for his impressive serve and volley skills, will be joined by not just by one or two of the best tennis players in country but the entire 2007 U.S. Davis Cup Championship team, which includes players like Andy Roddick and James Blake, ranked sixth and 13th respectively. This will sure to be a promising and exciting edition of the SAP Tournament's 119-year history. This is also an "international" tournament, meaning No. 7–ranked in the world Chilean Fernando Gonzalez and No. 12–ranked in the world German Tommy Haas will also be on the list of pros. Tickets for the event are on sale now so don't hold your breath for a second chance at a second chance.

THE SAP TENNIS OPEN happens Feb. 18–24 next year at HP Pavilion, 525 W. Santa Clara St., San Jose. Individual tickets go on sale Jan. 11 at HP Pavilion and TicketMaster.com or call 408.998.8497. More information is available at www.sapopentennis.com; 408.ACE.2121.
Send a letter to the editor about this story.