12.24.08
home | metro silicon valley index | features | silicon valley | feature story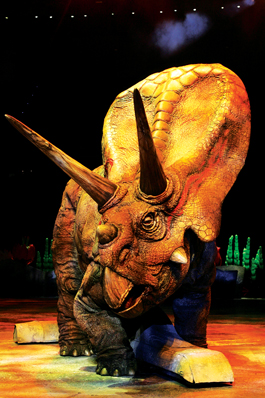 TRI THIS: A triceratops prowls the stage during 'Walking With Dinosaurs: The Arena Spectacular.'
Walking the Dinosaurs
By Steve Palopoli
MAYBE YOU KNOW the story: Seeking to engineer the ultimate in entertainment thrills, a small group of humans use modern technology to re-create dinosaurs exactly as they lived millions of years ago. Only when the dinosaurs are set loose do they realize the terrifying power of what they've created.
Nope, this time it's not Jurassic Park. This time it's real. Cameron Wenn, resident director of "Walking With Dinosaurs: The Arena Spectacular," remembers the first time he and his collaborators laid their eyes on the life-size animatronic dinosaurs built for the show.
"We were all quite freaked out, actually," says Wenn.
And why not? Even though Wenn was involved in the early stages of plotting the $20 million spectacle, which has a pre–New Year's run at HP Pavilion from Friday though Dec. 30, he couldn't have known it would eventually take 50 people an entire year to create the 15 dinosaurs that have been roaming arenas across the country since last summer. The dinosaurs have been re-created by the show's team of engineers, robotics experts, skin makers and painters in painstaking detail, including a Brachiosaurus that is 36 feet high and 56 feet from tip to tail.
The arena show is based on the 1999 BBC documentary series Walking With Dinosaurs, which essentially changed the way dino nuts around the world were able to visualize the 200 million years of dinosaur history. Narrated by Kenneth Branagh (although Star Trek alum Avery Brooks was substituted when the Discovery Channel broadcast it here in the United States), the series put computer-animated dinosaurs into real-life landscapes, as if viewers were watching a modern-day nature documentary about living creatures.
The show tried to convey a sense of what day-to-day life was like for a number of species, including the harsh realities of their natural world, their life cycles and family life, and even their relationship problems. And of course there was plenty of dino-on-dino battle action. Some dinosaurs were better animated than others, but the mix of real footage and CGI was often startlingly realistic. The series won a dozen major awards, including three Emmys for visual effects, sound and outstanding achievement.
It was entrepreneur Bruce Mactaggart who originally had the idea to take the series' "dinosaurs live" idea and make it truly live. Wenn was brought on early in the script process in 2006, and he admits that beyond the acknowledgement they would need arena-size venues to operate in, they were working without a net.
"I don't think anybody's ever attempted anything like this before," he says.
One might wonder what impressive paleontology credentials Wenn had to inspire faith in his ability to craft the show. A director and writer as well as performer, Wenn had been nominated for a Best Director Green Room Award in 2005. Among his many directing credits was the New Zealand tour of The Hobbit, so he had some experience with the fantastical. But dinosaurs?
"I didn't know that much," he admits. "I'd seen Jurassic Park."
How much he had to learn can be summed up in three words: "a lot more."
Wenn and his collaborators started with the question of what they—and the audience—would like to see the dinosaurs do. The challenges of staging certain creatures or scenarios live were huge, and it wasn't always easy to decide what was possible and what wasn't.
"You have to let yourself be creative," says Wenn. "Then you have to let yourself be realistic."
Tim Haines, who created the Walking With Dinosaurs series for the BBC, served as a consultant and made sure, as Wenn says, "that we weren't telling any fibs."
That didn't turn out to be a problem, as the show's producers and writers found there was plenty of material in the facts. They picked several species from different eras featured in the show to spotlight, including Plateosaurus, Stegosaurus, Allosaurus, Torosaurus—and of course, everybody's favorite, Tyrannosaurus Rex. Their plan for the giant animatronic creatures was ambitious—besides the sheer scale, they wanted fluid, realistic motion that would take as many as three operators per dinosaur to provide. When he saw the final result in action, Wenn was amazed.
"I think we exceeded our expectations in the realism of the dinosaurs," he says.
They wrote into the story not just the history of dinosaur evolution, but the climate and landscape changes that took place as well. As in the BBC show, they found the dramatic tension in what these creatures had to do to survive.
With all of this preparation, when did they know for sure that it was going to work?
"Opening night," says Wenn. "Until it actually went in front of an audience, I don't think any of us knew."
But work it has, not only garnering awards for technical and educational excellence, but selling some $90 million in tickets worldwide so far. Audiences have responded to the epic creatures, of course, but Wenn thinks it's something else, as well.
"I think they also respond to the fact that the dinosaurs are not that different from us," he says. "They're just trying to survive. We debunk the idea that they were just big monsters."
WALKING WITH DINOSAURS runs Dec. 26–30 at HP Pavilion. Tickets are available by calling 408.998.TIXS or at the HP Pavilion box office.
Send a letter to the editor about this story.