12.24.08
home | metro silicon valley index | features | silicon valley | sports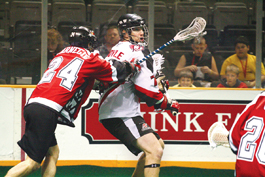 SECRET'S OUT:
Forward Colin Doyle (right) will be back as part of the Stealth attack in 2009.
Radar Contact
By Felipe Buitrago
ARENA FOOTBALL has canceled its 2009 season. So where is the cure for the post–NFL season withdrawals? The answer lies with the San Jose Stealth. Not the same sport, it's true, but no one can deny the raw power of indoor lacrosse, especially now that the Stealth are back with a new arsenal of players and coaches. Jeff Dowling takes the helm and Rhys Duch and Alex Turner are the draft picks. Veteran guns Colin Doyle and Jeff Zwycki are also locked and stocked and ready to go off, as of presstime, against the Colorado Mammoth in their first preseason game Dec. 20. The Chicago Shamrox were set to play the Stealth as the season opener, but due to economic woes the Shamrox suspended their 2009 season. The Stealth will now play the first game at home against the Calgary Roughnecks on Jan. 9. The regular season will cap off April 18 when the Stealth play the Toronto Rock. The eighth and last home game will be April 10 against the Edmonton Rush. So don't sulk because you can't wear the green and gold and check out the Saber Kittens. Go red and black and catch the Spy Girls' show instead.
For more information and tickets go to www.sjstealth.com.
Send a letter to the editor about this story.