12.31.08
home | metro silicon valley index | features | silicon valley | sports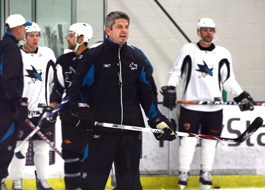 CARRY A BIG STICK:
New head coach Todd McLellan (left) is whipping the Sharks into shape and has them leading the entire NHL going into 2009.
Year of the Shark
By Felipe Buitrago
A FEW LOCAL sports highs and lows from this year, beginning with the best team not only in Silicon Valley but in all of the Bay Area right now. The Sharks may have plummeted into the deep end last season against the Dallas Stars in a quadruple OT, but this year, under new coach Todd McLellan, they have resurfaced in a huge way to leave the rest of the league in their wake. Their 5-0 shutout of the Vancouver Canucks is only the latest example of how they skate supreme this season.  
One thing Frank Shamrock's fans would rather not remember was his defeat against Cung Le. A combo of massive roundhouse kicks and spinning back punches to the face quickly put an end to his reign. These two San Jose legends went at it in a five-round fight, and  even though Shamrock managed to sneak a few hits, it was clear he was no match for Le's fancy footwork. He couldn't answer the bell for round 4, making Le the new middleweight champ.    
 Tennis superstar Andy Roddick reclaimed his crown at a 2008 SAP tournament that also featured an exhibition match with Pistol Pete Sampras. Sampras will return next year playing another exhibition match against James Blake.     
 This year also saw the return of the San Jose Earthquakes, who have proudly made their home at Buck Shaw stadium in Santa Clara. Sadly, the return glory didn't extend to the team's performance, and the Earthquakes landed in last place in the Western Division.   
   Levi Leipheimer once again took the gold jersey in the 2008 Amgen Tour of California. For 2009, the tour comes in a new and improved format that will take cyclists from Sacramento to Escondido for more than 800 miles of racing. The San Jose leg of the race will now be the starting point of the third stage that finishes in Modesto.    
  Who knows what 2009 will bring, but here's our sports wish list: 1) a Sharks championship; 2) a Sharks championship; and 3) a Sharks championship.
Send a letter to the editor about this story.