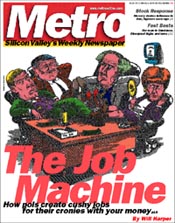 For the Week of
January 29-February 4, 1998
Cover: Connection City
Welcome to the job machine, where elected officials and their staffs find dream jobs after their terms are up, often created by friends in high places and funded by public dollars.
News: Balking on the Sun
The Mercury News denies that its strong editorial stance in favor of the Sun Microsystems takeover of the Agnews property was influenced by the huge stock holdings of a Knight-Ridder board member.
Public Eye: The board of supervisors gets religion.
Liquid Gold: Will the globalization of the Sonoma wine industry cost the county its soul?



From Stars to Slackers: Cinequest runs the gamut of filmmakers at annual festival in San Jose. Plus, an interview with My America director Renee Tajima-Peña.
Braving the Elements: Sundance was an endurance test--but worth it.
Wagers of Sin: Throwing the dice in Oscar and Lucinda.
A Bag of Loot: Beat the Devil makes fun of imperialism.



The Jam: Yield proves that Pearl Jam doesn't need smoke and mirrors to rock.
Purple Passion: The Artist tests the new arena in Oakland.
Unanimous Decision: The members of Oasis live the life of rock stars; what the hell are you doing?
Carnival of Flesh: The avant-garde goes cabaret in the spectacle of Idiot Flesh.
Hymn and Hers: Hillhouse and Gandolfi deliver Ives, Cowell and Harrison songs.
Taking Off: Local blues guitarist Chris Cain arrives on an Unscheduled Flight.
Beat Street: X-Ecutioners bring turntables to the masses.



Window Seats: Peering in at Wolfgang Puck's new outpost of postmodern cuisine.



Please don't forget to write! Metro welcomes letters. Like any great work of art, they should be originals -- not copies of letters sent elsewhere. Include address and daytime phone (for verification purposes only). Letters may be edited for length and clarity or to correct factual inaccuracies known to us. Postal: Metro Letters, 550 S. First. St., San Jose, CA 95111. Fax: 408/298-0602. . Emailers, please include name, city of residence and phone number. Letters printed will list email address unless otherwise specified. Letters to the editor are not currently published in the online version of this paper.