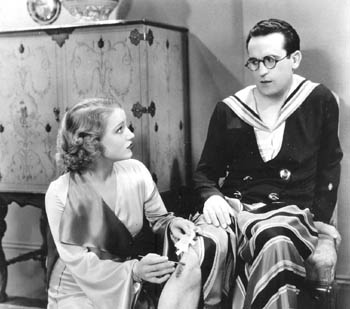 Wary Boy Meets Girls: Harold Lloyd (seen here in 'Movie Crazy') was a go-getter but always a tad nervous around women.




Cinequest 2005
Cinequest's 15th anniversary
Capsule reviews (part 1)
Capsule reviews (part 2)
Capsule reviews (part 3)
Ben Kingsley
Harold Lloyd
Suzanne Lloyd Q&A
'Charlie the Ox'
'Missionary Positions'
Festival schedule
Preview (from February 2)


Go-Getter
Harold Lloyd was the silent comedian who couldn't get any respect
By Richard von Busack
ON THE SUBJECT breakneck silent comedies, Buster Keaton put it best: "We will now go back to our type of pictures. Now, when I say our type, you've got three people making them at the time: Chaplin, Harold Lloyd and myself."
When critic James Agee wrote about silent comedy in 1949—raving about Lloyd's range of character—he fretted over how "if great comedy must involve something more than laughter, Lloyd was not a great comedian." Ever since then, Lloyd has been the one of the great three of silent comedy who got the least respect.
Lloyd's postretirement life may have something to do with it. He was a wealthy Shriner. The grandeur of his Beverly Hills estate failed to give his early laughter-making a tragic afterglow. That Lloyd died rich may be the reason that Orson Welles noted, "Intellectuals don't like Lloyd." And as film historian Kevin Brownlow observed of Lloyd, young people are suspicious (rightfully so) of go-getter types.
This Friday, Lloyd's granddaughter Suzanne Lloyd comes to the California Theatre with a pair of the comic mastermind's films—the famed Safety Last! (1923) and the lesser-known talkie Movie Crazy (1932).
That Lloyd was the clear model for Peter Parker—complete with the glasses—and his alter ego Spider-Man is obvious from Safety Last!. The Boy (Harold Lloyd) leaves Great Bend and heads to the city. He sends back letters boasting of his accomplishments at a department store, but actually, he's a yardage clerk, and his efforts to hide this humble position get him into trouble.
Having built this tower of lies, he ends up obliged to climb it. The punch line is the iconic image of Lloyd dangling from the clock tower—a scene later quoted everywhere from On Her Majesty's Secret Service to Jackie Chan's Project A Part 2. The power of clocks to injure suffering mankind must be the reason why this image of Lloyd dangling from the minute hand has carried such a wallop.
Lloyd has more range than they gave him credit for. As Lloyd said at American Film Institute screening in 1969: "Chaplin played the Little Tramp, Keaton was the Stone Face, Laurel and Hardy were practically always the same. But in the pictures I did, I can be an introvert, a little weakling, and in another I could be an extrovert, the sophisticate, the hypochondriac." Agee celebrated Lloyd's "Thesaurus of smiles": "At a moment's notice he could blend prissiness, breeziness and asininity and still remain tremendously likable."
If you're in the mood for more Lloyd after this feature, find the paroxysmal Girl Shy, where the comic's range shows best. He's a tremendous cluck who writes a love manual about how to be a manly-man with women, demonstrating his method in fantasy sequences. The final phenomenal chase scene could be swapped without remorse for all of Safety Last!.
Funny how, years after Girl Shy, time revealed a libidinous streak in Lloyd. Last year, Suzanne Lloyd published the secret stash of 3-D cheesecake photos the great comedy star took in the 1950s; his models included Tura Santana and Bettie Page. Rounded 3-D glasses are available with every copy.
---
Cinequest and The Stanford Theatre Foundation host Harold Lloyd films March 4, 7:30pm, at the California Theatre, 345 S. First St., San Jose. Tickets are $10.
---
---
Send a letter to the editor about this story to letters@metronews.com.
---
[ Silicon Valley | Metroactive Home | Archives ]