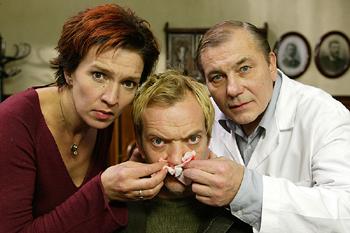 Nose-Bleed Seats: Cinequest draws to a finish with a closing-night screening of the superior Norwegian comedy 'My Jealous Barber.'




Cinequest 2005
Cinequest's 15th anniversary
Capsule reviews (part 1)
Capsule reviews (part 2)
Capsule reviews (part 3)
Ben Kingsley
Harold Lloyd
Suzanne Lloyd Q&A
'Charlie the Ox'
'Missionary Positions'
Festival schedule
Preview (from February 2)


Reel Deals
Cinequest closes with a long weekend of foreign and indie features
By Richard von Busack
WHERE IS Okkopazija misterii? Such was the question faced at Cinequest when the print of the Russian import Mysterium Occupation turned up missing shortly before its March 4 screening. Fortunately, the wandering print was located in the basement of the Fairmont Hotel before its second screening. It was rushed to the screen, where it was appreciated by all. All, that is, who could speak Russian; the print had no subtitles. The flow of dozens of movies to the screen continues for a few more days; here is the last roundup.
* = Recommended
Going Under
Eric Werthman directed this sensitive, serious, nay, downright dull, story of a wistful bottom (Roger Rees) in search of professional mistreatment by a mistress named Suzanne (the intimidating Geno Lechner). Explicit as it can be, it's not meant to be exploitative, and it explores dungeons most people would have to pay serious money to enter. Just one time, though, I'd love to see this movie done where it was clear that the doms and submissives honestly like to be that way, and aren't bearing some secret yearning for rehabilitation. (Mar 11, 9:15pm; Mar 12, 9:15pm; March 13, noon; all at Camera 12.)
Elephant Shoes
A film every bit as elegant as its title, Christos Sourligas' Montreal-set talkathon concerns a young couple who hook up fast and think about it at leisure as a train she's fated to catch looms up a scant 12 hours away. She (Stacie Morgain Lewis) is a photographer; he (Greg Shamie) is a painter, who paints portraits with his pigment-daubed cock—guess which of the two is more rational and which one is more dedicated to romantic ideals. As Mel Brooks once said, this is the kind of premise that needs to be tried again and again, before it's finally abandoned all together. (Mar 10, 9:15pm, Camera 12; Mar 12, 9:30pm, University Theater, SJSU; Mar 13, 10:30am, Camera 12.)
* Home
(U.S.; 95 min.) Whenever you throw a party, it hits someone. Bobby (Jason Liebrecht) turns up at a Brooklyn brownstone on a hot summer evening wearing a black suit that makes everyone feel like he's trying to put on airs. Bobby wasn't quite invited, and almost immediately he gets insulted by the plump, irked hostess Rose (Erin Stacey Visslailli) and ragged on by the gathering's self-styled alpha male, Tommy. As played by Stephen T. Neave, Tommy's a Long Island braggart on the lines of a young Al Pacino, in a blue jogging suit, distastefully sporting a little nose-ring that looks like a silverplated blackhead. The odd part in writer/director and New York Press critic Matt Zoller Seitz's debut is that no one ends up quite like they seem. As the night wears on, all display gentle, vulnerable sides. Most of the crew is either longing for a better place in the City or—as the title implies—a space away from their endless personal and career rivalries. As a first-time director, Seitz has the problem of a man working with a crowd. At times, the background tends to fade out the foreground. The figures aren't as differentiated as they could be at first; as the party gets more packed, it's an effort to tell who from whom. Still one likes the scene of Bobby fetching the little sandals of the girl (Nicol Zanzarella) that he's sweet on, as well as the telling anecdote about the subway rat with a mouse in his jaws. (Plays Mar 10, 7pm; Mar 12 at noon; both at Camera 12.)
My Jealous Barber
Cinequest, which started off on the wrong foot with Manual for Love Stories, closes with this far more amusing Norwegian import. Bent (Bjørn Sundquist, who has the globe-fish stare of Bud Cort) is a morgue attendant in a none-too-lively Norse town. After the demise of his dad, a Strindbergian tyrant, Bent is the last living customer of the persistent town barber, Frank (Gard Eidsvold). Bent starts to court a newly arrived girl and even gets his hair bleached at a hair stylist. Watching Bent succumb to flashiness, Frank begins to seethe with jealousy—seething as only a Norseman can seethe, by keeping his face at such a pitch of immobility that other Scandinavians can see the danger signs. The very promising director Annette Sjursen's comedy is funny in the way Kafka is funny. (At the funeral, Frank gruffly consoles Bent for his loss: "A father should die before his son.") (Mar 13, 6:30pm, California Theatre.)
---
Cinequest runs through March 13 in downtown San Jose. See www.cinequest.org for schedule details.
---
---
Send a letter to the editor about this story to letters@metronews.com.
---
[ Silicon Valley | Metroactive Home | Archives ]