Metro's 20th Anniversary
20 Years of News: Thanks, Silicon Valley, for being news to us.
Sub-Urban: For 20 years, San Jose's downtown has grown in everything but stature. What's it going to take to get a little respect?
Lost Roots: In the last 20 years, Silicon Valley has finally realized that it needs to preserve its agricultural heritage—in museums. Meanwhile, land that could be saved is being marked for development.
Tech Will Eat Itself: Boom! Bust! Boom? Drink this Kool-Aid to remember the wacky and possibly circular history of Silicon Valley high tech in the last 20 years.
Blinded by Science: Silicon Valley has a reputation as the home of the cutting-edge scientific innovatiors. But what have they done for us lately?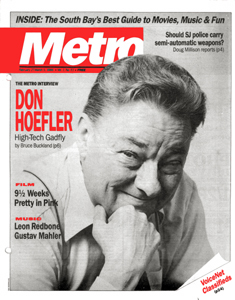 Mr. Silicon Valley: This issue from 1986 contained the last interview with Don Hoefler, who was best known for coining the phrase 'Silicon Valley,' but was equally important as a critical voice in a time of explosive growth.
For 20 Years, You've Been News to Us
You could say that Metro's news coverage goes back as far as Silicon Valley itself—at least the name. In among our earliest issues was a cover story on Don Hoefler, which contained the last known interview with the man who coined the very term "Silicon Valley." Let's just say that Don didn't mean it as a compliment.
Damn, we miss that guy. The last maverick standing in an era of shiny hair helmets, he knew how to tell it like it was. We won't say he was our hero, 'cause like the Stranger said, what's a hero? But we did start our own tradition of talking about uncomfortable truths in San Jose, taking on stories like:
the first look at Silicon Valley's investment in South Africa. Considering that apartheid was the scourge of the mid-'80s, and even cheesy pop stars had pledged not to play Sun City, you can imagine how this kind of exposé went over with companies trying to keep their image squeaky clean;
a barely legal look at ecstasy just before it was banned by the U.S. government. Not only did the story question why the drug was being targeted and anticipate the rave craze, it spawned legends of legal ecstasy being brought back to the newsroom in large amounts so that the whole staff could do further research;
an investigation on domestic spying by the FBI. A San Jose congressman called for an investigation into the agency's activities when it turned out FBI agents across the country were spying—and had even committed break-ins—on peace groups like Physicians for Social Responsibility that were challenging U.S. nuclear policy;
the bizarre killing of 17-year-old Melvin Truss Jr. by an undercover police officer. The official report claimed Truss had solicited the officer for sex and then threatened him with a 4-inch steak knife, but a key witness said the officer was not in danger. Truss' mom, who identified her son's body, said he had had been visibly beaten either before or after the shooting;
a "burst bubble" in the Silicon Valley high-tech economy—10 years before most people had even heard of the Internet, let alone the New Economy. The story documented how massive layoffs were wrecking San Jose's semiconductor industry, and anticipated how record profits could quickly spin into epic losses when the online boom busted.
In the two decades since, Metro staffers have won numerous awards for investigative reporting, as well as for general news stories, business reporting, environmental reporting, stories championing freedom of information, news photos, editorial cartoons and more.
But it hasn't been all big stories, splashy covers and awards banquets. Metro's news coverage has never been afraid to get up to its elbows in gunk, which explains how we managed to keep tabs on the San Jose political landscape in our pioneering Public Eye column. We're talking the column that broke the story statewide of Jerry Brown's political comeback in 1988, when we learned he was planning to run for chair of the state Democratic Party. (Hey, give us a break—we didn't cause Jerry Brown's political comeback.) After getting burned by Public Eye time and again, the Mercury News finally launched a PE clone in 1988—"The Insider," which was later resuscitated as "Internal Affairs." But we kept looking ahead—our coverage continued to evolve, but political gossip has always had a special place in our pages (and our hearts). You can still get the scoop every week in The Fly.
Looking back on 20 years of news, we realize the valley we grew up reporting on has grown up right along with us. So we thought we'd take a look at exactly how some of our favorite news haunts—from downtown to the tech industry and the rest of the business sector to the ag lands that spawned San Jose's economy in the first place—have changed in the last 20 years. And in honor of Mr. Silicon Valley, Don Hoefler, we've also taken a look at what area visionaries have been up to in the last 20 years. And we just want to say thanks, Silicon Valley, for being news to us.
Timeline
1986: San Jose's Convention Center is built. Cisco ships its first router. San Jose overtakes San Francisco in population.
1987: The Fairmont Hotel opens in downtown San Jose. Trolleys begin their routes in San Jose.
1988: San Jose International Airport opens new terminal.
1989: The San Jose Convention Center, later renamed the San Jose McEnery Convention Center, opens.
1990: The Children's Discovery Museum opens in downtown San Jose. The Tech Museum of Innovation opens in temporary quarters downtown.
1991: Sharks play first season.
1992: Voters defeat measure to build Giants baseball stadium.
1993: The San Jose Arena opens.
1994: David Filo and Jerry Yang name their web guide 'Yahoo!'
1995: Netscape's IPO. eBay is founded in San Jose.
1996: Yahoo!'s IPO. San Jose voters approve City Hall relocation.
1997: Steve Jobs returns to Apple.
1998: City PR flaks declare San Jose the 'Capital of Silicon Valley.' The iMac debuts. Google is launched.
1999: Napster is created. Ron Gonzales becomes San Jose's first Mexican-American mayor since California statehood.
2000: Y2K is a non-event, but sells a lot of computers. NASDAQ index peaks at 5048. The Mexican Heritage Plaza opens in east San Jose.
2001: Courts close Napster. iPod is released. Airport named for Norm Mineta. Legendary San Jose country & western bar Saddle Rack closes.
2002: City Hall groundbreaking.
2003: Santana Row opens in San Jose.
2004: Google's IPO.
---
Send a letter to the editor about this story to letters@metronews.com.
---
[ Silicon Valley | Metroactive Home | Archives ]