Metro's 20th Anniversary
20 Years of News: Thanks, Silicon Valley, for being news to us.
Sub-Urban: For 20 years, San Jose's downtown has grown in everything but stature. What's it going to take to get a little respect?
Lost Roots: In the last 20 years, Silicon Valley has finally realized that it needs to preserve its agricultural heritage—in museums. Meanwhile, land that could be saved is being marked for development.
Tech Will Eat Itself: Boom! Bust! Boom? Drink this Kool-Aid to remember the wacky and possibly circular history of Silicon Valley high tech in the last 20 years.
Blinded by Science: Silicon Valley has a reputation as the home of the cutting-edge scientific innovatiors. But what have they done for us lately?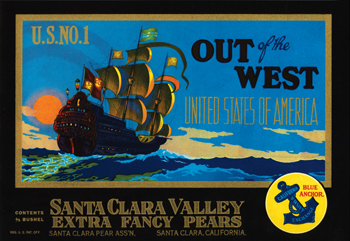 Put 'Em in a Tree Museum: Efforts are being made to preserve the memory of Santa Clara Valley's once-proud agricultural industry. But local conservation groups say the ultimate irony is that nothing is being done to save the ag land that still exists.
Lost Roots
In the last 20 years, Silicon Valley has finally realized that it needs to preserve its agricultural heritage—in museums. Meanwhile, land that could be saved is being marked for development.
By Vrinda Normand
The first signs of spring have brushed the orchard with color. Bubble-gum-pink blossoms dot the cherry trees. Next to them, the apricot trees boast fat white blooms. A few naked walnut trees stand out from the bunch; they won't show their colors until early autumn, when they will sprout blossoms that look more like green worms.
If you squint your eyes in just the right direction, focusing only on the graceful lines of the fruit bearers and the clumpy soil beneath them, you might believe you have achieved a moment of rural respite. But that illusion is easily shattered: the downtown San Jose skyline looms a mile away, and raised highways snake over the Guadalupe River that borders this urban park. The telephone poles encroach even closer, supporting a web of electrical wires only a few feet from the wooden fence that encloses the orchard. And if all this weren't enough, the booming rush of airplanes skimming the sky above the park will certainly drown out any other thoughts.
These are the upsides and the downsides to the 3.3-acre "Historic Orchard," planted in 1994 in the Guadalupe River Park. Jean Gomes, the 72-year-old caretaker, comes from a family that, until 1960, owned 100 acres of farmland on Hamilton Avenue in Campbell. This orchard, she says, "is supposed to replicate what the valley used to be like, from a time that I remember." And what she remembers is a time when Blossom Hill road used to be "nothing but blossoms."
Before the Santa Clara Valley became Silicon Valley, it was known to the world as the "Valley of Heart's Delight," with over 100,000 acres of fruit-bearing trees in the 1920s and '30s, the peak of the agricultural boom. After World War II, however, most of northern Santa Clara County opened its doors to development. In an effort to become the next Los Angeles, San Jose laid cement over fertile soil. By the mid-1970s, the orchard era had faded away.
A decade later, nostalgia set in. In the past 20 years, efforts to preserve some of the valley's rich agricultural history have resulted only in tiny pockets of land packaged as museums. While appreciated by some, the 250 fruit trees in the Historic Orchard are a gesture hardly worthy of their legacy. Trapped in an urban cage, their presence is noted most often by low-flying planes, which consider them a hindrance in their flight path to nearby San Jose International Airport. Gomes says the planes would rather risk an emergency landing in flower beds.
Picking Through The Pieces of Paradise
Roughly 20,000 acres of farmland remain in Santa Clara County. According to Agricultural Commissioner Greg Van Wassenhove, 80 percent of this is located in the southern part of the county (Coyote Valley, Morgan Hill and Gilroy). The small remnants in the north include vineyards in Saratoga, nurseries in Sunnyvale, orchards in the Almaden Valley and Chinese vegetables in San Jose near Highway 237. Van Wassenhove has been with the Division of Agriculture for 22 years, and in that time he has seen most of the surviving farm regions in northeast San Jose disappear.
So maybe it's fair to say that agriculture is out and silicon chips are in. As the value of land skyrocketed in the Bay Area, many farmers gave in to developers and submitted to the industry's decline. "We can lament the loss of it, but I think in a lot of ways, its time has passed," says Dhez Woodworth, an officer with the San Jose Office of Economic Development.
Has it? The Committee for Green Foothills, a local environmental advocacy group, has been hearing that line for 30 years.
"Rumors that agriculture is dead have been greatly exaggerated by people who want to make a killing off it," says CGF advocate Brain Schmidt.
Since 1981, his organization has been fending off developers in Coyote Valley, the 7,000-acre agricultural region between San Jose and Morgan Hill. Currently, the city of San Jose wants to convert the northern half of the valley into office space and residential homes. CGF questions the need for greater urban sprawl when so much commercial space in downtown San Jose remains vacant.
Developers are also targeting the rural Almaden Valley. In January, CGF filed a lawsuit against the city of San Jose for spearheading a sports complex project with a private group after conducting an allegedly inadequate Environmental Impact Report. The recreational space would cover 35 acres of agricultural land, possibly presenting water-shortage and traffic-congestion problems.
A similar struggle is taking place near Valley Fair mall. Tucked into this lucrative commercial district is a 17-acre plot of land still zoned for agricultural use, although it isn't doing much more than growing weeds these days. The University of California operated a research farm on this site (now valued at over $20 million) for nearly 80 years, and in 1999, returned it to the state of California in exchange for an augmented annual budget. Weird circumstances surrounding that deal are coming to light six years later, and one coalition is fighting to keep the land from becoming another high-density housing tract.
Obstacles like these are likely to pop up anywhere farmland meets urban development.
"Our victories are temporary and our defeats are permanent," Schmidt of CGF says. "It's a constant uphill battle."
Pulled from the Roots
In 1984, Yvonne Jacobson published a tribute to her family's heritage: Passing Farms, Enduring Values: California's Santa Clara Valley. The Olsons took root in Sunnyvale in 1899, and their 30 acres of orchard between El Camino Real and Mathilda Avenue outlasted the agricultural bust right up until 1999. By that time, many of the trees had developed a root disease, and the Olson family decided it was time to move on.
Drive by the property now and you'll see a luxury apartment complex and a shopping center aptly named after the cherry orchard that once existed there. As part of the development deal, Deborah Olson kept her white clapboard fruit stand on the same spot fronting El Camino, only now its backdrop consists of a parking lot, a Starbucks and a Borders bookstore.
Unable to give it up completely, Deborah's father Charlie pushed for a way to keep his memories alive. In 2000, the city preserved a 10-acre apricot orchard near the Sunnyvale Community Center, which Mr. Olson looks after in exchange for the fruit. Now the Heritage Orchard Park includes an educational exhibit about the valley's history, as well as a century-old barn that was relocated from San Jose by a generous donor.
On a sunny afternoon in early March, white cotton-ball blooms cover these apricot tree branches, which curve out from their trunks like imploring arms. The dense orchard is a stunning novelty in this quiet suburban neighborhood; the neat sidewalk lining the paved street suddenly gives way to tufts of sour grass and lumpy earth. Bright yellow mustard flowers cling to your ankles as you walk through the trees.
Standing in the middle of the thicket, surrounded by the chatter of birds and the faint humming of bees, it's possible to be totally oblivious to the townhomes only 100 feet away. The stacked wooden flats and farm equipment scattered at the edge of the trees seem perfectly placed. The excited barking of the "farm dog" named Rusty only enhances the time warp.
You've got to chuckle at the irony of finding less value in this life-giving soil—and in the valley's heritage—than in the buildings and rent payments that could replace it. One can't help but wonder: Did we have to create the Silicon Valley at the expense of all this? And is local open space like this soon to be found only in a museum?
---
Send a letter to the editor about this story to letters@metronews.com.
---
[ Silicon Valley | Metroactive Home | Archives ]