Metro's 20th Anniversary
20 Years of News: Thanks, Silicon Valley, for being news to us.
Sub-Urban: For 20 years, San Jose's downtown has grown in everything but stature. What's it going to take to get a little respect?
Lost Roots: In the last 20 years, Silicon Valley has finally realized that it needs to preserve its agricultural heritage—in museums. Meanwhile, land that could be saved is being marked for development.
Tech Will Eat Itself: Boom! Bust! Boom? Drink this Kool-Aid to remember the wacky and possibly circular history of Silicon Valley high tech in the last 20 years.
Blinded by Science: Silicon Valley has a reputation as the home of the cutting-edge scientific innovatiors. But what have they done for us lately?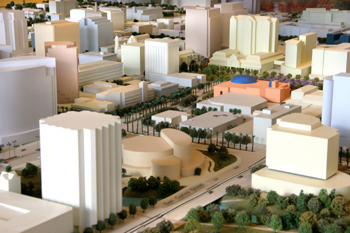 Even Better Than the Real Thing: This model of downtown San Jose was built for the Redevelopment Agency—where it is on display—by Gemmiti Model Art in the mid-'80s, with new buildings being added as their real counterparts are completed. Stoners, relax—it is NOT possible that the model is populated by miniature versions of us and we die if they die. The scale, incidentally, is one inch for every 50 feet.
Sub-Urban
For 20 years, San Jose's downtown has grown in everything but stature. What's it going to take to get a little respect?
By William Dean Hinton
It's easy to forget how far downtown San Jose has come since the end of the '70s, when the skyline consisted of five bank buildings. Years of postwar neglect made the urban core the center of a suburban donut. Retail left in 1956 with the opening of Valley Fair mall. City government relocated up First Street. Even the daily newspaper abandoned downtown for a north San Jose industrial area.
In the early 1980s, the city finally decided to reverse course, spending money on downtown infrastructure. The first wave of construction involved office buildings and light rail, followed in the late 1980s by retail and housing.
"It takes many generations to rebuild a city, especially one with the benign neglect that this core had through the 1950s and '60s," says Harry Mavrogenes, executive director of the San Jose Redevelopment Agency. "We had more of an urban core with 98,000 citizens in 1950 than we did with 400,000 residents in 1970."
Even so, San Jose's downtown isn't much to look at compared with other American cities. There is less than one square mile inside the downtown borders, which extend from Julian to I-280, and from Fourth to Highway 87. Downtown houses less than 10,000 residents, 40,000 workers and 28 high-rise buildings (buildings taller than 10 stories). Forget comparisons to San Francisco, whose downtown contains 45,000 residents, 315,000 workers and about 700 high-rises. Or Oakland, which has 14,000 residents, 65,000 office workers and 40 high-rises. What about some random city in the middle of nowhere, like Des Moines, Iowa? Des Moines has fewer downtown residents (4,300) than San Jose but more workers (66,700) and almost as many high-rises (25). Its downtown is also more than 2 square miles in diameter or twice the area of San Jose.
Downtown's image problems are why you still hear city officials, like mayoral candidate Dave Cortese, worrying their hometown is not a "true international city." True international cities usually have downtowns that have a profound impact on a majority of their residents, but looking at the residency figures, less than 10 percent of San Jose's population has any connection to its downtown.
Black Hole
But again, don't forget how far downtown's come in the last 20 years. If you would have taken an evening ride into San Jose with a date in the mid-1980s, heading north on First Street under the I-280 bridge, you would have likely been taken by surprise at the first streetlight you came to, at the corner of Reed and First. More than likely, a slightly inebriated ranchero in cowboy hat, boots and Western shirt would emerge out of an old wooden building, which has since been torn down, to try to seduce your date into spending the rest of the night with him.
Farther up the street, other adventures awaited. Hookers in tight skirts loitered underneath streetlights. Guitar-and-accordion sounds of Mexican music floated out of several bars. Men avoiding eye contact hustled in and out of the Pussycat Theater. There were a few adult stores—like L'Amour Shop, where you could buy dildos and inflatable dolls—but no live nude action like in San Francisco's Tenderloin District.
At the time, San Jose was undergoing a massive public works movement. Streets were torn up to make way for a light rail system up and down First and Second streets. Cement trucks lined First Street, waiting to pour the foundation for the 730-room Fairmont Hotel, the largest downtown. The Convention Center was finished in 1986.
All of those projects were north of San Carlos Street, leaving the half-mile strip of South First for those with little money and grand ambitions. Leases went for as little as 25 cents per square foot; apartment rents were as low as $400. An anything-goes mentality prevailed and newspaper accounts were breathless with possibility. "Word has gotten out that San Jose has lost its status as a pop-cultural black hole," Craig Carter wrote in a 1986 Metro cover story. "It's not out of the pit yet. But thanks to two clubs, Cabaret and One Step Beyond, locals and other folks in Northern California are looking to the South Bay for their nighttime entertainment."
A History in Two Parts
Chris Esparza was a 17-year-old security staffer at One Step Beyond, which on its best nights was filled with 1,000 punkers, death rockers or New Wavers sporting Flock of Seagulls haircuts and Boy George outfits. "The home of the freaks" was one of the region's hottest clubs but it was located in Santa Clara, not downtown San Jose.
Esparza, who is now 38, divides downtown's history into two parts: from 1985 to 1995, and '95 to 2005. The first 10 years were the wide-eyed years, when people believed downtown could be, among other things, a haven for the avant-garde or creative class. Esparza and a partner later opened the Ajax Lounge, which embodied the feeling of the time. It and the FX nightclub were the kind of low-key places that attracted an esoteric crowd: goths, mods, skaters, academics, athletes, punk rockers and so on, sitting side by side having drinks in soft lights and colors. Across the street was Marsugi's, a hole-in-the wall nightclub where bands like Nirvana went before they blew up. A few paces south was the Cactus Club, downtown's first live music club. By the early 1990s, thousands of people filled South First Street, turning the one-time red-light district into a fledgling entertainment district. Clubs went beyond the tried and true, incorporating jazz, films and gay nights into their schedules.
A bookstore and some retail outlets opened. Business owners started the SoFA street fair in 1992, further cementing the image of the area as arts-friendly. In 1995, the San Francisco Chronicle wrote a page two Society feature about the district, asking whether it should be compared to SoHo or SOMA in New York and San Francisco.
SoFA Away
By 1994, the year Yahoo! started, downtown had begun to change. Rents began to creep higher. The Doc Marten crowd was replaced by techies with no time or inclination to party. The Internet boom "wounded a very important group that could not survive the fluctuations in the cost of things around here," Esparza says.
Fewer independent club owners could afford to open cutting-edge places. Those remaining were less interested in the collective spirit of the SoFA district.
Fil Maresca owned FX and is now the planner behind major downtown events like the Farmers' Market and Music in the Park. He does contract event management for various organizations, including Metro. Maresca says that sometime in the late 1990s, the SoFA district began to unravel. It didn't help that city leaders had pumped more than $1 billion in subsidies into making downtown San Jose a place where business travelers would want to visit. By March 2000, the date of the dotcom bust, the feel-good attitude of the mid-'80s had evaporated completely.
"When times get tough, people are more concerned with their bottom lines and less with other people around them, less on the neighborhood around them," Maresca says. It was difficult, he says, to get club owners to promote SoFA since many were trying to lure new partiers downtown by outsourcing promotions. "Once-a-week promoters are not as concerned about things like parking and the neighborhood. They want to know, 'How much can I make Friday night?'"
What's left behind is a downtown with more restaurants and bars than 20 years ago, but less texture and diversity. A couple of weeks ago, Maresca was walking around downtown after a Cinequest movie when he noticed how full restaurants like Stratta were. "I feel like downtown has turned the corner," he says. "There's more places opening. They're nicer than they used to be. But they don't have that edge. It's an urban trend you see in a lot of places. There's more chain restaurants. There's more mainstream operators. But you get the same thing in this city as you do as any other city. It's a bit of a Catch-22. Downtown doesn't feel as if it's happening. Yet the restaurants wouldn't be here if it wasn't happening."
Culture Crash
In the late 1980s, an emerging Vietnamtown downtown created a buzz. Now Milpitas and the south Monterey Road area have more of an Asian presence than downtown.
"What disappoints me about downtown—and what I think is a big mistake—is its sterility and homogenization," says San Jose State political scientist Terry Christensen, who has lived in San Jose 35 years. "Downtowns should have a little funk but we've purged most of ours. Downtowns should also be diverse—especially if the city they're in is as diverse as San Jose. Our downtown is not diverse—except maybe for [jazz legend] Pete Escovedo's nightclub and Chacho's [a Cal-Mex diner]. Would you guess from being downtown that our city is 27 percent Asian and 36 percent Latino?"
What can be done? Unfortunately, there are no easy answers. Chris Esparza and Fil Maresca say the city should stop subsidizing downtown business, letting market forces dictate who survives. Others point to the large police presence filling downtown streets on weekends, herding club-goers near closing time. Still others offer esoteric answers, like enhancing arts education in schools so more young people develop a taste for the arts, which would presumably inspire them to explore downtown.
More than likely, everyone will have to lower expectations and accept downtown San Jose for what it is, a major suburban area with pockets of arts and culture for those willing to seek it out. MACLA, a Latino arts group, and the Institute of Contemporary Arts are two examples. Rents are so high in San Jose that it's an easy decision for struggling artists to live elsewhere—in Berkeley, San Francisco, Santa Cruz, even Emeryville—where artists already cohabitate.
Esparza, for one, hasn't given up yet. He's opening a small venue on Second Street, above St. James Park, for esoteric music acts like Alejandro Escovedo, Pete's little brother, who writes with a Western musical flare.
"As much as I understand the issues holding us back," Esparza says, "I feel hopeful."
---
Send a letter to the editor about this story to letters@metronews.com.
---
[ Silicon Valley | Metroactive Home | Archives ]