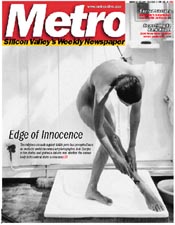 For the Week of
March 19-25, 1998
Cover: Bodies of Evidence
Religious protesters have succeeded in banning Bay Area photographer Jock Sturges' work in two states but, as Sturges tells Metro, obscenity is in the eye of the beholder.
News: Sacred Secrets
The Scientology roots of up-and-comer Internet service provider EarthLink have set free-speech advocates aflame.
Public Eye: San Jose's new top cop stays mum on latest controversy.
Loco Motive: The after-work drink gathers new steam among Peninsula train commuters.



Venetian Blinders: Margo St. James talks about Dangerous Beauty and society's disdain for the oldest profession.
Inspired Chaos: Animated shorts in General Chaos: Uncensored Animation are silly, sensuous, sick and sordid.



High and Low: Long John Hunter plays the blues from the stage to the rafters--an exclusive interview with Nicky Baxter.
Every Band Has Its Day: Bow Wow Wow is back with bite.
Arts on Top: Villa Montalvo and Mountain Winery announce performing arts series.
Audiofile: Reviews of the latest CDs by Bunnygrunt and various artists.
Beat Street: The Crystal Method and BT take two different approaches to electronica.



Getty Up, Angelenos: L.A.'s newest temple of art, the Getty Museum, is as big an attraction--and for some of the same reasons--as Titanic.



Cycling Songs: An elderly vocal coach leads his student through a poetic song cycle in Old Wicked Songs.



Master Strokes: From the festive wall paintings to the colorful plates, La Strada takes an artful approach to Italian cuisine.



Please don't forget to write! Metro welcomes letters. Like any great work of art, they should be originals -- not copies of letters sent elsewhere. Include address and daytime phone (for verification purposes only). Letters may be edited for length and clarity or to correct factual inaccuracies known to us. Postal: Metro Letters, 550 S. First. St., San Jose, CA 95111. Fax: 408/298-0602. . Emailers, please include name, city of residence and phone number. Letters printed will list email address unless otherwise specified. Letters to the editor are not currently published in the online version of this paper.