20 Years of Dining
David Kinch of Manresa
20-Year History of Dining
Silicon Valley's Multiethnic Stew
Masters of Wine and Food
Testarossa Vineyards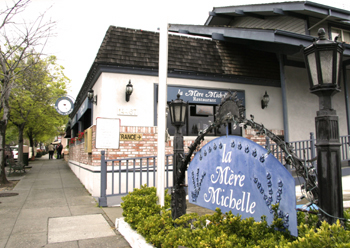 Photograph by Felipe Buitrago
The Taste Remains the Same: During the late '80s and early '90s, Euro-style restaurants in Saratoga seemed like a fad. But as the endurance of La Mere Michelle and other like-minded places proves, the valley continues to look to Big Basin Way for fine dining.
The Way We Ate
One well-fed critic reflects on 20 years of dining in Silicon Valley
By Joseph Izzo Jr.
TWENTY YEARS AGO, after feasting on strips of crispy duck skin at Fung Lum, a restaurant that is now closed, I realized the South Bay was blossoming into a world-class dining destination. I felt uplifted and optimistic. I could taste the future.
Silicon Valley had come a long way from the days when prime rib was considered a four-star meal. The Information Age had taken hold, and the viewfinder on dining had opened wide. During my years as food critic for the San Jose Mercury News and Metro, I received letter after letter from readers asking where to get something unusual, even exotic. Propelled by the spirit of adventure, I watched this valley set out on a course of great discovery.
Ethnic restaurants of every size and persuasion opened in storefronts once occupied by the likes of typewriter shops and laundromats. Thai, Vietnamese, Indian, Persian, Salvadoran, Korean, Ethiopian and Malaysian could be found in almost any South Bay city. Silicon Valley now has one of the largest concentrations of Vietnamese restaurants in all of California. Tandoori chicken, medicinal soups full of rice noodles, barbecued kebabs, fiery curries splashed with mint and coconut, falafels, succulent Korean short ribs, peppery African stews became sought-after alternatives to the steak and the hamburger.
This explosion of newly arrived ethnics forced me to bone up on cuisine from the Middle East, Asia, India, Africa, Latin America and off-the-beaten-path parts of Europe. Each visit to a new restaurant required research into a cuisine's key ingredients.
As a restaurant critic, judging the dining experience fairly meant coming to appreciate the traditions and contributions of a global community now at my doorstep. You simply cannot learn about food without learning about culture. Food says so much about a culture's temperament, standards and history. In this new cosmopolitan region, people who once derided sushi as bait faded away. Both longtime residents and new city-slicker arrivals picked up chopsticks, packing counters where toy sushi boats delivered glistening slices of raw fish, alone or intricately rolled up into toasted seaweed and vinegared rice. Sushi is now a Silicon Valley staple.
Fusion Energy
"Fusion" cuisine was born in the 1980s. This style of cooking fuses diverse ethnic influences, predominantly Asian, though I have seen Italian, Cajun and Mexican in the mix. Some overzealous chefs have gone overboard with the concept, creating outlandish confusion instead of fusion. But the Thai burrito popularized at Aqui in Willow Glen is an example of how it's done right, simple and delicious.
In a more sophisticated realm, the best example of Asian fusion is at, appropriately enough, Fusion in Campbell. I marvel at the harmony of flavors every time I visit. The fusion salad is a must. Microbreweries with contemporary menus including individual-sized pizza with unusual toppings sprang up in almost every town in the valley in the 1980s. Today, they're commonplace. Gordon Biersch, with locations in San Jose and Palo Alto, and the Tied House in San Jose and Mountain View are the best examples of the now established concept. Wood-fired pizzas, like the ones I've had in Italy, are everywhere now. Willow Street Wood-Fired Pizza brought it into vogue. I still prefer the New York­style pizza made the old-fashioned way on bricks in a hot oven like they do at Premiere Pizza and Z Pizzeria.
Our love affair with Italian food has deepened over the past 20 years. Spaghetti and meatballs were always available, but now menus include specialties from regions north and south of the boot—pasta turned violet with squid ink, ravioli stuffed with pumpkin in butter and sage, osso buco and veal with ethereal porcini mushrooms.
The signs of another culinary change were brought home on a Friday night at Emile's in the late 1980s. Chef and owner Emile Mooser walked through his dining room that evening offering his patrons dollops of fresh clotted cream to top the fresh locally grown raspberries on the dessert menu. The cream came from a family-owned farm in Soquel. Today, buying fresh ingredients from small artisan farms, organic beef from boutique ranches and fish off small family-owned boats has become de rigueur.
The nouvelle cuisine movement that began in France in the early 1970s hit these shores and inspired a new way of doing things in the kitchen. While sometimes guilty of overwrought but stingy preparations, the movement ushered in a reverence for freshness, simplicity, lightness and natural flavors still visible. Today, Silicon Valley is nothing if not diverse. There is room for everything here it seems.
In contrast to the modern foodies' obsession with light, delicate concoctions, the big flavors of wild game are good here, too. Almaden Valley's La Foret provides choices such as venison, elk and boar. When done right, these meats are hearty and exquisite.
Some things remain the same even as they change. During the late 1980s and early 1990s, the restaurants on Big Basin Way, in Saratoga—La Mere Michelle, the Adriatic, Le Mouton Noir, the Plumed Horse—were considered the crown jewels of the restaurant scene. All upscale European-style cooking establishments, all wonderful and worth the price. Although the Adriatic and Le Mouton Noir have since closed their doors, replaced by the stellar Sent Sovi and Gervais, respectively, the European ambience of Big Basin remains a draw for fans of fine dining.
The difference in the restaurant scene now has more to do with the preferences of restaurant patrons than with owners. We dressed up to have dinner back then, and not only in Saratoga. In downtown San Jose, Emile's and Paolo's were the anchors, places where people wore suits and ties and had their cars parked by parking attendants. Except on special occasions, few people dress up anymore. Discreet casualness is the way we travel now and informal dress is accepted in the swankiest of restaurants.
All in a Row
The ongoing struggles of the re-emergence of downtown San Jose were, according to some downtown restaurant owners, exacerbated by the opening of Santana Row. The Row, with its cosmopolitan look and feel, is arguably the biggest single change to dining in Silicon Valley in the past few years, providing an urban dweller's experience of shopping, dining and strolling without ever setting foot in the inner city. Frankly, I love the Row almost as much as I do downtown. There should be room for both here.
Some nights, I prefer the downtown lights, perhaps veal scaloppine at Original Joe's, a cocktail at Paragon or the Fairmont, a dozen oysters at McCormick and Schmick's or lunch at Eulipia. Steaks are still being served at Blake's and at the funky Henry's High Life. Sonoma Chicken Coop took us by surprise with its reasonably priced contemporary cuisine. I love the chicken. The restaurant has done so well the owners opened a new site in Campbell, where the brewpub Stoddard's floundered.
But then there are the nights when a walk along the cobbles and a bite to eat at one of the many new restaurants at Santana Row is the ticket. I love the pizza at Pizza Antica and eat a large with arugula, Kalamata olives and prosciutto every time I'm there. The guacamole made tableside at Las Cazuelas makes the perfect appetizer, and the escargot at the Left Bank spawns memories of France.
I credit Jim Stump of A.P. Stump's for introducing Silicon Valley to contemporary American cuisine, a lively approach to American classics that showcases premium ingredients. Birk's brought steak back into the limelight, beef of top quality, cut thick and grilled over almond wood. The death of owner Birk McCandless this March greatly saddened those of us who remember him. Some nights, I'd just sit at the bar with a beer and a plate of fried calamari with toasted garlic, listening to the heartbeat of Silicon Valley. Here's to you, Birk.
Little historic Murphy Street in Sunnyvale has awakened from its slumber and joined the chic and the elite. For Chinese chicken salad and mai tais, though, I still prefer the Tao Tao. It's had a face-lift recently, but the food is the same, and you can still find the oddballs in the lounge.
Resurrected Castro Street in Mountain View has become a dining destination with its ethnically diverse cafes and restaurants. In tony Los Gatos, Santa Cruz Avenue is scented with the aromas of its many restaurants. I remember a night in January of 1992 when fog draped Japantown on Sixth and Jackson like a phantom cape. We snuggled at a table in Minato Sushi and nourished ourselves with chicken teriyaki and bowls of donburi. Weather turns this neighborhood of Japanese culture and sushi cafes into a character from the pages of a noir novel.
In the course of these last 20 years, I have watched restaurants come and go, reinvent themselves through each passing phase from nouvelle to fusion to contemporary American. I've also been lucky to witness some longstanding classics—Emile's, La Mere Michelle, Paolo's, Plumed Horse—weather economic storms to thrive once more. They're as good as they ever were, and that's saying something.
But in the end, I always remember what I learned many years ago. The restaurants that have survived the years, especially these last 20 years, continue to serve good food without all the fuss, the tricks and trends, and serve it up in big portions at a reasonable price. That's why I have come to appreciate the counter at Original Joe's, a place where the masses come in droves to break bread. Good food in a friendly setting never goes out of style.
---
Joseph Izzo Jr. wrote for the 'San Jose Mercury News' from 1979 to 1990 and for 'Metro' from 1999 to 2004.
---
---
Send a letter to the editor about this story to letters@metronews.com.
---
[ Silicon Valley | Metroactive Home | Archives ]