20 Years of Dining
David Kinch of Manresa
20-Year History of Dining
Silicon Valley's Multiethnic Stew
Masters of Wine and Food
Testarossa Vineyards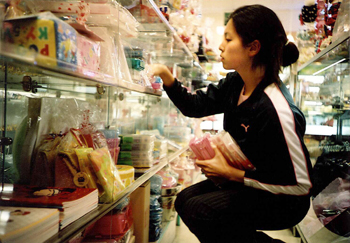 Photograph by Felipe Buitrago
Mix Messages: Grace Cha stocks the shelves of a Korean supermarket in Santa Clara. The rise of an ethnic mix has been one of the biggest boons to Silicon Valley palates over the last 20 years.
Silicon Valley's Multiethnic Stew
How immigration has spiced up the region's palate in the last two decades
By Matt Reed
OPEN A Silicon Valley phone book from 20 years ago, and the restaurant listings would read more like what you would find in Topeka, Kan., than the ethnic stew that defines Silicon Valley today.
For example, in the 1980s, it was difficult to find good Indian food in the South Bay. Curry lovers had to get in a car and drive up to Berkeley to a well-known restaurant called Pasand Madras.
There were few Indian restaurants in Silicon Valley then and only a handful of Indians working in the tech industry. But that changed—in a big way—in the 1990s. With software engineers, information-technology workers and their families pouring into the valley, Indian restaurants opened up at a pace of about one a month at the height of the tech boom, says Prakash Kanakia, a Cupertino restaurant owner. Some of those restaurants were operated by people who had worked at Pasand Madras and who simply reprinted the menu, with few changes.
Today, there are about 100 Indian restaurants in the Bay Area, and 50 of those are in Silicon Valley. It's just one example of how diverse the valley's restaurant scene has become since the mid-1980s. The once white-bread valley has become one of the most ethnically diverse regions in America, and going out to eat now is a whole lot more interesting.
"There was a huge influx of Indian professionals with H-1 visas and disposable income. They had quite challenging jobs and there developed a trend of eating out in the 1990s," says Ashok Jethanandani, the editor of the locally published India Currents magazine. "I heard complaints from restaurant owners that they couldn't deal with the fast growth of their business. The crowds were too hard to manage."
World Mix
Mexican, Italian, Japanese and Chinese restaurants, longtime standards of South Bay dining, have been joined by an influx of Korean, Vietnamese, Indian and Thai eateries. High-tech jobs and excellent schools attracted immigrants who invited family members to join them here. Since 1980, the percentage of Asians in Santa Clara County has grown from 8 percent to 25 percent in 2000; 4 percent of the county's total population is Indian and 7 percent, Chinese.
Immigration has sparked the opening of specialized grocery stores and ethnic restaurants. And that, in turn, has given food lovers of all ethnic backgrounds a greater amount of choices, including Korean kim chi, Indian kebabs and—my favorite these last few years—tom kha gai, the Thai chicken and coconut soup that is both sour and spicy. Growing up in the Bay Area in the 1980s, I had no idea that there was such an array of spices available to the world. I had never even heard of lemon grass or pho, or masala, which is what Indians call a mixture of spices.
Kanakia, the Cupertino restaurant owner, says he and his wife started their cooking careers in the late 1980s as caterers for other Indian families in the valley. Their reputation and business grew to the point that they had to move from an apartment to a house with a garage big enough to accommodate their cooking equipment.
"We could only cook vegetarian, so we thought, 'Who would buy from us?' But the business grew and grew. Friends would ask for us and their friends would ask for our phone number," he recalls. "Grocery stores started to buy our roti bread, and our house was a mess every evening."
The family opened Kokila Kitchen just as the tech economy started to pick up steam in the early 1990s. The vegetarian, buffet-style restaurant—the family serves food from its native Gujarat state in the west of India—sits in a strip mall off Homestead Road and has proven popular with Indians, tech workers from nearby Apple and Hewlett-Packard and "a growing cult of teenagers and health-conscious people."
Driving down El Camino Real in Santa Clara, one can't help but notice that several miles' worth of strip malls has been filled with Korean-language signs advertising Korean businesses and restaurants. There are three large Korean grocery stores—two of them the size of an Albertson's—that opened in the last decade, which have formed the anchor of the Korean community.
Korean-Americans in Silicon Valley, most of whom are Christian, drive to El Camino after church on Sundays to shop for their week's groceries and eat at one of the 50 Korean barbecue and noodle restaurants in the area, says Alex Hull, the president of the Korean American Chamber of Commerce of Silicon Valley. Many Koreans moved here for work in the tech industry, while others relocated here from Southern California after Korean-owned groceries were destroyed in the 1992 Los Angeles riots, says Hull.
"Koreans like to live near a good school system. The enclave has just sort of feed off of itself," Hull explains.
Since then, the Korean collection of restaurants and businesses in Santa Clara has fed off itself, with more Korean restaurants expected to open along El Camino, he says.
Viet Lux
The story of the Vietnamese in Silicon Valley isn't much different from the story of other ethnic immigrant groups, says H.G. Nguyen, the founding president of the Vietnamese-American Chamber of Commerce of Santa Clara Valley. The first wave came after the Vietnam War ended in 1975, with people establishing themselves in steady jobs or small businesses. Family members making up the second wave followed from abroad or from other parts of the United States.
There are approximately 320 Vietnamese restaurants and takeout shops in Santa Clara County, most of which serve pho, Vietnam's beloved beef-and-rice noodle soup, Nguyen says. Vietnamese immigration has marked the valley to the point where San Jose city government signs and notices are printed in three languages: English, Spanish and Vietnamese.
The first wave of Koreans and Indians came as students in the 1960s and 1970s, just after the 1965 Immigrant Act eliminated quotas. Locally, the lifting of quotas opened the way for more Chinese immigration to cities like Milpitas and Cupertino. What was once a De Anza Boulevard shopping center anchored by an Alpha Beta supermarket has become a Taiwanese minimall with restaurants, bakeries, real estate offices and clothing stores. And dozens of Hong Kong­style dim sum and noodle restaurants have opened in Milpitas—the city of 62,000 is now 51 percent Asian.
There have been other additions to the valley's restaurant scene besides Korean, Vietnamese, Indian and Chinese. Thai food continues to grow in popularity. There are two Cambodian restaurants, in San Jose and Cupertino, which do a steady business. And many Mexican restaurants are now serving Salvadoran pupusas, a masa cake snack that caters to Salvadoran expats who fled the country's civil war in the 1980s.
But with the recent economic slowdown, the trend for Indian restaurants has reversed, and restaurant owner Prakash Kanakia says he hears of about one Indian restaurant closing each month. With some Indian software engineers heading to India for jobs in the tech industry, the frenzied demand for Indian food has mellowed.
It is clear that the valley's tech boom had a lot to do with attracting Asian immigrants, with their engineering skills and unique cuisine. Whether the recent economic bust, and any subsequent recovery, will attract an even greater variety of immigrants and new dishes remains to be seen.
---
Send a letter to the editor about this story to letters@metronews.com.
---
[ Silicon Valley | Metroactive Home | Archives ]