20 Years of Dining
David Kinch of Manresa
20-Year History of Dining
Silicon Valley's Multiethnic Stew
Masters of Wine and Food
Testarossa Vineyards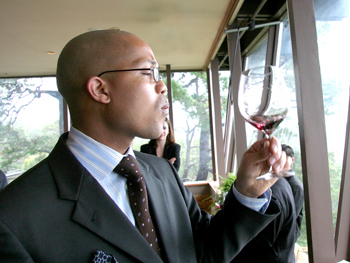 Photograph by Felipe Buitrago
Simply the Best: Gary D. Obligacion of Carmel Valley samples one of the wine offerings at Northern California's premier culinary event, the Masters of Food and Wine. This year, 50 top vintners were represented on the event's wine list.
Cauliflower and Cleavage
Inside Northern California's world-class food summit: The 19th annual Masters of Food and Wine
By Stett Holbrook
'OH, MY GOD," exclaimed a well-coiffed woman to her fetching female friend and everyone else within a 20-foot radius at the Carmel Highlands Inn. "That was almost orgasmic." Still flushed from the experience, the pair trudged off for their next sensory overload and disappeared into the crowd.
I turned around in pursuit of what had set the woman's eyes rolling back into her head. The aroma hit me first. Black truffles. A chef in a starched white coat was shaving the heady, $90-a-pound black tubers onto small plates of braised morel mushrooms paired with lightly fried rice balls encasing molten fontina cheese and porcini mushrooms. The dish was further enriched with a stripe of creamy, truffled foam. Almost an orgasm? I'd say the dish hit the mark.
But there was more. David Hawksworth, chef at British Columbia's West, was also dishing up tuna-belly tartar bejeweled with steelhead roe served in pop-it-in-your-mouth white ceramic spoons. Then there were the crab wontons floating in barbecued duck broth. All of this was lined up in tidy rows for the taking.
This was but one corner of three rooms filled with more top-quality food and wine than I've ever seen under one roof. The event was opening night of last month's 19th annual Masters of Food and Wine at the Carmel Highlands, a tony Hyatt-operated retreat between Carmel and Big Sur. The well-shod attendees had paid $175 apiece for a night of some serious food and drink.
The Big Sizzle
The four-day Masters is the premier gathering of culinary and oenological talent drawn from around the world. It's the Mardi Gras of eating and drinking. Over the years, the event has attracted virtually every name in celebrity chefdom including Julia Child, Wolfgang Puck, Diana Kennedy, Alain Ducasse, Michel Richard, Eric Ripert, Daniel Boulard and Jacques Pepin. This year's chefs included the likes of Bradley Ogden, Rick Bayless, Charlie Trotter, Andoni Aduriz, Michael Mina, Alice Waters, Mark Miller and a hot-on-their-heels coterie of next-generation star chefs.
The Masters consists of cooking demonstrations with chefs, wine tasting and over-the-top lunches and dinners prepared by the visiting chefs, who all crowd into the restaurant's 1917-era kitchen. Actually, it's not the executive chefs with name recognition who do most of the work but their chefs de cuisine and the other right-hand men and women who make them look so good back at their home restaurants.
My fellow attendees for the sold-out opening night gala came in pairs mostly, walking down from their resplendent hotel rooms dressed to the hilt in cocktail dresses with plunging necklines, smart suits and the odd pair of leather pants.
A few couples disembarked from gleaming black limousines as attentive bellmen swirled about. While they waited in line to get in, they scanned the program that detailed the riches that awaited them inside. Their glee was palpable. They were like kids at the mall on free candy day.
As the doors to Pacific's Edge, the hotel's appropriately named restaurant perched above ocean and craggy Point Lobos, swung open, the guests walked down a corridor done up in flowing white fabric fronted by raining fountains of water. Before them spread a bounty of food and drink that would have made a Roman senator blush. There were 50 representatives of 50 wineries pouring their best juice. Interspersed among them in three different dining rooms overlooking the ocean were 13 chefs, preparing small plates of food for the adorning masses. All that was missing was the vomitorium.
Friends Lisa Grech of Monterey and Lilian Lim of Sunnyvale were like kids on Halloween night wondering how many doors they could knock on for candy before their bags burst. Or in this case, their stomachs.
"We were strategizing how to eat today," said Grech, bookkeeper for Carmel's Cheese Shop, a longtime Masters participant. "We ate a small lunch so we'd have more room for tonight."
Negotiating the gauntlet of food and wine required some fortitude on my part. There was big Charlie Palmer sautéing silver-dollar-size scallops flown in that day from Maine. They were served atop potato confit and bacon and dolloped with a Meyer lemon cream.
"These scallops are so sweet, you know," he said as he gave his pan of silver-dollar-size crustaceans a showy flip.
In the next room, Mark Miller of Santa Fe Coyote Café fame was struggling with a short in his electric skillet as he griddled Dungeness-crab-filled corn crepes he served on top of a smoky, sweet mole poblano sauce. Bradley Ogden, the culinary impresario who's a dead ringer for silent-film star Buster Keaton, wore a severe countenance as he oversaw his crew of executive chefs from his various restaurants, including Bart Hosmer of Santa Clara's Parcel 104. The Ogden team was serving citrus-steamed Atlantic cod with crispy rice and cauliflower salad.
And all that wine. Winemakers from California, Oregon, Canada, New Zealand, Australia, Spain and Germany were pouring their best juice, a fact not lost on the attendees.
"Go hit Staglin," exhorted a red-faced man to his friends. "That shit is really powerful."
That shit was Staglin Family Vineyards 2001 Cabernet Sauvignon, a velvet-fisted wine that retails for about $110 a bottle.
Maybe I don't get out enough to events like this, but the number of women with cleavage deep enough to stash a bottle of Silver Oak in were as common as Sideways-spawned pinotphiles. Who knew food and wine lovers were such a busty lot? One lanky blonde with an orbit of men swirling about her was a dead ringer for Paris Hilton. It wouldn't have surprised me to see her at this glitzy event.
Cauliflower Cool
With notebook, pen, wine glass and plate in hand, a juggling act that required considerable manual dexterity, especially as my wine consumption increased, I prowled the room to see what food trends were being birthed. Each year has its trendy ingredients. Mache lettuce, sun-dried tomatoes and flavorful foams all had their day. This year's star? Cauliflower.
The humdrum cruciferous vegetable became hip at the Masters. Daniel Joy, chef at Mirabelle in Beaver Creek, Colo., made a baby bok choy appetizer with ginger and cauliflower croquant. David Hawksworth, West's ecstasy-inducing chef, made a cauliflower creamy soup with poached quail egg and smoked bacon. And Mark Ayers, executive chef at Pacific's Edge, prepared sautéed scallops served on the half shell atop cauliflower cream topped with genetically engineered purple cauliflower and smoked steelhead roe.
Glitz and breasts aside, the Masters provides a rare opportunity to learn cooking techniques from some of the world's top chefs and sample a staggering number of premium wines. The Masters is unique among the increasing number of food and wine events in both the caliber of talent it attracts and the access participants have to chefs and winemakers.
With the rock-star status achieved by some chefs, food festivals have popped up all over the country and have become a popular and profitable cottage industry. Many chefs spend almost as much time on tour at these events as they do cooking in their own restaurants. Lining up each year's roster of chefs for the Masters requires a considerable amount of planning.
"They're like film stars," said Andrew Davidson, general manager of the Highlands Inn. "They're hard to get ahold of."
He said it took two years to book Rick Bayless. When he missed his flight from L.A. to San Francisco, the hotel had to ferry him up to the event in a limo. Of course, access to all this culinary talent comes at a price. To attend all the dinners, lunches, cooking demos and wine tastings and stay at the hotel would cost several thousand dollars.
Grazing at yet another chef's table with wine glass in hand, I felt a bit like KGO radio's Gene Burns, the velvet-throated host of Dining Around. He was attending his ninth Masters and commented on the event's special pleasures.
"I'm like an overfed large parrot come home to roost."
And Polly wants another one of those foie gras-topped crackers.
---
Send a letter to the editor about this story to letters@metronews.com.
---
[ Silicon Valley | Metroactive Home | Archives ]