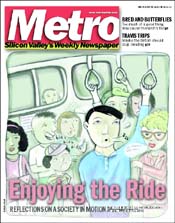 For the Week of
April 20-26, 2000
Cover: Enjoying the Ride
One man's defense of public transportation. Plus: Richard von Busack's paean to his rusty, trusty chariot and an admonishment to stop whining about gas prices.
News: Flight of Fancy
They're always the most popular guest at weddings and parties. But the commercial breeding of butterflies may be extinguishing these symbols of hope and renewal.
Saratoga: May Day looms for 100-year-old trees.

Willow Glen: Artist sees no beauty in 'sick' radio ad.

Los Gatos: Caltrans plans to resurface Highway 17 in the summer.
Breakup Hell: Spring is enough to kill a man with a broken heart.
Public Eye: Educating Amy. San Jose cops vest their hopes in Yeager. Assemblygal Alquist's kung fu moves.



Musical Travis-ty: British sensation Travis delivers passionate songs with maudlin messages on 'The Man Who.'
Trombone Triumphant: Salsa great Jimmy Bosch blows his 'life changes' into every note.
Aural Fixation: Huey Lewis gets 'American Psycho' soundtrack pulled from record stores.



Blowing Up: The emphasis is on cosmic explosions in Japanese anime 'X.'
Pining Away: Five lovely sisters mope their way through teenage angst in Sofia Coppola's 'The Virgin Suicides.'
Skinning the Trade: Documentary 'Girl Next Door' looks at one woman's life in porn business.
Bear Baiting: French drama 'East-West' revives Cold War fears of Soviet repression.



Work: No one is safe anymore.



Food for Gossip: Rumors are the coin of the realm in 'The Cripple of Inishmaan.'
Swing Thing: SJ Cleveland Ballet hits a dance-band groove in 'Go Daddy-O!'
Varying Verdi: Period-piece miscues undercut social context of Opera San Jose's 'La Traviata.'



Italian Theme Park: Silan feels more like an amusement park than an authentic trattoria.
A La Carte: Easter Sunday offers the perfect excuse for a lavish midday repast.



Please don't forget to write! Metro welcomes letters. Like any great work of art, they should be originals -- not copies of letters sent elsewhere. Include address and daytime phone (for verification purposes only). Letters may be edited for length and clarity or to correct factual inaccuracies known to us. Postal: Metro Letters, 550 S. First. St., San Jose, CA 95111. Fax: 408/298-0602. . Emailers, please include name, city of residence and phone number. Letters printed will list email address unless otherwise specified. Letters to the editor are not currently published in the online version of this paper.