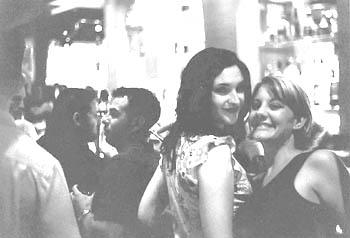 Life During Bar-Time
Metro Bars and Clubs 2003
---
The Guide
[ San Jose Central | San Jose Outskirts | Campbell | Cupertino | Los Gatos | Mountain View | Peninsula | Santa Clara | Saratoga | Sunnyvale ]
---

Illustrations by Craig LaRotonda/Revelation Studios
This year, barhopping is not so much a fashion as it is a prescription. Whether or not you crave the salve of alcohol, the ongoing trials and tribulations of the outside world are enough to cast club bumping and pub hobnobbing in an increasingly congenial light.
There's a reason the bar-based sitcom 'Cheers' reached popularity back in the early '80s: when a bad economy rears its head, the public bows theirs over a sudsy beer and takes to the comfort of companionship.
That, however, will be the last mention of the bad economy in this, Metro's flagrantly comprehensive 2003 Bars & Clubs guide. Because what barhopping is really all about is not the buck, but the bang (to anyone who thought it was about the pickled eggs--sorry, no, and please make an appointment with your family physician).
To assist in the search for this latter and much more addictive quality, we the divine editorial staff at Metro diligently visited each and every bar reviewed in this issue, carefully testing the comfiness of the bar stools, the timeliness of the jukebox and juiciness of the limes, in order to make sure that you are getting your funny money's worth out of these fine establishments.
Most importantly, we engaged in an extensive hands-on investigation of the alcoholic beverages themselves, after which we rushed home to regurgitate copious notes and recipes and to catch the last few minutes of America's Next Top Model.
Having put the work in, Metro's editorial bars staff feels a jigger more qualified to comment on some of the trends this year: namely, that there are no trends. Theme nights, in which a party production team takes over a club, remakes and renames it for a night, continue to grow increasingly popular and increasingly more elaborate, and the South Bay continues to be party central for these raves, with the newest hot spot, Blue Tattoo, set to open June 26.
On the other hand, continuing last year's drift, quantity drinking of quality blue-collar beers such as Hamm's and PBR keeps on truckin'. SoFA carries on its spike-heeled march toward L.A. with the opening of Agenda's sister spot Zoë and the one-year anniversary of the well-draped Cabana. And finally, the Blank Club fills the hole in South Bay's indie-music heart, and we love them for it.
The bartender has always played the part of the everyman's therapist--what the valley really needs these days is a cruise director. To that end, let us adjust our blond wig and sailor's cap and invite you to climb on board. This ship is about to set sail.
Traci Vogel

Features
Five Terrifying Minutes of Fame: Friends don't let friends sing, "Dude Looks Like a Lady" ... and other karaoke tips.
Caffeine Nation: A list of coffeehouses--the cream of the crop.
Thanks, Designated Driver!: An appreciation, and some tips, for the nondrinker.
---
Metro's Bars & Clubs reviewing squad:
Corinne Asturias, Vivian Chen, Michael S. Gant, Allie Gottlieb, Jim Harrington, Todd Inoue, Joe Izzo, Yoshi Kato, Jessica Lopez, Dan Pulcrano, Loren Stein, Sarah Quelland, Gary Singh, Celeste V. Tahamont, Michael J. Vaughn, Traci Vogel, Christina Waters and Gordie Young
---
---
Send a letter to the editor about this story to letters@metronews.com.
---
[ Silicon Valley | Metroactive Home | Archives ]