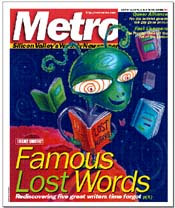 For the Week of
August 14-20
Cover: Disappearing Ink
Time and fate have not been kind to some authors. Metro's reviewers make the case for five writers--from a forgotten Nobel laureate to an unknown pioneer of the avant-garde novel--who deserve a second read.
Lost in the Maize: Guatemala's Miguel Angel Asturias was the father of magic realism and won the Nobel Prize--so why are his books so hard to find?
Words Wild as an Acre of Snakes: Ken Weaver's glossary of Lone Star State expletives and euphemisms is fugging worth searching for.
The Thinking Heart: Etty Hillesum's remarkable Holocaust writings are often lost in the shadow of Anne Frank's famous diary.
Beyond Bond: Forget Fleming; lose Le Carré--Charles McCarry is the undiscovered master of the spy novel.
Joyce on a Mission: Samuel Ornitz--novelist and blacklisted screenwriter--was an unsung pioneer of stream of consciousness.
News: Gays in the Womb
A gay man makes strange bedfellows of anti-abortion crusaders, in preparation for the day when a 'gay gene' can be identified in the unborn.
Reformed Reform: Welfare takes new shape during final negotiations.
Oscar Mayer Whiners: When a protesting pig meets the Wienermobile, the encounter borders on the fantastic.
Public Eye: Fiscalini vacillations.
Polis Report: No underage poking, please.



Sucking on the Movies: Irma Vep unreels a film within a film about French film history.
The Way They Were: Mike Leigh looks back --but not in anger--at the old England in Career Girls. Plus Richard von Busack interviews the two stars of Career Girls, Katrin Cartlidge and Lynda Steadman.
Fame's Hustle: A father's ridicule holds back a son's dreams of stardom in Star Maps.
Talking Pictures: Reformed romance novelist Doris Mortman and husband David take in the thriller Air Force One.



Bright Brits: Techno-punk import the Prodigy speaks to the present rather than the past.
Trip-Hop Magic: The mutant music of Britain's gravel-throated Tricky defies categories at Lollapalooza.
Handling Business: The Jungle Brothers return with Raw Deluxe.
Audiofile: Reviews of the latest CDs by Plateau, Da Organization, Long Hind Legs and Regurgitator.
Beat Street: San Jose's No Use for a Name survives hit single 'Soulmate' to record again.



Cowboys and Grills: Vaquero's, a new chop house in the West Valley, steaks a claim on carnivores' affections with bold Southwestern flavors.



Please don't forget to write! Metro welcomes letters. Like any great work of art, they should be originals -- not copies of letters sent elsewhere. Include address and daytime phone (for verification purposes only). Letters may be edited for length and clarity or to correct factual inaccuracies known to us. Postal: Metro Letters, 550 S. First. St., San Jose, CA 95111. Fax: 408/298-0602. . Emailers, please include name, city of residence and phone number. Letters printed will list email address unless otherwise specified. Letters to the editor are not currently published in the online version of this paper.