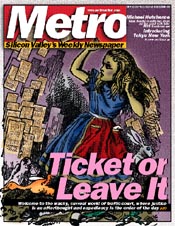 For the Week of
Dec. 4-10
Cover: Moving Violations
The trials, tribulations and constitutional injustices of traffic court.
News: Mercury Rising
The San Jose quicksilver mines that at one time accounted for a lot of the gold in the Golden State are now being eyed as hazardous to the public's health.
Public Eye: Gubernatorial racers need no stinkin' position on the Unz initiative.
Reflective Moment: Decades after working with Ansel Adams, being in Life magazine and suffering tragedy, Joseph Schuett finds form in downtown's buildings.



Presents of Mind: Metroactive's annual holiday guide cuts to the heart of the season of giving. Plus, clutter-free gifts.



Break on Through: On the road a decade ago, a rock writer discovered a different side of Michael Hutchence.
Audiofile: Reviews of the latest CDs by the Deftones and Sherri Jackson.
Beat Street: Your opinion counts! A Smash mouth fan responds to Beat Street.



How Low Can They Go?: Debased, disgraced and disgruntled ex-stars find new life in the content-hungry wasteland of cable TV.



Beasts of Beauty: Believe it or not, Ripley's back in action in Alien Resurrection.
Making It Up: A collaborator turns himself into a hero in A Self Made Man.



Cain's Rep Is Pure Blues Gold: Local bluesman Chris Cain brings musical 'Thunder' to new San José Repertory Theatre musical drama.
A Better Chestnut: San Jose Cleveland Ballet's Nutcracker is a step ahead of the rest.



Gallic Grace: A San Jose institution, Gervais retains its elegant French accent.
Bargain Bites: A budget diner's haven already, downtown Mountain View scores with another winner.



The Beat Master: Herbert Huncke, the unsung Beat, finally gets his due.
Down on Dilbert: Norman Solomon's new book exposes Scott Adams as a tool of the corporate elites.



Please don't forget to write! Metro welcomes letters. Like any great work of art, they should be originals -- not copies of letters sent elsewhere. Include address and daytime phone (for verification purposes only). Letters may be edited for length and clarity or to correct factual inaccuracies known to us. Postal: Metro Letters, 550 S. First. St., San Jose, CA 95111. Fax: 408/298-0602. . Emailers, please include name, city of residence and phone number. Letters printed will list email address unless otherwise specified. Letters to the editor are not currently published in the online version of this paper.