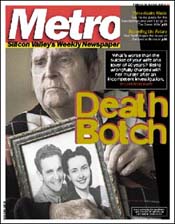 For the Week of
December 9-15, 1999
Cover: Botch Job
A Palo Alto man sues over a botched suicide-turned-homicide investigation that could end up costing the county millions.
News: Un-Model Behavior
Some former students at the John Robert Powers modeling school in San Jose say they were duped out of thousands of dollars by phony promises of fame and fortune.
The Diamond Lane: When high-tech gets serious about commitment.
Public Eye: The new Mrs. Diridon? Beltway Dems ride Honda.



Recording the Future: Kool Keith forges the music of the next millennium.
Lost and Found: Trance-techno collective Lost at Last finds a way to bridge digital and tribal culture.
Muy Pop: Enrique Iglesias makes his big-time crosssover bid.
Aural Fixation: NiteCry, a local blues institution, says farewell.
Audiofile: Reviews of new CDs by The High Llamas, Foo Fighters, Third Eye Blind and Metallica.



Three Hanks Movie: Tom Hanks grabs for the heartstrings and won't let go in 'The Green Mile.'
Gag Reflex: 'Get Bruce!' profiles the man behind the stars' one-liners.
Beach Therapy: A mother and daughter roll into a new life in fanciful the low-budget 'Tumbleweeds.'



Furries of the Valley: Wild animals in a high-tech wilderness.



Dream Weaver: Dennis Nahat brings the toys to life in San Jose Cleveland Ballet's 'Nutcracker.'
Family Values: Blood ties bind in TheatreWorks' 'You Can't Take It With You.'



New Wave Sushi: Cupertino's Tsunami serves up spicy hot combos and traditional favorites.
A La Carte: Artist and sandwich maker displays both of her talents at The Sourdough Eatery.



Please don't forget to write! Metro welcomes letters. Like any great work of art, they should be originals -- not copies of letters sent elsewhere. Include address and daytime phone (for verification purposes only). Letters may be edited for length and clarity or to correct factual inaccuracies known to us. Postal: Metro Letters, 550 S. First. St., San Jose, CA 95111. Fax: 408/298-0602. . Emailers, please include name, city of residence and phone number. Letters printed will list email address unless otherwise specified. Letters to the editor are not currently published in the online version of this paper.