July 25-31, 2007
home | north bay bohemian index | features | north bay | feature story
Arcadia 2007:
Welcome to Arcadia: Hidden North Bay | Off-the-Beaten Path Restaurants | Oxbow Public Market | Clark Wolf's Napkin Notes | Chef Recipes | Winery Caves of Napa and Sonoma | Our Irreverent Guide to Towns of Sonoma, Marin and Napa | Hidden Recreation in Sonoma, Marin and Napa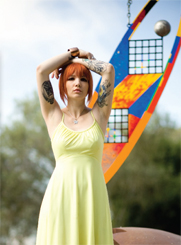 Hidden North Bay
An off-the-beaten celebration
Our second biggest issue of the year, Arcadia celebrates the bucolic pastoral landscape, both imagined and real, of the North Bay. For this year's effort, we sought to highlight the "hidden" aspects of Sonoma, Marin and Napa counties. To that end, we brought model Ashley Allred, photographer Sara Sanger and intrepid photo assistant Josh Staples to Napa's fabulous funk art wallop the di Rosa Preserve to shoot the images that grace these pages. Follow Ashley as she goes on a journey through the Preserve, traveling along yourself through areas of North Bay food, wine and locales of which you may have been unaware.
--Gretchen Giles
We are greatly indebted to the di Rosa's Kathleen Gaines for her assistance. Photos by Sara Sanger
Send a letter to the editor about this story.