November 22-28, 2006
home | metro silicon valley index | news | silicon valley | news article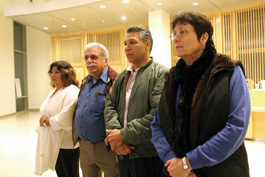 Photograph by Felipe Buitrago
Tough sell: Left to right, neighborhood advocates Dolly 'Dee' Urista, Harvey Darnell, Rudy Martinez and Susan Price-Jang listen to a consultant's presentation on the San Jose Aquatics Master Plan at City Hall on Nov. 13.
New Delay on Pools
City says it needs six more months on long-term aquatics plan, residents say fix crisis now
By Diane Solomon
FOR A WHILE there, it looked like the meeting that was going to bring the public hanging back to San Jose. And if city officials learned one thing from the outrage and disgust that was heaped on them at City Hall last week, it was that swimming pools have blown up into one of the most heated issues in local politics.
The news at this particular meeting was a hard sell: a six-month delay in the completion of the San Jose Aquatics Master Plan, which will mean even further delay in reopening the city's public pools or building any more.
The pools have been in a sorry state for years, but a Metro story in August ranking San Jose last in swimming facilities among the 20 largest cities in the country set tempers boiling in neighborhoods around the city. San Jose's six public pools are the fewest of any major U.S. city, and four of those—Mayfair, Ryland, Alviso and Biebrach pools—are closed due to what the city calls "deferred maintenance." What that really means is that over the last 30 years, over the course of funding the Grand Prix, suing the county, paying off the garbage company, spending $507 million on a new City Hall, hiring PR consultants and attempting to take over the Tropicana Shopping Center, the City Council forgot to fund neighborhood pools. Mayfair is getting Measure P funds and will be repaired. The others have an uncertain future. Rather than repairing and reopening the pools, the city decided to put together the Aquatics Master Plan, which may or may not ultimately lead to the reopening of the pools. Each of the 10 City Council districts kicked down $25,000 in August to hire Counsilman-Hunsaker to develop it, and the company began working with Parks, Recreation and Neighborhood Services' deputy director, Cynthia Bojorquez. They've held hundreds of meetings with stakeholders such as neighborhood associations, senior groups, school districts, the YMCA's and private providers. They also conducted telephone and youth surveys and in September they visited just about every man-made body of water in San Jose.
This month, there were two meetings at City Hall to lay out the strategies being considered and determine if Counsilman-Hunsaker missed any community needs. At the Nov. 13 meeting, city officials asserted that they needed to extend the process for the six additional months in order to hold more outreach meetings, gather more data, educate the public, hold City Council study sessions and hand off a proposal to the City Council in June 2007. The council will then decide what the city aquatics program is going to look like for the next 20-50 years.
Rudy Martinez, president of the Gardner Advisory Committee, is one of those who thinks the city is dragging its fins. The Biebrach pool is located at Gardner Community Center in north Willow Glen, and he wants it to reopen pronto.
Martinez says he and other Gardner leaders were surprised two years ago when their pool was closed without notice. When confronted, Parks and Recreation suggested they replace Biebrach with a splash pool. When it was pointed out that a wading pool couldn't possibly meet the needs of what was one of San Jose's most popular pools, the city proposed a study of the area's aquatic needs. Martinez doesn't like their approach, and though he himself has been to most of the meetings, he thinks the city's outreach on the Aquatics Master Plan has been poor.
"Most residents aren't getting informed," he says.
Pool Plans
At the City Hall meeting, Counsilman-Hunsaker representative Scot Hunsaker presented seven concepts being considered for the master plan. They ranged from repairing the closed pools to the creation of a regional water attraction combined with community center featuring competition swimming venues, water playgrounds and leisure pools. In between were small or midsize aquatics centers with differing feature sets like kids' activities, shade structures, indoor/outdoor competition venues and warm water therapy pools.
Every concept seemed to have a high price tag. The total cost to reopen the four pools is $5 million. Reopening Biebrach is estimated to cost $1.6 million, Ryland $2.4 million. A new neighborhood pool with two multiuse pools will cost $6 million. An indoor competitive venue has a $41 million price tag. Wellness pool facilities cost $7 million and a regional water attraction attached to an existing community center would cost $26 million.
Richard Wells is in his 50s, and grew up swimming at Ryland Park. He was among the many riled up by Hunsaker's presentation. Wells had a problem with the city hiring a consultant—and one from Los Angeles, at that. He thinks the concepts are grandiose and expensive, and that the city should just fix the four pools for next summer.
"This is typical San Jose crap," he said. They love to spend money on consultants but they won't spend money to fix something. Our priorities are screwed up."
Don Gagliardi, president of the 13th Street Neighborhood Advisory Committee, points to the $34 million surplus and $200,000 approved by the City Council on Nov. 15 for PR consultants to promote San Jose as a place to do business. "This money could go to fix our pools," he says. "I bet the PR firm won't talk about our city having the worst track record on pools in the country."
Sink or Swim
In spite of the controversy, Hunsaker and Parks and Rec's Bojorquez believe in the process, which is to develop a conceptual master plan and then hand it off to the City Council. Borjorquez says that they won't recommend anything, even pool closings.
When aquatics centers with new amenities were presented at the Nov. 13 meeting, upset Biebrach and Ryland advocates took that to mean their pools were no longer wanted. Bojorquez says that's not true. The four closed pools were open only three months a year and collectively served about 15,000 people. "Without new amenitites that can better serve seniors, youth, the disabled and underserved geographic regions, we aren't going to attract new users. We'll be serving the same people," she says. "We want to add to the quality of life in our neighborhoods. We want to improve pools and programming."
Bojorquez says the City Council will decide what the priorities are. "We'll present information to council to help them make an informed decision and we'll look for them to give us direction."
There will be more community meetings in December, followed by a Parks and Rec Commission meeting in January and a City Council study session in February. In April, the draft Master Plan will be presented for community comment. When Chuck Reed takes office, the public will be able to voice their support for pools at the new community budget meetings which will be held to get community input on what city priorities should be.
"It's time to not sit back and let other people do it," says Martinez. "Numbers will make a difference. We need to impress the new mayor and new City Council members that these resources are needed and wanted by the community."
Send a letter to the editor about this story.