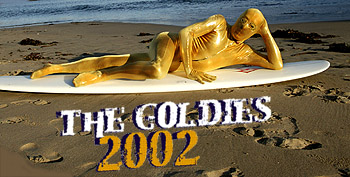 Best You-Name-Its
Best Reason to Think That Rock Is Dead: The local punk scene
Best Badly Timed Traffic Signals: Pacific Avenue and Water Street, Center and Water streets
Best Motorcycle Gang: The Santa Cruz Vampires
Best Local Issue Being Ignored: The continuous increase in students being enrolled at UCSC. When is a local politician going to protest this instead of freeing Mumia?
Best Place to Be Hassled by Homeless People and Then Have Your Tax Money Go to Put Them Up For the Night: Santa Cruz
Best Music in a Convenience Store: At the Quik Stop on Soquel Drive, Soquel. KPIG, Glenn Miller, Patsy Cline, Satchmo, Janis, Coltrane, Bags, Dvorak, Copland, Hooker, KBAQ, Duke: You never know what you're gonna get.
Best Nonrepresentational Sculpture: Poised at the wharf's entrance, overlooking Monterey Bay Marine Sanctuary, it lacks any marine reference at all! It's FRUITHENGE! My fave!
Best Landlord: Nick Trowbridge of La Selva Beach for choosing to keep three tiny, charming (and affordable) rental cottages on a lot instead of leveling them and building one of those monster homes that probably would yield twice the rental income.

Critics' Picks: These are a few of our favorite things.
Readers' Choice:
Best Arts & Culture
Best Goods & Services
Best Music & Nightlife
Best People & Places
Best Sports & Rec
Best Food & Drink
It's a Sign! Readers speak out on the not-so-beloved River Street landmark.
Beat the Stuffers: Our amateur forensic analysts keep the voting honest.

[ Santa Cruz | Metroactive Central | Archives ]