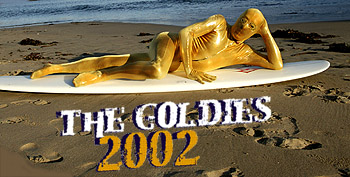 Readers' Choice
Best Sports & Rec
Beach
GOLD
Seabright
SILVER
SC Main Beach
BRONZE
Natural Bridges
Bike Ride
GOLD
West Cliff Drive
SILVER
Wilder Ranch
BRONZE
Forest of Nisene Marks
Birdwatching Spot
GOLD
Elkhorn Slough
SILVER
Natural Bridges
BRONZE
Neary Lagoon
Day Trip
GOLD
San Francisco
SILVER
Big Sur
BRONZE
Monterey Bay Aquarium
Hiking Spot
GOLD
Wilder Ranch
SILVER
Forest of Nisene Marks
BRONZE
Pogonip
Pickup Basketball Game
GOLD
Louden Nelson
SILVER
Jade Street Park
BRONZE
UCSC
Place for Quiet Contemplation
GOLD
West Cliff Drive
SILVER
Home
BRONZE
Beach
Sunset View
GOLD
West Cliff Drive
SILVER
Natural Bridges
BRONZE
Porter Meadow
Surf Spot
GOLD
Steamers/Cowell
SILVER
Pleasure Point
BRONZE
The Hook

Critics' Picks: These are a few of our favorite things.
Readers' Choice:
Best Arts & Culture
Best Goods & Services
Best Music & Nightlife
Best People & Places
Best Food & Drink
Best You-Name-Its
It's a Sign! Readers speak out on the not-so-beloved River Street landmark.
Beat the Stuffers: Our amateur forensic analysts keep the voting honest.

[ Santa Cruz | Metroactive Central | Archives ]