Bars and Clubs 2000
Adolph's
525 Water St., Santa Cruz (423.4403)
Family-style Italian restaurant has a spacious full bar off to the side. The crowd tends toward the Ford Taurus set, a jovial bunch at that. For banquets, the restaurant opens up a sub-bar in the back.
---
Aldo's Cafe Restaurant
481 A Almar Center, Mission and Almar streets, SC (429.9982)
A sleek bar stocked with goodies--including an impressive selection of local and imported wines--stretches along the restaurant's posh dining area. Slipping into Aldo's for a slice of tiramisu and a glass of Chianti feels like escaping into another world.
---
Aptos Club
7941 Soquel Dr., Aptos (688.9888)
Once strictly a locals' hangout, the Aptos Club now hosts a booming house and hip-hop scene on Wednesdays and local punk and rock bands on Fridays and Saturdays. On quiet nights, neighborhood residents come in to unwind, shoot pool and play tunes on the jukebox full of rock, country, blues, jazz and pop. The club features a full bar, an ample selection of beer, a modest dance floor and an outside patio where smokers are welcome. Cover varies.
---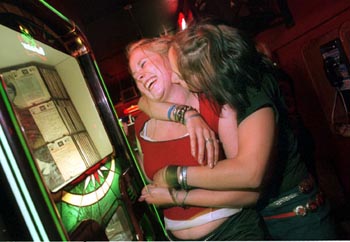 Photograph by George Sakkestad
Tune Town: Jessica Carter (left) and Anna Drake ponder the multitude of choices on the legendary jukebox at the Asti Cafe on Lower Pacific.
Asti Cafe
715 Pacific Ave., SC (423.7337)
Low lighting, vintage leather stools and cool-as-ice bartenders give this lower Pacific Avenue drinking spot that hole-in-the-wall feeling. The side room, with its pool tables, video lottery games and brighter lighting, feels like a different place, and the Asti has one of the best jukeboxes in the county.
---
The Avenue
711 Pacific Ave., SC (426.3434)
Cheap happy-hour brews attract a crowd at this south Pacific Avenue haunt. There are four pool tables and sports on four TV screens. The patio out back is the perfect place to observe the club's tasty Neapolitan mix of surfers, punks and country types.
---
Backstage
230 Mount Herman Rd., Scotts Valley (438.0606)
Movie-themed Scotts Valley eatery with a spacious full bar connected to the dining room. Good spot for a friendly after-work drink or to pass the time waiting for a table. Kitchen cooks up pub grub (nary a garden burger in sight), all dressed up with names of old-time stars.
---
Bella Roma Caffe
316 Capitola Ave., Capitola (462.5100)
Spirited trattoria ambiance and an echoey dining room make Bella Roma Caffe a lively place when weekend crowds show up for the restaurant's crafty Italian menu. The wine list is as imaginative as the entrees, and the full bar is a bustling place to meet and greet. Remember to dress for success.
---
Bittersweet Bistro
787 Rio Del Mar Blvd., Rio Del Mar (662.9799)
The classy restaurant offers single-malt scotches, fine cognac and wonderful local wines. The extensive wine list includes selections from one of the area's best-stocked cellars. On afternoons (daily, 3­6pm), Bittersweet offers Bistro Hour, when all yummy gourmet pizzettas are half-price, and wines by the glass, beer and spirits are specially priced.
---
Blue Lagoon Cocktail Lounge
923 Pacific Ave., SC (423.7117)
Just past the stoic doorman, ask for bartender Sal, who makes a killer cocktail. The Blue boasts one of the best dance floors in Santa Cruz, with DJs seven nights a week. If the crowd gets too wild, escape to the second dance floor, order a cold one from the backup bar, or duel at eight-ball on one of two pool tables. Happy hour daily, 6-9pm. Cover varies.
---
The Blue Spoon
207 Searidge Rd., Aptos (685.8654)
Aptos' hot new dining spot has added some live entertainment to the mix. Saxophonist Gary Regina performs on Tuesdays (8­9:30pm). Magician Doug performs amazing feats on Sundays, starting at 6pm.
---
Bocci's Cellar
140 Encinal St., SC (427.1795)
The cocktails are generous, and drinkers may order appetizers from the Italian menu. The wine list is heavy on local vintages, and the draft-beer selection should satisfy all but the most snobbish of hopheads. Bocci ball tournaments are scheduled every Tuesday.
---
Boulder Creek Brewery & Cafe
13040 Hwy. 9, BC (338.7882)
Homey, center-of-town establishment meshes perfectly with Boulder Creek's small-town spirit. Pouring amber elixirs in front of the brewing tanks, the bartender does his best to put patrons at ease. BC Brewing also offers some of the best grub in the San Lorenzo Valley, and one of the nicest settings--vaguely Victorian trappings like a Wild West roadhouse and plenty of booths--in which to consume it.
---
Brady's Yacht Club
413 Seabright Ave., SC (no phone; just go)
Brady's is full of regulars who know each other and are immortalized on the cinder-block walls. Photos are taken of regulars, by a regular (albeit professional) photographer. Don't expect anything too fancy. My request for a sour-apple martini was out of the question. But comfort--in the form of a cold beer or a friendly patron with a willing ear--is always within reach.
---
Britannia Arms
8017 Soquel Dr., Aptos (688.1233)
This charming split-level pub offers happy hour from 2:30 to 6pm weekdays, with well drinks and domestic beers for $2 and specials on other drinks, plus complimentary hors d'oeuvres at 4pm. There's a particularly good selection of scotches, and the menu includes such Brit favorites as shepherd's pie and bangers and mash. Pool and league darts are played in a recently revamped game room and bar. Wednesdays are trivia night.
---
Brookdale Lodge
11570 Hwy. 9, Brookdale (338.6433)
The Madonna Inn of the Santa Cruz Mountains. A fast-flowing mountain brook flows through the dining room, but the fun doesn't end there. The post-dinner crowd will find a setting for live music as well as the more intimate cocktail lounge, all dark wood and red vinyl upholstery. Some big-name acts like Country Joe and Elvin Bishop drop by for weekend shows. Your home away from home for Deadheads. Cover varies.
---
Cafe Cruz
2621 41st Ave., Soquel (476.3801)
Top-of-41st spot is a playful restaurant both in dining-room design and in menu offerings. Similarly the bar, which overlooks a spacious patio, often gets rowdy with patrons playing dice. Good list of wines by the glass.
---
Cafe Rio
131 Esplanade, Rio Del Mar (688.8917)
With a sparkling windowed wall that looks out over the beach at Rio Del Mar (perfect at sunset) and an aura of relaxed elegance, Cafe Rio specializes in seafood classics, wines by the glass, sleek martinis and warmed brandy. Live local jazz acts can be heard on Friday and Saturday nights.
---
Callahan's Pub
507 Water St., SC (427.3119)
A traditional beer and whiskey bar that mixes regular bikers with weekend punkers for weekend shows. The pub hosts blues on Thursdays, and punk and rock Friday to Sunday. Don't let the shamrock-green exterior fool you--there's nothing soft and clovery about Callahan's. Cover varies.
---
Carniglia's Seafood
49A Municipal Wharf, SC (458.3600)
Carniglia's bar/restaurant blends Italian charm with beachy ambiance. The windows offer a view of the rolling Monterey Bay and winding West Cliff Drive, while the bar's glossy wood and white-linen tablecloths provide a relaxed elegance. Margaritas and draft beers are $2 on weekday afternoons.
---
The Castaways
3623 Portola Dr., SC (462.1319)
This no-frills saloon has long been a great place to stop by after work for a pint and a game of pool or darts. A change of owners has added a new enthusiastic spirit--as well as casino nights and pool tourneys. Just come ready to play or watch two giant fish tanks from the bar--the spot has few cocktail tables for cliques to chat.
---
The Catalyst
1011 Pacific Ave., SC (423.1336)
"Randall's Playhouse," truly the granddaddy of Santa Cruz clubs, hits the 21st century with a big transition. Owner Randall Kane is selling the Catalyst to a group that operates San Jose's The Usual. Bar and kitchen staff, many who have worked at the Cat for years and years, will remain, and no doubt the spacious stage will continue to be Santa Cruz's showcase spot for major national performers and favored locals alike. Until the sale is finished, it's business as usual at the club's three bars, and the weekly lineup of bands booms as loud as ever. Cover varies.
---
Cilantro's
1934 Main St., Watsonville (761.2161)
Home to traditional Mexican food, cold cerveza and salty margaritas, Cilantro's walks the line between family restaurant and nighttime party spot. The outdoor deck provides umbrellas for summer and heat lamps for winter. A bar jukebox or karaoke machine provides the canned tunes.
---
Clouds Downtown
110 Church St., SC (429.2000)
This upscale watering hole is the rendezvous spot of choice, where many downtown politicos, journalists, bidness people and other rapscallions sling rumors. The atmosphere is looser than the Technicolor bar and stainless-steel decor initially suggest. Discreet lighting, good food, a complete bar and a hint of trouble and delight in the air. Clouds' martinis were the people's choice in this year's Goldies.
---
Club Dakota
1209 Pacific Ave., SC (454.9030)
For an evening of chic fun, look no further than Club Dakota, where a mahogany bar, art-deco lighting, cocktail tables and a complimentary coat check at the door all add up to the very definition of cool. But don't let the decor fool you. Just beyond the bar is the mirrorless, warehouse-style dance floor, where DJs spin hits seven nights a week. Food offerings come from the menu of the adjoining Pearl Alley Bistro until 10pm. Gay-friendly, of course. Cover varies.
---
Cocoanut Grove Ballroom
400 Beach St., at the Boardwalk, SC (423.2053)
Relic of the '30s and '40s heyday of the ballroom era, the Grove has long hosted big bands (Wynton Marsalis' Lincoln Center Jazz Orchestra gave a memorable show there this spring), though lately the roster of performers is just as likely to include contemporary salsa dance bands as swing outfits of yesterday. An ample dance floor, thick carpet and a cavernous space make events at the ballroom feel like grand nights out.
---
Convivio Trattoria
655 Capitola Rd., SC (475.9600)
The wine bar would make a fitting date-night destination all unto itself--it's secluded from the dining action and feels like its own club. The only problem is that all those fantastic aromas from the exhibition kitchen call out to patrons to complete their sipping with some delizioso dining.
---
Costa Brava
1222 Pacific Ave., SC (425.7871)
Surrounded by fake palm trees and Picasso-esque drawings, brilliant bartenders whip up tart sugar-encased treats that taste dangerously like lemonade. Fans of good drinks and Latin-Mediterranean fusion cuisine will never grow bored. Weekends get pretty packed, meaning that the drinks-only crowd usually ends up hanging out at the stylish bar.
---
The Corner Pocket
3102 Portola, SC (475.9819)
Your basic pool hall, complete with three tables (and a pair for air hockey, too), energy-saving lighting and nothing but beer and wine. College students (both Cabrillo and UCSC) and denizens of the Pleasure Point surf ghetto come to unwind after class or after a Sewer Peak session.
---
The Crepe Place
1134 Soquel Ave., SC (429.6994)
The glossy wood bar draws patrons to the back of the restaurant, which eventually leads to the outdoor dining area. Jazz duos and trios play for weekend brunch and Tuesday dinner crowds sipping a variety of unique drinks, many fruity, all strong. Martinis are $2.50 on Mondays. The place gets Mediterranean with monthly flamenco and belly dance showcases.
---
Crow's Nest
Yacht Harbor, 2218 East Cliff Dr., SC (476.4560)
This famed local icon annually garners a clutch of Metro Goldies awards. The best spot is outside the bar on a new patio elevated above the sand. On summer nights, the deck is temperate and uncrowded. Wednesday nights during daylight-saving time, the bar is crowded with skippers and deck hands back on land from the weekly regatta on the bay. On Thursdays, the restaurant throws a barbecue and dance party on the sand, featuring local reggae, funk and world beat groups. Live music Thursday through Saturday. Cover varies.
---
De Laveaga Golf Course & Lodge
Upper Park Rd., SC (423.1600)
OK, it's not Pebble Beach, but the greens fees are a whole lot less. As a reward for a score resembling par (or consolation for those four bogeys), the lodge offers a comfortable haven to unwind. High ceilings and a wonderful view of the green make the bar complete. One note: This is a daytime establishment and closes before 8pm.
---
Don Quixote
6275 Hwy. 9, Felton (335.2800)
Margaritas, of course. Corona, sure. But the bartender at Don Quixote can whip up much more at this full-service cocktail lounge. The drinks can be quaffed in style while seated on comfortable stools and leaning on the padded bar--a worthy resting spot after a session of elbow-bending. Live music and flamenco dance occasionally, with classical guitar on Fridays; cover varies.
---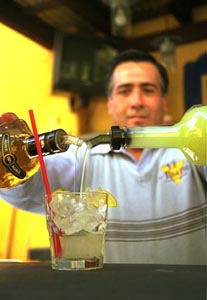 Pour Relation: Bartender Fidencio Rodriguez does wonders with salt, lime and tequila at El Alteño in Watsonville.
Photograph by Ivan Kashinsky

El Alteño
323 Main St., Watsonville (768.9876)
The food at El Alteño is so good that the extensive array of margarita specials available at the small bar in the back seems like too much good news for one night out. The outside patio, sheltered from the cold (although not always from the wind), provides a second opportunity to experiment with combinations of lime, salt and tequila.
---
El Palomar Restaurant
1336 Pacific Ave., SC (425.7575)
El Palomar Restaurant, a downtown Santa Cruz anchor, is an establishment of multiple personalities: fine-dining restaurant, lively cantina and dine-and-dash taco bar all under one Romanesque vaulted roof. The cantina crowd is equal parts downtown regulars and tourists in the know. The taco bar, where a crew of salt-of-the-earth women will whip up a taco right up until 10pm, is a life-saver for the college and sporty crowds.
---
Engfer Pizza Works
537 Seabright Ave., SC (429.1856)
New owners have transformed this Seabright Avenue spot into an appealing pizza cafe, replacing the Seabright Wine & Deli but retaining the excellent selection of wines. Great neighborhood hangout, with a pingpong table, six beers on tap and pizzas cooked in a wood-fired oven.
---
Empire Grille
6250 Hwy. 9, Felton (335.2127)
Felton eatery with a long wine list and a full bar.
---
Fast Eddy's Billiards
4300 Capitola Rd., Capitola (462.1882)
Metro Santa Cruz readers perennially vote Fast Eddy's the best place to play pool in Santa Cruz. This beer-and-wine hangout in Capitola has 18 pool tables. Sporting events can be viewed on TVs behind the bar, and there's a room in the back with video games and pinball. Recently, Fast Eddy's changed its happy hour to 3 to 8pm, with two-for-one beers.
---
Flamingo Club
1035 Main St., Watsonville (763.2093)
Latino club with a full bar and calendar of live bands.
---
Fog Bank
211 Esplanade, Capitola (462.1881)
Lots of oak covers the bar and walls, which open up onto the deck, where patrons can imbibe draft beers, mixed drinks or wine under umbrellas or in the full rays. Karoake on Thursdays, live rock and blues Fridays through Sundays, folk on Tuesdays.
---
Front Street Pub
516 Front St., SC (429.8838)
As much a family dining room as it is home to some of the best brews around, Front Street Pub is stocked with wine, sherry, port and, of course, beer--and pub-style appetizers and entrees. Monday through Friday, 4:30pm to 6:30pm, pitchers are only $5.00, and Thirsty Thursdays, featuring live music from local and touring bands, has $8 pitchers and $2 pints. Live music Thursdays-Saturdays. The back room beckons gaming types, with pool, darts and video games.
---
Garbini's Hideout
589 Auto Center Dr., Watsonville (728.0272)
Neighborhood spot for Watsonville longtimers with a full bar and shuffleboard lane for kicks.
---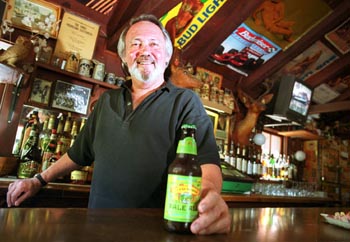 Photograph by George Sakkestad
Back to Basics: At George's Log Cabin in Felton, bartender Cimarron Conway offers a time-tested slice of mountain culture.
George's Log Cabin
5755 Hwy. 9, Felton (335.9969)
Ever since George's Log Cabin was built in the '30s--just in time to celebrate the end of Prohibition--the drinks have flowed. Despite some modern touches, this is a slice of mountain culture, with nothing ersatz about the ambiance or the crowd.
---
Green Valley Grill
40 Penny Lane, Watsonville (728.0644)
Crowds come for the great American fare of the restaurant and stay for the inviting bar, which features a cocktail hour and a half (5­6:30pm) and, on Fridays, an eclectic playlist of live music from Folkmonster.
---
Henfling's Firehouse Tavern
9450 Hwy. 9, Ben Lomond (336.8811)
Henfling's meets every condition demanded of a classic roadhouse: junk on the walls; colorful locals jawboning while they play liars dice; good food at fair prices. Thanks to booker Tom Miller, Henfling's is the county's prime stop for top folk acts and Strawberry Music Festival sensations. This favorite San Lorenzo Valley hangout is frequented by an eclectic and friendly crowd. Cover varies.
---
Hindquarter
303 Soquel Ave., SC (426.7770)
Because this restaurant is always bustling, the full bar provides a great place to wait for seating or sip a nighttime martini. Yes, one could go to the Hindquarter solely for the bar, but I guarantee no one will be able to resist the sizzling steaks and other barbecue specialties (the Hindquarter is a regular Goldies winner for its superlative steaks).
---
Hollins House
20 Clubhouse Rd., SC (459.9177)
Hollins House offers fine dining, views of the manicured fairways and greens of Pasatiempo Golf Course and, farther out, the Monterey Bay--and a lovely wine list. The original clubhouse from the 1920s, which once hosted Hollywood stars on holiday, Hollins House now functions as a welcoming spot for a before-dinner cocktail or an after-dinner drink. Full bar and a cigar selection.
---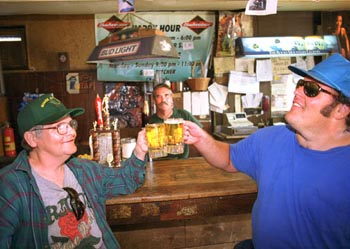 Photograph by Grant Wernick