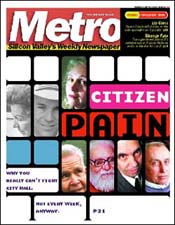 For the Week of
February 3-9, 2000
Cover: Citizen Pain
The political gadflies of Silicon Valley and those who love to hate them.
News: Let Them Eat IPOs
Despite the hype of stock market equity via the Internet, the system surrounding initial public offerings is still set up to help the rich get richer.
Saratoga: Routine discussion turns into debate on Planning Commission decision processes.

Los Gatos: CHP takes over A-Frame where fortunes were told.

Zoom Boom: Children's Discovery Museum merges two generations, and one of them doesn't even know it.
Public Eye: Plaintiff in "Dr. Strange Love" case dies in crash. Peacock ruffles Demo feathers. 'Click' goes klunk in cover headline.



Sarah-nade: On her solo album, Sarah Cracknell of St. Etienne sings bright odes to girls on the go.
Aural Fixation: Blues, Beam benefit and band sites lead the week's local music news.
Audiofile: Reviews of new CDs by Krenshaw and Jucifer.



Chen Kaige's Killer Epic Turns on Trauma: A ruler's plot turns against him in 'The Emperor and the Assassin.'
Horse Play: The past catches up with three friends in 'Simpatico.'
Master Series: The Stanford Theater celebrates Alfred Hitchcock's centenary with a three-month retrospective.



The Pictures of Dori Seda: Her wild life took Dori Seda early, but her comics keep her vision of late-night excess alive.



Linux Capitalist Sluts: What happens when open source sells out.



Swan Songs: An egg makes good in TheatreWorks' fairy-tale musical 'Everything's Ducky.'



Valley Grill: Mountain View's Valley Bar and Grill breaks the mold of predictable bar fare.
A La Carte: The Almaden Roasting Company focuses on people over profits.



Please don't forget to write! Metro welcomes letters. Like any great work of art, they should be originals -- not copies of letters sent elsewhere. Include address and daytime phone (for verification purposes only). Letters may be edited for length and clarity or to correct factual inaccuracies known to us. Postal: Metro Letters, 550 S. First. St., San Jose, CA 95111. Fax: 408/298-0602. . Emailers, please include name, city of residence and phone number. Letters printed will list email address unless otherwise specified. Letters to the editor are not currently published in the online version of this paper.