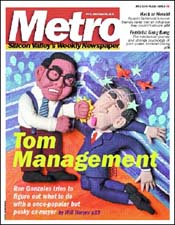 For the Week of
April 13-19, 2000
Cover: Public McEnemies
The rift between San Jose Mayor Ron Gonzales and former mayor Tom McEnery reflects a shift: San Jose is in the regional game and it's not Tom's town anymore.
News: Tainted Love
Laurie Flower had been a foster mom for 10 years. One day she and a 13-year-old boy in her care began an affair that lasted 18 months. Thus began her slow descent into hell.
Sunnyvale: Officials clear student suspensions.

Willow Glen: Broadway High's robotics team grabs the gold at competition.

Black Madonna: Looking to the ancient Catholic icon for power.
Public Eye: It ain't no bull--Saddle Rack's days numbered. Gore and the Milpitas fax faux pas. Valley Fair vs. Town & Country.



Diabolical Bravura: The San Francisco Symphony under the direction of Ivan Fischer did right by Haydn, Liszt and Bartok at Flint Center in Cupertino.
Hack or Herald: Ryuichi Sakamoto's movie themes never met an influence they couldn't absorb.
The Spirit of Swing: The Lincoln Center Jazz Orchestra takes a sophisticated look at big-band classics.
Aural Fixation: The California Music Awards went out with a whimper, not a BAM.
Audiofile: Reviews of new CDs by Kittie and Aqua.



Killer Festival: Sophia Coppola's 'Virgin Suicides' leads off this year's San Francisco International Film Festival--our critics parse the crowded field.
In Search of Cool: The vapid preppies in James Toback's 'Black and White' crave a dose of hip-hop menace.
Feminist Gang Bang: The intellectual journey and strange psychology of porn queen Annabel Chong.
Second Chance: In 'Me Myself I,' a woman discovers her alternative life didn't run true.



When, Where And Wyatt: Paul West's novel 'O.K.' tries to explain one of American history's most ambiguous heroes.



Work: Wealth! Baths! Bah!



In Like a 'Dralion': Cirque du Soleil continues to amaze with new variations on old tricks.
Casting a Wide Cygnet: Karen Gabay's evil Odile proved more alluring than her innocent Odette in SJ Cleveland's 'Swan Lake.'



Hitting the Sauce: Christina Waters rates the pasta sauces, jar by jar.
A La Carte: California Cafe keeps savvy consumers from dropping when they shop.



Please don't forget to write! Metro welcomes letters. Like any great work of art, they should be originals -- not copies of letters sent elsewhere. Include address and daytime phone (for verification purposes only). Letters may be edited for length and clarity or to correct factual inaccuracies known to us. Postal: Metro Letters, 550 S. First. St., San Jose, CA 95111. Fax: 408/298-0602. . Emailers, please include name, city of residence and phone number. Letters printed will list email address unless otherwise specified. Letters to the editor are not currently published in the online version of this paper.