Best of Silicon Valley 2005
Intro
Food & Sustenance
Arts & Culture/Music & Nightlife
Shopping & Services
Love & Romance
Editors' Short List

Arts & Culture
Editors' 20
BEST GRAND PUBLIC SPACE IN WHICH TO REMEMBER WHEN GOING TO THE MOVIES WAS AN EVENT AND NOT A DESCENT INTO MULTIPLEX HELL
The newly renovated Stanford Theatre 221 UNIVERSITY AVE., PALO ALTO, 650.324.3700.
BEST PLACE TO CONTEMPLATE THE ULTIMATE SLAPSTICK GAG
The 900-Pound, 14-foot-high banana peel sculpture 'Floating Peel,' by Claes Oldenburg and Coosje van Bruggen CANTOR ARTS CENTER INNER COURTYARD, STANFORD UNIVERSITY, PALO ALTO.
BEST ONE-STOP DESTINATION FOR GRAND OPERAS, SYMPHONY CONCERTS, CLASSIC MOVIES, CHORAL EXTRAVAGANZAS, iPod PR ANNOUNCEMENTS AND ANY OTHER EVENT THAT CALLS FOR FANFARE AND FOLDEROL
California Theatre 345 S. FIRST ST., SAN JOSE.
BEST WAY TO SUCK RUBBER FRAGMENTS AND LOVE IT AT SAN JOSE'S COOLEST NEW EVENT
The San Jose Grand Prix
BEST WAY TO KEEP THE WRITTEN WORD ALIVE EVEN WHILE LOCAL TREASURES LIKE KEPLER'S ARE FORCED TO CLOSE
Go to the nearest independent bookstore and buy a book, any book. Then buy another book. Repeat as often as you can.
BEST MINIATURE LOCOMOTIVE
The one-third-scale No. 2 Wildcat Railroad steam engine at Oak Meadow Park UNIVERSITY AND BLOSSOM HILL ROAD, LOS GATOS, 408.399.5770.
BEST NEW USE OF A BIG OLD SPACE GOING TO WASTE
San Jose Museum of Quilts & Textiles 520 S. FIRST ST., SAN JOSE, 408.971.0323.
BEST PLACE TO SEE MORE MOVIES THAN YOU CAN SHAKE A STEADI-CAM AT
Cinequest
BEST WAY TO SOAK UP THE WORDS AND WISDOM OF SOME GREAT WRITERS FOR FREE
The Center for Literary Arts' Major Author Series 408.924.4600.
BEST REASON IT'S SAFE TO GO BACK ON THE ICE
The San Jose Sharks return
BEST LOCAL MONSTER
The Milpitas Monster, from the 1975 movie of the same name
BEST PLACE YOU CAN DOME IN THE MORNING, YOU CAN DOME IN THE NIGHT, YOU CAN DOME WHEN YOU WANNA DOME
New City Hall 200 E. SANTA CLARA ST., SAN JOSE, 408.535.4800.
BEST PLACE TO REMAKE THE FATE OF SAN JOSE
Martin Luther King Jr. library, seventh floor, where you can get one of the best public views of San Jose 150 E. SAN FERNANDO ST., SAN JOSE, 408.277.400.
BEST TRAIN OF THE FUTURE
VTA Vasona Line to Los Gatos
BEST BAD IDEA FOR A CITY MOTTO
'We're Number 10!' (Bonus trivia: 'Number 10' is Vietnamese slang for 'the worst.')
BEST NEGLECTED LOCAL WRITER
Ambrose Bierce
BEST PLACE TO WATCH POLICE VIDEOTAPING MOTORCYCLE GANGS
Music in the Park PLAZA DE CESAR CHAVEZ, SAN JOSE
BEST PLACE TO FIGHT OVER THE JUKEBOX
Cinebar 69 E. SAN FERNANDO, SAN JOSE.
BEST PLACE TO OBJECTIFY FEMALE BARTENDERS
Mission Ale House 97 E. SANTA CLARA ST., SAN JOSE.
BEST BAR FOR TRANSVESTITES WHO HABLA ESPAÑOL
Lido, on Mondays and Wednesdays 30 S. FIRST ST., SAN JOSE, 408.298.4318.
Arts & Culture
Readers' Poll
BEST PLACE TO LOOK AT ART
San Jose Museum of Art See write-up
RUNNERS UP: Anno Domini 150 S. MONTGOMERY ST. UNIT B, SAN JOSE Mocimiento de Arte y Cultura Latino Americana 510 S. FIRST ST., SAN JOSE
BEST LOCAL FESTIVAL
Music in the Park See write-up
RUNNERS UP: San Jose Jazz Festival; Gilroy Garlic Festival
BEST LOCAL BLOG
unrulyrus.com See write-up
RUNNERS UP: sanjoseinside.com; Craigslist.com South Bay
BEST ART HOUSE MOVIE THEATER
Camera 12 See write-up
RUNNERS UP: Camera 7 Pruneyard 1875 S. BASCOM AVE., CAMPBELL; Ciné[email protected] Row 308 OLDEN DRIVE, SAN JOSE
BEST MAINSTREAM MOVIE THEATER
Century 20 Oakridge See write-up
RUNNERS UP: Camera 12 201 S. SECOND ST., SAN JOSE; AMC Saratoga 14 SARATOGA AND CAMPBELL AVENUES, SARATOGA
BEST VIDEO ARCADE
Nickel City See write-up
RUNNERS UP: Dave and Buster's GREAT MALL, MILPITAS; Golfland 976 BLOSSOM HILL ROAD, SAN JOSE
BEST OPEN-MIC NIGHT
Barefoot Coffee Roasters See write-up
RUNNERS UP: Blue Rock Shoot 14523 BIG BASIN WAY, SARATOGA ; Espresso Garden and Cafe 814 S. BASCOM AVE., SAN JOSE
BEST LOCAL THEATER COMPANY
ComedySportz See write-up
RUNNERS UP: Shady Shakespeare Theatre Company SANBORN-SKYLINE COUNTY PARK, SARATOGA; San Jose Repertory Theatre 101 PASEO DE SAN ANTONIO, SAN JOSE
BEST STANDUP COMEDY VENUE
The Improv See write-up
RUNNERS UP: Rooster T. Feathers 157 W. EL CAMINO REAL, SUNNYVALE; National Comedy Theatre 52 S. FIRST ST., SAN JOSE
BEST LOCAL WINERY
David Bruce See write-up
RUNNERS UP: Ridge Vineyards 17100 MONTE BELLO ROAD, CUPERTINO; Mountain Winery 14831 PIERCE ROAD, SARATOGA
BEST COLLEGE RADIO STATION
KSCU-FM (103.3) See write-up
RUNNERS UP: KSJS-FM (90.5); KFJC-FM (89.7)
BEST LOCAL JOCK
DJ Strawberry at 94.9 FM
RUNNERS UP: Gary Scott Thomas at 95.3 FM; Johnny X at 104.9 FM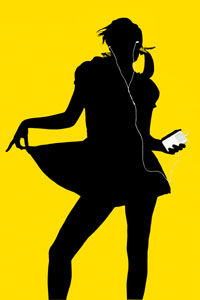 Music & Nightlife
Readers' Poll
BEST NEW BAR/CLUB
Dive Bar See write-up
RUNNERS UP: Studio 8 8 S. FIRST ST., SAN JOSE; Fahrenheit Ultra Lounge 99 SAN FERNANDO ST., SAN JOSE
BEST ULTRA LOUNGE
Fahrenheit Ultra Lounge See write-up
RUNNERS UP: The Vault 81 W. SANTA CLARA ST., SAN JOSE; The Agenda 399 S. FIRST ST., SAN JOSE
BEST STRIP CLUB
Pink Poodle 328 S. Bascom Ave., San Jose
RUNNERS UP: Kit Kat 907 E. ARQUES AVE., SUNNYVALE; Brass Rail 160 PERSIAN DRIVE, SUNNYVALE
BEST WINE BAR
Tannins 379 E. Campbell Ave., Campbell
RUNNERS UP: Uncorked 14500 BG BASIN WAY, SARATOGA; The Wine Cellar 50 UNIVERSITY AVE., LOS GATOS
BEST HAPPY HOUR
Fahrenheit Ultra Lounge See write-up
RUNNERS UP: The Agenda 399 S. FIRST ST., SAN JOSE; Dive Bar 78 E.SANTA CLARA ST., SAN JOSE
BEST DANCE CLUB
The Blank Club See write-up
RUNNERS UP: The Vault 81 W. SANTA CLARA ST., SAN JOSE; Studio 8 8 S. FIRST ST., SAN JOSE
BEST SPORTS BAR
Double D's 354 N. Santa Cruz Ave., Los Gatos
RUNNERS UP: Britannia Arms See write-up; Old Pro's 2865 EL CAMINO REAL, PALO ALTO
BEST DJ NIGHT
The Vault 81 W. Santa Clara St., San Jose
RUNNERS UP: Fahrenheit Ultra Lounge 99 SAN FERNANDO ST., SAN JOSE; Johnny V's 31 E. SANTA CLARA ST., SAN JOSE
BEST KARAOKE
Seven Bamboo See write-up
RUNNERS UP: Britannia Arms MULTIPLE LOCATIONS; Sports Page 1431 PLYMOUTH ST., MOUNTAIN VIEW
BEST PRE-SHARKS GAME SPOT
Britannia Arms See write-up
RUNNERS UP: Tied House 65 N. SAN PEDRO ST., SAN JOSE; Henry's World Famous Hi-Life 301 W. ST. JOHN ST., SAN JOSE
BEST JAZZ/BLUES CLUB
JJ's Blues See write-up
RUNNERS UP: Agenda 399 S. FIRST ST., SAN JOSE; Hedley Club Lounge DE ANZA HOTEL, 233 W. SANTA CLARA ST., SAN JOSE
BEST LATIN/SALSA CLUB
Club Miami 177 W. Santa Clara St., San Jose
RUNNERS UP: Club Max DOUBLETREE HOTEL, 2050 GATEWAY PLACE, SAN JOSE; Avalon 777 LAWRENCE EXPWY., SANTA CLARA
BEST PUB
Britannia Arms See write-up
RUNNERS UP: Rosie McCann's SANTANA ROW, SAN JOSE; Katie Bloom's 369 E. CAMPBELL AVE., CAMPBELL
BEST COCKTAIL LOUNGE
Dive Bar 78 E. Santa Clara St., San Jose
RUNNERS UP: Fahrenheit Ultra Lounge 99 SAN FERNANDO ST., SAN JOSE; Agenda 399 S. FIRST ST., SAN JOSE
BEST LIVE MUSIC CLUB
Blank Club
RUNNERS UP: Johnny V's 31 E. SANTA CLARA ST., SAN JOSE; Britannia Arms MULTIPLE LOCATIONS
BEST GAY/LESBIAN BAR
Splash 65 Post St., San Jose
RUNNERS UP: Club Savoy 3546 FLORA VISTA AVE., SANTA CLARA; Tinker's Dam 45 N. SARATOGA AVE., SANTA CLARA
BEST MARGARITA
Pedro's Cabo Grill See write-up
RUNNERS UP: Aqui TWO LOCATIONS; Fiesta Del Mar 1005 N. SHORELINE BLVD., MOUNTAIN VIEW
BEST PLACE TO PLAY POOL
South First Billiards 420 S. First St., San Jose
RUNNERS UP: California Billiard Club 881 E. EL CAMINO REAL, MOUNTAIN VIEW; Santa Clara Billiards 4525 STEVENS CREEK BLVD., SANTA CLARA
BEST DIVE BAR
Caravan See write-up
RUNNERS UP: Deep 87 N. SAN PEDRO ST., SAN JOSE; Black Watch 141 1/2 N. SANTA CRUZ AVE., LOS GATOS
BEST PLACE TO THROW A BACHELORETTE PARTY
Sedusa See write-up
RUNNERS UP: Fahrenheit Ultra Lounge 99 SAN FERNANDO ST., SAN JOSE; Kit Kat 907 E. ARQUES AVE., SUNNYVALE
BEST STREET FOR BAR HOPPING
South First Street San Jose
RUNNERS UP: Santa Clara Street SAN JOSE; North Santa Cruz Avenue LOS GATOS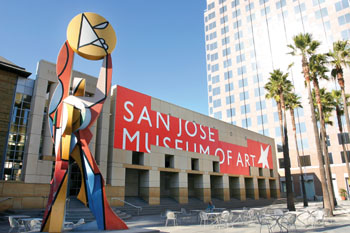 International House of Frankenstein: The San Jose Museum of Art, which is presenting its provocative 'Brides of Frankenstein' exhibit through Oct. 30, brings in art and visitors from everywhere.
Best Place to Look at Art
San Jose Museum of Art
The downtown museum, which married the old Romanesque San Jose post office with a 75,000-square-foot addition completed in 1991, mounts innovative shows (the modern design movement known as "Blobjects"; the art and artifice of surfing; and be sure to check out the "Brides of Frankenstein" while they still haunt the downstairs exhibit space) well worth paying for—but amazingly, you don't have to. Since June of 2001, the museum has opened its doors gratis to the art-going public. This risky policy has paid off—200,000 visitors strolled the museum's sculpture courts and eight galleries in 2004. In addition to the light-drenched, second-floor Skylight Gallery, where the museum shows off a rotating slice of its permanent collection of mostly West Coast art (somewhere around 1,400 pieces and counting), some superb smaller shows—the photographs of Laurie Long and Manuel Álvarez Bravo; the exquisite miniature paintings of Tino Rodriguez and Robert Schwartz—have graced the walls of the intimate Paul L. Davies Gallery. Open daily, 11am–5pm, except Monday. 110 S. Market St., San Jose. 408.271.6840.
Best Local Festival
Music in the Park
The combination of music, beer, food and greenery is like olive oil, basil, mozzarella and tomato: a simple combination that works. Every year the San Jose Downtown Association (with the help of many sponsors, including Metro) brings together musicians of varying genre with listeners of varying age in Plaza de Cesar Chavez. Offices empty early as folks mingle, eat, drink and flirt. It's not surprising that readers had Music in the Park on their mind, as the 2005 season featured performances by John Hiatt and the North Mississippi Allstars, the Greg Kihn Band, Everton Blender, Los Mocosos, Lenny Williams, Tommy Castro, the White Album Ensemble, Brenton Wood and Trapt. Though the San Jose Grand Prix will probably challenge next year for the award, Music in the Park remains a smart choice.
Best Local Blog
unrulyrus.com
It began with a group of seven East Side Union High School teachers fed up with the way their school district was managed. It has now grown to a network of two dozen anonymous contributors in each of East Side's 17 high schools as well as a couple of well-placed sources at the district office. Their target: The bumbling administrators who can't seem to keep the district on the straight and narrow. The group's site, created last summer, kept pressure on Superintendent Esperanza Zendejas until she was unceremoniously dismissed earlier this year after less than two years on the job. Unruly teachers say it's just a beginning. They're hoping to expand to include critiques of poor decision-making in other districts like Cupertino and Milpitas. "The union has to play it by the book," one unruly explains. "We don't have to."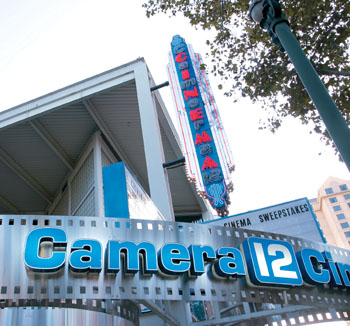 12 Monkeys with Success: The venerable Camera Cinemas took a big risk when it opened its 12-screen location, but it's paid off in a Best of Silicon Valley Readers' Poll win.
Best Art Theater
Camera 12
This was a shoe-in. For more almost 30 years, the San Jose–based Camera Cinemas chain, still run by founders Jack NyBlom, Dennis Skaggs and James Zuur, survived the tides of redevelopment. They've weathered challenges by out-of-town exhibitors, who in one case told the press they were going to put the Camera Cinemas out of business. Camera Cinemas' flagship is Camera 12, a glass tower that anchors downtown San Jose. The renovated multiplex inhabits the shell left over from UA Theater's crash-and-burn experience downtown. Today, filmgoers can watch films like The Corporation, The Wild Parrots of Telegraph Hill and Fahrenheit 9/11 in maximum comfort, with the best sound and visuals available. But it's the movies, not the surroundings, that make the difference: asked for one reason why he thought Camera 12 had been chosen best art theater, publicist Ron Regalia commented, "Because we show a wide variety of independent and foreign releases and documentaries, not just the high-profile Hollywood films." 201 S. Second St., San Jose.408.998.3300.
Best Mainstream Movie Theater
Century Oakridge 20
If Metro readers look at this plex with fondness, part of the reason must be that it's an axis for the spread-out suburbs of the Almaden Valley. But the facilities are also still very new: all stadium seating, all THX, all wall-to-wall screens, with ample concessions (everything from personal pizzas to espresso). And a long bargain matinee zone helps too—all shows before 6 on weekdays and before 2 on weekends are $7. 925 Blossom Hill Road, 408.225.2200.
Best Arcade
Nickel City
No thanks to computers and Playstation, Nintendos and Xbox, the arcade is slowly going the way of the phone booth—roadkill alongside the information superhighway. But some people still expressively use their TVs for Law & Order and their computers for downloading porn: real video-game fiends. There are reasons why the arcade is necessary: (1) It is still a reliable indicator of trends in the video game and pinball business; (2) it gets kids out of the house and frees up the TV for the parents; and (3) playing stand-up games is fun! Nickel City accomplishes all these good deeds at a discount price. $2 to enter, and every game—from Dance Dance Revolution to complicated driving simulators—costs five copper pennies. There is also a free-play wall of 50 old-school favorites, too. Don't know how much longer this category will remain, so enjoy Nickel City while the arcade still exists. 1711 Branham Lane, San Jose. 408.448.3323.
Best Open-Mic
Barefoot Coffee Roasters
The folks at Barefoot must be doing something right. The winners of last year's best open-mic night scored again with readers in 2005. The next best thing to American Idol itself, open-mic night at Barefoot allows singers and players to shoot for a little audience appreciation (without the annoying ego-preening celebrity judges). The emphasis is solidly on the acoustic side, and everybody who signs up early enough (the evenings are pretty much always full) gets to perform for about 15 minutes (Andy Warhol take note). The crowd, cranked up on high-test caffeine, responds with enthusiasm. And right now is the best time to show up, because Barefoot is raising money for Hurricane Katrina relief work. Donate $10 or more and you will receive a half-pound of beans. Barefoot has already raised several thousand dollars toward a goal of $8,000. Every Wednesday, 7:30–10pm. 5237 Stevens Creek Blvd., Santa Clara. 408.248.4500.
Best Local Theater Company
ComedySportz
"Funny! Clean! World-Wide!" The 21-year-old competitive improv comedy league boasts 20 American teams, with two additional outlets in England and Ireland. In August 2006, the ComedySportz world series will be hosted in San Jose—there's no stadium built as yet, or a permanent location either. Still, the National Comedy Theatre in downtown San Jose is the troupe's current home on Fridays and Saturday nights. ComedySportz is family friendly—a comedian intoxicated by improv will have his head covered in a brown bag if he crosses the line of bad taste, as judged by a striped-shirt wearing, whistle-carrying referee. 52 S. First St., Third Floor, 408.985.5233; comedysportz.com.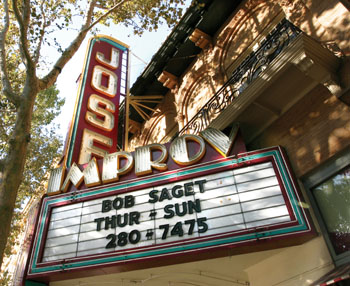 You Mean the Freaky Guy from 'The Aristocrats'?: Bob Saget is just one of the big-name comics to grace the Improv, which won for Best Standup Comedy Venue.
Best Standup Comedy Venue
Improv Comedy Club
Two years ago, the Improv Comedy Club chain took a big risk and opened a comedy club in downtown San Jose. Unlike other high-risk investments—alpacas, for instance—the Improv paid off and is flourishing. The 1904 theater was originally a vaudeville hot spot which hosted Harry Houdini and Al Jolson. Later it showed Mexican movies and fell to neglect. In 2000, Redevelopment spent $7.2 million to purchase the South Second Street building and make seismic and other improvements. The agency dumped an additional $6.1 million to help restore the building and bring it up to code. The Improv chipped in an extra 1.5 million for sound and other aesthetic improvements. And now, comics and laugh seekers call it the classiest Improv in the chain, with superb amenities, sightlines, drink service and A-List headliners like Bob Saget, Lewis Black, Robert Schimmel, Tommy Davidson, even Mitch Hedberg before he died. 62 S. Second St., San Jose. 408.280.7475; www.improv.com.
Best Local Winery
David Bruce Winery
Well before the movie Sideways introduced knuckle-dragging white zinfandel and merlot drinkers to the virtues of pinot noir, dermatologist-cum-winemaker David Bruce made it his mission to produce world-class wines from this noble grape at his Santa Cruz Mountains winery high above Los Gatos. While the winery makes cabernet sauvignon, zinfandel, syrah, chardonnay and other varietals, pinot is king at David Bruce. In addition to making premium wines, David Bruce Winery has helped make the Santa Cruz Mountains appellation a premier winegrowing region. If you're a true fan, you'll have to grab a bottle of the limited edition 2000 pinot noir. Commemorating Bruce's 70th birthday (he's turning 75 this year), each bottle has a hand-dipped wax capsule and is sold individually in a wooden box burnished with the David Bruce crest on the top and inside with the signatures of David Bruce and label artist Henry Jackson. Get 'em while they last. 21439 Bear Creek Rd., Los Gatos. 408.354.4214.
Best College Radio Station
KSCU-FM (103.3)
As the ether groans under the weight of the latest load of Eagles, Doobies and Beach Boys, college stations are left as some of the last human-powered radio available to the non-satellite-assisted ears. The 25-year-old station broadcasts at 50 irresistible watts of power at 103.3 FM, reaching 20,000 listeners, 24 hours a day. KSCU competes in a valley blessed with top-drawer college radio, including Foothill College's KFJC, San Jose State's KSJS and Stanford's KZSU. KSCU's first-rate Internet hookup brings in set lists ornamented by Spooky Ruben, Chick Chick Chick, Worm Is Green and the quivery keyboard of the Caesars' "Jerk It Out." "Conan," a morning DJ and full-time Santa Clara University student, says that KSCU's difference is an independent frame of mind: "Here you can just get on the air and play what you want. Some of the other college stations make you work through an extensive training program that's a half a year long. A lot of people put a lot of time and a lot of effort into these shows; the DJs listen to each other and if they like something they'll follow suit."
Best New Bar
Dive Bar
The retro-hip Dive Bar is a classic cocktail lounge that's creeping up on its first anniversary this October. Despite the name, this bar definitely isn't a dive. Located on Santa Clara between Second and Third, Dive is an attractive drinking establishment outfitted with red-leather booths, vintage 36-foot-long mahogany bar, 8-foot TV screen and six smaller TVs, a pool table and a killer jukebox that plays Dean Martin and Beyoncé. It serves as a refuge for folks warming up for or cooling down from the more raucous environments of Mission Ale House, Voodoo Lounge, Toon's and Studio 8. 78 E. Santa Clara St., San Jose. 408.288.5252.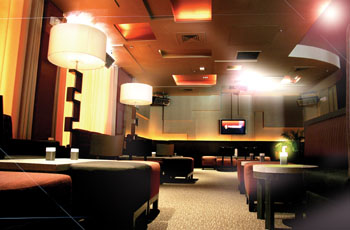 When They Say Lounge, They Mean Lounge: Fahrenheit is 4,000 square feet of cool, and was this year's winner in the Best Ultra Lounge and Best Happy Hour categories.
Best Ultra Lounge
Best Happy Hour
Fahrenheit Ultra Lounge
There's no stopping the "ultra lounge" craze and for good reason. Readers love the sleekness and amenities they provide. Fahrenheit ups the concept with an interior described as "classic modern" with warm colors, granite bar tops and sumptuous couches. No plastic cups here—it's sexy cocktails like a Thai Chili and lemon-grass martini or a cucumber rose cosmo. Why dirty a clean shirt with hot-wings sauce when fire-licked satay skewers are readily available? Tack on a color-changing ceiling lighting scheme, multitiered seating and an emphasis on rounded motifs including a circular dance floor, and at 4,000 square feet Fahrenheit is open and spacious without sacrificing intimacy. 99 E. San Fernando St., San Jose. 408.998.9998.
Best Dance/Live Music Club
The Blank Club
The Blank Club is one of the last live-music clubs left in this town. Shonen Knife from Japan has played there twice. The Lovemakers just rocked the place a few weeks ago—probably the last time you'll ever see them in a small club. Back in their heyday, Cactus Club, Ajax, Marsugi's and F/X regularly drew bands who later vaulted to nationwide stardom, and folks regularly showed up to see up-and-coming acts. But no more. Blank is the only place left in a valley where people have a bizarre mind-set of just not wanting to spend more than eight bucks to see a show. 44 S. Almaden Ave., San Jose. 408.29BLANK.
Best Karaoke
Seven Bamboo
Attracting sorority-girl first-timers, J-town old-timers and hard-core karaoke heads, Japantown's Seven Bamboo is a perpetual winner in this category. Its success has resulted in an upgrade in sound equipment, a more diverse song selection and even live Internet broadcasting so friends in Iceland can watch how San Jose gets down. Don't confuse this with some grandstanding spot; it wouldn't be the 'Boo without the sad-sack décor, cheap chairs and the garage-sale oil paintings. Waits can be long, but the KJ does a good job of rotating in first-timers with well-oiled vets like regular Mike Honda. Whether your tolerance of amateur singing is high or low, an evening at Seven Bamboo isn't soon forgotten. 162 Jackson St., San Jose. 408.279.9937.
Best Pre-Sharks Game Spot
Best Pub
Britannia Arms
Our readers must be chowing gingko biloba because a puck hasn't dropped in HP Pavilion in a year because of the now-resolved NHL strike. The Britannia Arms still cleaned up in this category, and that's good news for the upcoming season. The Brit has all the positives of a good sports bar: stone's throw location to parking and the arena, television screens stuck on sports, a rod hockey game, satisfying fish & chips and bangers, lots of beer and a lively atmosphere. The 2005–06 home campaign begins Oct. 12 minus Sharks favorites Vinnie Damphousse and Mike Ricci. As the Sharks rebuild from an off-year, expect the Brit to coast to back-to-back reader poll wins. 173 W. Santa Clara St., San Jose. 408.278.1400.
Best Jazz/Blues Club
JJ's Blues
Started in 1983 by June and her brother, Max, JJ's Blues on Stevens Creek Boulevard has been a blues institution that has presented nationally touring artists while nurturing a fertile local scene. Regular customer Johnnie Perkins took over the keys this year, inheriting a staff and legacy that perpetuates blues excellence. On the outside, the little club across the street from Guitar Center looks like your basic hole-in-the-wall neighborhood bar. On the inside, however, the walls have echoed with the riffs of greats like John Lee Hooker, Albert King, Albert Collins, Junior Wells, Buddy Guy and local cats John Wedemeyer, Sista Monica, Chris Cain and Tommy Castro. 3439 Stevens Creek Blvd., San Jose. 408.243.6441.
Best Margarita
Pedro's Cabo Grill
Standard-operating procedure dictates that a margarita consist of tequila, triple sec, sweet and sour, ice, salt and lime. So what makes the Margarita at Pedro's so great? Quality ingredients, convivial atmosphere, mojo—all selling points of the longtime Pedro's outpost. Readers flipped over Pedro's top sellers—the Cadillac (Cuervo 1800, triple sec, sweet and sour and Grand Marnier floater) and Pedro's Bullet (Cuervo Tradicional, fresh lime juice, triple sec and Cointreau served straight up). Other versions exist, but these two are worth fighting the parking situation in Los Gatos for. 316 N. Santa Cruz Ave., Los Gatos.408.354.7570.
Best Dive Bar
Caravan
There's nothing like a dingy neighborhood joint where the bartender trades insults with all the customers while throwing the change at them. The Caravan maintains its status as the best dive bar in the valley, and that's something to be proud of. Caravan's clientele shifts between salty barflies, younger refugees from the club scene and an occasional stray from the Greyhound station around the corner. Just the fact that the bar is next door to a seedy hotel and the bus station should tell you what you're up against. The bathrooms contain just about every bodily fluid imaginable. The pool table rocks, and live bands perform on Thursday and Friday nights with no cover. It's not a place for amateur drinkers. Expect to get three-quarters painted before you leave, if you can leave on two feet, that is. 98 S. Almaden Ave, San Jose. 408.995.6220.
Best Place to Throw a Bachelorette Party
Sedusa Studios
The days of stuffing bridezilla into a limo and cheap tiara, then shuttling her through a gauntlet of minimall bars filled with groping, classless men are over. Sedusa emerges as a bonding ritual nonpareil for the woman and bridesmaids on the verge of a nervous breakdown (a.k.a. the wedding). Sedusa is neither a club nor a bar—it's a dance studio where women learn the art of the seduction through sensual dance. Ascend the four levels: sass, tease, flirt and desire (or: mild, spicy, hot and s-s-s-smoking). In this positive and fun environment, women learn the sexy walk, turns, crawls, hip rolls, back arches and pole dance maneuvers. Sedusa's location is secret to ensure propriety, and six-week classes are available to ensure the honeymoon is remembered more than the courtship, wedding ceremony and bachelor party combined. 408.867.2224.
---
Send a letter to the editor about this story to letters@metronews.com.
---
[ Silicon Valley | Metroactive Home | Archives ]