Best of Silicon Valley 2005

Supersize Us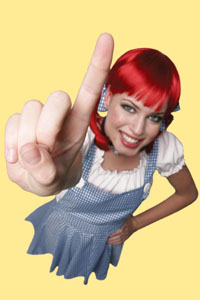 Intro
Food & Sustenance
Arts & Culture/Music & Nightlife
Shopping & Services
Love & Romance
Editors' Short List

So the books have finally slammed shut on Silicon Valley's finger. And, might we add, not a moment too soon. Maybe the international attention was cool at first, but then it got really, really annoying. That took about seven minutes. Almost immediately, the bad puns and even worse jokes began, and we were the butt of them all. Even when the whole thing was exposed as a hoax, late-night semicomics used the new breaks in the story as ...the launching pad for more jokes. That our long-awaited 15 minutes of fame was focused on a fast-food restaurant on Monterey Highway left a bad taste in our mouth. This was the story of the year for the 10th-largest metropolitan area in the country?
But hey, here at Metro, we say, "If you can't beat 'em, join 'em." So this year, our annual celebration of the Best of Silicon Valley has a bit of a fast food notion to it. And you know what? Rightly so. All of this media downpour has been focused on an industry that came up with the very concept of "supersized," and that's exactly what we've done with this issue. In these pages, we've run down a staggering list of 372 winners from this year's Best of Silicon Valley Readers Poll, and as always, included a few picks of our own.
But then, we've always been about striving to do it bigger and better. It's not that we're size queens, exactly, we just think there's a lot to love about Silicon Valley. So in honor of the fact that this is Metro's big 20th year, we've not only listed the winners in each category, but expanded our coverage of each section of winners to include an in-depth "Readers' 20" spotlighting 20 of your choices, and an "Editors' 20" rattling off some of our own. Now, if you'll drive around to the window...
---
Photographs by Felipe Buitrago
Model: Kristin Geiser, Halvorson Model Management
Make-up: Maria Lee
Special thanks to 33 South Third Lofts
---
---
Send a letter to the editor about this story to letters@metronews.com.
---
[ Silicon Valley | Metroactive Home | Archives ]