Best of Silicon Valley 2005
Intro
Food & Sustenance
Arts & Culture/Music & Nightlife
Shopping & Services
Love & Romance
Editors' Short List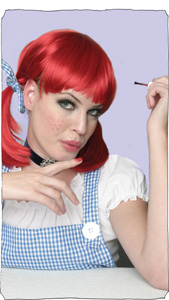 Shopping & Services
Editors' 20
BEST PLACE TO DROP $200 ON A PEN
Montblanc 2855 STEVENS CREEK BLVD., SANTA CLARA
BEST PLACE TO VICARIOUSLY VISIT ZIMBABWE
The Travel Store 56-1/2 N. SANTA CRUZ AVE., LOS GATOS
BEST PLACE TO PRETEND YOU'RE A MONK, SINCE HARDLY ANYONE IN THE VALLEY STOCKS BENEDICTINE
Beverages & More 14800 CAMDEN AVE., SAN JOSE
BEST PLACE TO SPOT A CROSS-DRESSER BUYING CLOTHES
Saver's BASCOM AND SAN CARLOS, SAN JOSE
BEST CLEAN, WELL-LIT PLACE FOR BONDAGE GEAR
Leather Masters 969 PARK AVE., SAN JOSE
BEST PLACE TO MESS WITH SUBURBAN NUCLEAR FAMILIES
Mervyn's 1375 BLOSSOM HILL ROAD, SAN JOSE
BEST PLACE TO GET THROWN OFF THE PIANO
Nordstrom, Valley Fair 2855 STEVENS CREEK BLVD., SANTA CLARA
BEST PLACE TO LOOK AT HUNDREDS OF SILVER DISKS
Hub Cap City 495 W. SAN CARLOS ST., SAN JOSE
BEST PLACE TO PRETEND YOU'RE RANDY RHODES, JIMMY PAGE AND JACK WHITE
Guitar Center 3430 STEVENS CREEK BLVD., SAN JOSE
BEST PLACE TO BUY A $5,000 JAPANESE TOILET
Los Altos Hardware 441 FIRST ST., LOS ALTOS
BEST PLACE TO PRETEND YOU'RE JAPANESE
MaiDo 378 SANTANA ROW #1125, SAN JOSE
BEST WAY NOT TO GET BIT
The Free Services of Santa Clara County's Mosquito Abatement and Vector Control Program 800.675.1155
BEST THING TO HAPPEN TO SPARTAN FOOTBALL IN MANY A PASSING-YARD
Coach Dick Tomey
BEST PLACE TO PLAY PICKUP PINGPONG AND ENJOY A CUP OF STEAMING CHAI AFTERWARD
India Community Center 555 LOS COCHES ST., MILPITAS
BEST PLACE FOR AN IRAQ WAR VET TO GET ASSISTANCE
VA Palo Alto Health Care System 3801 MIRANDA AVE., PALO ALTO
BEST PLACE TO PURCHASE A BALL OF YARN FOR YOUR NEW KITTEN OR OLD GRANDMA
Rug & Yarn Hut 350 E. CAMPBELL AVE., CAMPBELL
BEST PLACE TO BUY EXPENSIVE GAS FROM A FRIENDLY SIKH NAMED KAMAL
Chevron Station FOURTH AND SANTA CLARA STREETS, SAN JOSE
BEST PLACE TO BUY HARDWARE WITHOUT GOING TO A STRIP MALL
Soko Hardware and Plumbing Co. 565 N. SIXTH ST., SAN JOSE
BEST PLACE TO GO FOR A DOSE OF EASTERN MEDICINE, DESPITE YOUR UNCOUTH WESTERN VALUES
Wellness Within 1815 HAMILTON AVE., SAN JOSE
BEST PLACE TO HAVE A MILK TEA IN BETWEEN SJSU CLASSES
Hydration 310 S. THIRD ST., SAN JOSE
Shopping & Services
Readers' Poll
BEST MASSAGES
Preston Wynne Spa See write-up
RUNNERS UP: Watercourse Way Spa 165 CHANNING AVE., PALO ALTO; La Concha Spa & Hair Salon 1042 LINCOLN AVE., SAN JOSE
BEST BICYCLE SHOP
ST Bikes See write-up
RUNNERS UP: The Off Ramp 2369 EL CAMINO REAL, SANTA CLARA ; Wheelaway Cycle Center 402 E. HAMILTON AVE., CAMPBELL
BEST VINTAGE CLOTHING
Moon Zoom See write-up
RUNNERS UP: Crossroads Trading Company 1959 W. SAN CARLOS ST., SAN JOSE; Black & Brown 1225 W. SAN CARLOS ST., SAN JOSE
BEST ART SUPPLIES
University Art See write-up
RUNNERS UP: Michael's Arts & Crafts THREE LOCATIONS; Aaron Brothers THREE LOCATIONS
BEST PET SUPPLY STORE
Andy's Pet Shop See write-up
RUNNERS UP: Sam's Downtown Pet Feed 749 W. SAN CARLOS ST., SAN JOSE; Pet Club TWO LOCATIONS
BEST VIDEO/DVD RENTAL
Netflix See write-up
RUNNERS UP: Bradley Video 501 E. CAMPBELL AVE., CAMPBELL; Blockbuster Video MULTIPLE LOCATIONS
BEST PLACE TO BUY MUSIC
Rasputin Records See write-up
RUNNERS UP: Streetlight Records MULTIPLE LOCATIONS; Tower Records MULTIPLE LOCATIONS
BEST PLACE TO DOWNLOAD MUSIC
iTunes Store See write-up
RUNNERS UP: Limewire.com; Napster.com
BEST CLOTHING BOUTIQUE
Black & Brown 1225 W. San Carlos St., San Jose
RUNNERS UP: Crossroads Trading Company 1959 W. SAN CARLOS ST., SAN JOSE; Black & Brown 1225 W. SAN CARLOS ST., SAN JOSE; Palm & Granite: 68 W. MAIN ST., LOS GATOS
BEST SHOE STORE
DSW Shoe Warehouse 4530 Stevens Creek Blvd., San Jose
RUNNERS UP: Shoe Palace MULTIPLE LOCATIONS; Nordstrom MULTIPLE LOCATIONS
BEST TOY STORE
Wooden Horse See write-up
RUNNERS UP: Toys 'R' Us MULTIPLE LOCATIONS; Leather Masters 969 PARK AVE., SAN JOSE
BEST COMICS STORE
Heroes 24 E. Campbell Ave., Campbell
RUNNERS UP: Brian's Books 2767 EL CAMINO REAL, SANTA CLARA; Black Cat Comics 73 N. MILPITAS BLVD., MILPITAS
BEST MANICURES/PEDICURES
Preston Wynne Spa 14567 Big Basin Way, Saratoga See write-up
RUNNERS UP: Harmonie European Day Spa 14501 BIG BASIN WAY, SARATOGA; The Island Pedicure 140 E. MAIN ST., MONTE SERENO
BEST HAIR SALON
Salon Blu 2251 The Alameda, San Jose
RUNNERS UP: Faux Salon 378 E. CAMPBELL AVE., CAMPBELL; Umbrella Salon 135 W. SANTA CLARA ST., SAN JOSE
BEST BEAUTY SUPPLY
Beauty Avenue 1600 Saratoga Ave. #233, San Jose
RUNNERS UP: Sally Beauty Supply MULTIPLE LOCATIONS; Peninsula Beauty Supply MULTIPLE LOCATIONS
BEST SURF/SKATE SHOP
Circle A See write-up
RUNNERS UP: Skateworks MULTIPLE LOCATIONS; NC Boardshop 769 E. EL CAMINO REAL, SUNNYVALE
BEST BOOKSTORE
Recycle Book Store See write-up
RUNNERS UP: Barnes & Noble MULTIPLE LOCATIONS; Borders MULTIPLE LOCATIONS
BEST CAR DEALER
Capitol Honda 745 Capitol Expwy., San Jose
RUNNERS UP: Alison BMW 150 E. EL CAMINO REAL, MOUNTAIN VIEW; Swanson Ford 16005 LOS GATOS BLVD., LOS GATOS
BEST WINE SHOP
Uncorked See write-up
RUNNERS UP: Vintage Wine Merchants, 377 SANTANA ROW, SAN JOSE; Tannins Wine Merchant, 379 E. CAMPBELL AVE., CAMPBELL
BEST CAR WASH
Delta Queen See write-up
RUNNERS UP: Lark Avenue Car Wash 16500 LARK AVE., LOS GATOS; Car Spa 655 W. SAN CARLOS ST., SAN JOSE
BEST OUTDOOR GEAR
Mel Cotton's Sporting Goods See write-up
RUNNERS UP: Rei MULTIPLE LOCATIONS; Any Mountain Gear MULTIPLE LOCATIONS
BEST TATTOO PARLOR
Guru Tattoo See write-up
RUNNERS UP: Marks of Art 3014 UNION AVE., SAN JOSE; NewSkool SAN CARLOS AND THIRD STREETS, SAN JOSE
BEST PIERCING STUDIO
Body Exotic See write-up
RUNNERS UP: Munk Piercing 4213 BARRYMORE DR., SAN JOSE; Paisley Haus Pro Body Piercing 950 S. WINCHESTER BLVD., SAN JOSE
BEST PILATES STUDIO
ReFormation 1357 Dell Ave., Campbell
RUNNERS UP: Center of Balance 1220 PEAR AVE. #1, MOUNTAIN VIEW; True Balance 31114 BRACE AVE. #A, SAN JOSE
BEST YOGA STUDIO
Yoga Source See write-up
RUNNERS UP: Willow Glen Yoga 1188 LINCOLN AVE., SAN JOSE; Milpitas Sports Center 1325 E. CALAVERAS BLVD., MILPITAS
BEST HEALTH CLUB/GYM
24 Hour Fitness multiple locations
RUNNERS UP: Gold's Gym MULTIPLE LOCATIONS; Los Gatos Athletic Club 285 E. MAIN ST., LOS GATOS
BEST PLASTIC SURGEON
Dr. Regina Rosenthal
RUNNERS UP: Dr. Christian Troy; Dr. Craig Creasman
BEST DAY SPA
Preston Wynne See write-up
RUNNERS UP: Spa Los Gatos 100 S. SANTA CRUZ AVE., LOS GATOS; Burke Williams 355 SANTANA ROW, SAN JOSE
BEST HIKING TRAIL
Rancho San Antonio
RUNNERS UP: Los Gatos Creek; Castle Rock
BEST DOG PARK
Hellyer 985 Hellyer Ave., San Jose
RUNNERS UP: Las Palmas 850 RUSSETT DRIVE, SUNNYVALE; Shoreline SHORELINE BOULEVARD, MOUNTAIN VIEW
BEST ALTERNATIVE TO HOME DEPOT
Orchard Supply Hardware multiple locations
RUNNERS UP: Lowes MULTIPLE LOCATIONS; Ace Hardware MULTIPLE LOCATIONS
BEST KITCHEN/COOKING STORE
Domus See write-up
RUNNERS UP: Sur La Table, MULTIPLE LOCATIONS; William Sonoma, MULTIPLE LOCATIONS
BEST GARDEN STORE
Yamagami's Nursery See write-up
RUNNERS UP: Summer Winds Nursery MULTIPLE LOCATIONS; Orchard Supply MULTIPLE LOCATIONS
BEST FURNITURE STORE
IKEA East Palo Alto
RUNNERS UP: Garofalo's Interiors & Antiques 275 E. CAMPBELL AVE., CAMPBELL; Black Sea Gallery 218 N. SANTA CRUZ AVE., LOS GATOS
BEST GIFT STORE
Hilltop Gifts 10745 S. De Anza Blvd., Cupertino
RUNNERS UP: Casa Casa 1355 LINCOLN AVE., SAN JOSE; Skin Prophecy Boutique 14531 BIG BASIN WAY, SARATOGA
BEST NEIGHBORHOOD
Willow Glen See write-up
RUNNERS UP: Los Gatos; Campbell
---

Best Massage
Best Manicures/Pedicures
Best Day Spa
Preston Wynne Spa

Preston Wynne currently operates at two locations—in Saratoga and at the Hotel Los Gatos—and it's a sure bet they could grow far beyond the bounds of Silicon Valley if they so chose. This year, they won Best of Silicon Valley in both the manicures/pedicures and the massage category, but that's just the icing on the cake for a company that has come to be synonymous with luxurious treatment in Silicon Valley. Let's break down their wins: as far as massages go, they've actually had leaders in the field develop special massages specifically for Preston Wynne clients. A massage experience doesn't get more "unique" than that, eh? Nor will any pleasure-seeker we know shy away from their spa pedicures. Multiple locations.

Best Bicycle Shop
ST Bikes

The family who run ST Bikes are legendary in South San Jose, and next time you find yourself at the intersection of Capitol and Vista Park, check 'em out. Metro readers everywhere rave over the attentive service at this place. The knowledgeable employees will scan your body, perform diagnostic checks, measure you up and fit you exactly to your own bike—whether it's a brand new one you just bought or one you carried in. They claim to be one of the few places that actually do cleat shimming. ST is also the first shop in town to have the new 2006 Trek Madone 5.5. Full Dura-Ace 10 speed at $3,500.00. 503 W. Capitol Expwy., San Jose, 408.264.2453.

Best Vintage Clothing
Moon Zoom

Need a '50s prom dress to go with that collection of orange sunglasses? How 'bout a hobo outfit for when you crash that retro-disco party? Or maybe some purple bell-bottoms from 1974? This is where Moon Zoom comes in. You just might even find a Grand Funk Railroad coffee mug. Wouldn't that be dandy? The place is jam-packed with stuff like the above. It's almost as if every 1950s movie set had been discarded and transplanted into this hole-in-the-wall center of Burbank's antique district on San Carlos Street. Lamps. Saltshakers. Leather jackets. Curtains. Tacky sweaters that would make the recently deceased Bob Denver proud. Moon Zoom has it all. Start looking for the Gilligan's Island paraphernalia. 1630 W. San Carlos St., San Jose, 408.297.5876.

Best Art Supplies
University Art

For years now, college students and creative types alike have descended upon University Art for paints, pencils, pastels, paper, gesso, linseed oil and who knows what else. It's a great place to get your Alizarin Crimson fix. Run out of Manganese Violet? Go to University Art. They even have classes. If you want to learn Chinese brush painting, watercolor or the fundamentals of drawing, check it out. Need a custom frame for that poster? These guys will do it. Check out the backpacker watercolor palette or the new Guerrilla Painter Pochade Box while you're there. Multiple locations.

Best Pet Supply
Andy's Pet Shop

Don't call it a comeback—they've been here for years. Still, it's no surprise that Andy's, which was inducted into the Best of Silicon Valley Hall of Fame way back in 1999, is back on top in this category. This year, the store was bought by J.D. Duncanson and Dennis Thomas, who practically quadrupled the inventory, and significantly upped the ante in the bird department, which is especially impressive since the store was already known as an avian paradise under former owner Linda Gaetke. Now they have tons more big birds (although still no Big Bird, who was last reported roaming free and lecturing to preschoolers in the wild). The spooky thing is how a bird came to seal the love connection between the venerable Andy's and its new owners: someone pointed out to J.D. and Dennis that the scarlet macaw that served as the mascot for their former store matched the one that was on the famous original Andy's mural. Now they tell customers that "Ruby" is "the granddaughter of the original Andy." Pet store humor, you gotta love it. 1280 The Alameda, San Jose, 408.297.0840.

Best DVD Rental
Netflix

One could argue it's just a coincidence that Netflix happens to be based in this area, but we beg to differ. Netflix is nothing less than a technological revolution, not so unlike the technological revolutions that have risen out of this valley for the last several decades. What it offers, like those previous revolutions, is a high-tech solution to a low-tech problem. People want to watch movies at home. More than that, they have an unquenchable thirst to be turned on to new movies. Cometh "the queue," a Netflix feature that's gone from helpful online-renting tool to film-fan obsession to cocktail-party banter. What's in your queue—is it the latest blockbuster, a Hitchcock thriller, a John Hughes teen movie, Franju's Eyes Without a Face?—has already become a marker of cultural identity, even a measure of compatibility. Plus it's so cute when the nerdliest of movie lovers act like they won the lottery when they find out their movie's shipping. Go to www.netflix.com.

Best Place to Buy Music
Rasputin Records

Rasputin Records is the great Time-Sucking Black Hole of true music freaks. Such types consider it dangerous to get near a Rasputin, and yet impossible not to enter when they do. 'Cause, let's face it, nobody spends, like, five minutes in Rasputin. Five hours, maybe. What really sucks—and is at the same time the best thing ever—is when you've already been looking through the CDs for an indefinite and yet completely ludicrous amount of time, and then you remember there was a DVD you wanted to look for. You've crossed the beams. You're toast. You might as well just move in, sport. Even worse—and again, better—is that you'll almost always find what you're looking for. Multiple locations.

Best Place to Download Music
iTunes Store

The recording industry will not shut up about file-sharing, no matter how much backlash they get from the people who are actually buying their music. OK, that's fair. You would cry too if it happened to you. But even way back in the Napster I days, people were telling them, "You know, if you actually created a legal system where people could pay for quality downloads, they would." And one good measure of just how true that was may be how hard the iTunes Store trounced all of its pirate-y competition in this category. It was, in short, no contest. This virtual store offer rectifies so many of the things that drove people to file-sharing in the first place, with individual track purchases, and no price gouging. (Can you get anything else in this world for 99 cents anymore?) Also, with illegal downloads, you just can't be sure what you're getting—a lot of it is straight-up crap and might even be hiding something nasty for your computer. But the iTunes Store has set a high bar for quality and computer safety. It's enough to make you want to want to go up to Lars Ulrich and say "C'mere, big guy! Make-up hug! All is forgiven! Who's the cutest little annoying loudmouth? Is it you? Is it you? Oh, yes it is!" Go to www.apple.com/itunes.

Best Toy Store
Wooden Horse

How do they do it, you ask? How have they stayed not only in business but on top of their game, for three decades? How have they remained an independent success story in the era of the Big Chain? Well, Wooden Horse is a store that's been under the same owner, Karen Scarvie, for more than 30 years, and now she and her husband Bill run it the way kids and their parents want a toy store, not like some cookie-cutter industry outlet. They stock a lot of unique items, special stuff that's not only fun but educational and interactive. And the customer service is the best you'll find anyway—for a toy store of this size to field six assistants at a time may sound crazy, but duh, that's exactly the kind of help parents are looking for when trying to find the best for their kids. And that, friends, is how they do it. (Runner Up Note: It's cute that so many people wrote in an adult toy store for this category; we're assuming the very name "Leather Masters" will head off any confusion on the part of parents.) 796 Blossom Hill Road, Los Gatos, 408.356.8821.

Best Surf/Skate Shop
Circle A

When the Plata Arroyo Skatepark opened in east San Jose earlier this year, Mayor Ron Gonzales had this to say: "San Jose listens to its youth, and this is an example of that." Circle A Skate shop, one of downtown's more overlooked retailers, gave away much paraphernalia at that event. Over at the store, you can get shoes, clothing, equipment, magazines, decks, trucks and more. What do you get when you combine a skate shop, a record label and an art gallery? Circle A—one example of an independent downtown retailer that actually attracts folks beyond the pale. 304 S. Third St., San Jose, 408.995.0677.

Best Book Store
Recycle Book Store

Recycle Books is an institution in San Jose, and it's not easy to maintain a large used bookstore these days. With a decent, constantly changing selection, the place rocks and you can literally spend a few hours browsing the shelves. Now that Kepler's has bitten the dust, give these guys some support. There's even a second location in Campbell. If you want to find a Bukowski book on the shelves, he's usually right after the 12 used copies of Jimmy Buffett's Tales From Margaritaville. As with any quality used bookstore, it's a great place to eavesdrop on other people and see what they're buying. Multiple locations.

Best Wine Shop
Uncorked

It's not hard to figure out what makes this shop tops with Silicon Valley: Uncorked promises "Fine Wine Without the Attitude," and isn't that what we all secretly want? I mean, we love our wine around here, but most of us feel like outsiders in wine culture, no matter how much we taste and quaff. Uncorked makes wine fun—that's right, fun! And damn it, why should the cocktail crowd have all the fun? The great thing is that you don't have to sacrifice one bit of serious interest in or boundless curiosity about wine. There's so much to learn from Uncorked about the art and science of wine, from classes to tasting events to fascinating chats with the staff. But here's the key: there is no wrong way to have an Uncorked experience. That's a beautiful thing. 14500 Big Basin Way, Saratoga, 408.741.9000.

Best Car Wash
Delta Queen

What's that you say? Washing your car isn't supposed to be like a trip to Disneyland? That's loser talk! Just check out the Delta Queen car wash in Campbell, which is the closest you will ever come to getting your car washed at a theme-park attraction. It just looks so cool—you know, like a Mississippi river boat—that it will actually make you forget how annoying it is that cars get dirty in the first place. Plus, there's food and a gift shop. It's never been so much fun to keep it clean. 981 E. Hamilton Ave., Campbell.

Best Outdoor Gear
Mel Cotton's Sporting Goods

In an industry that's so associated these days with 21st-century extreme culture, it's ironic that our reader's choice in this category is one of the most established businesses in our winners list. They were outfitting the intrepid long before anyone even thought of "doing the Dew"; namely, 1946. And thanks to the fact that they've stayed on the cutting edge, you don't even need to visit their store to outfit yourself for adventure anymore. Indeed, Mel Cotton's has thrived in cyberspace, meaning you can find pretty much everything you need for camping, fishing, snow-going and whatever else you wacky kids get up to today at melcottons.com. 1266 W. San Carlos Ave., San Jose, 408.287.9994.

Best Tattoo Parlor
Guru Tattoo

If it's true that tattoos are the art of the modern primitive, then what are you doing getting a cheap print? Or to put it another way, shouldn't your design be something original that reflects your true identity? The folks at Guru Tattoo think so, and in fact, they like to say that if you see your Guru design on someone else, it's probably because they stole it from you. Their dedication to work (and, it should be noted, to safety) is what has made them No. 1 with Metro readers. 4213 Barrymore Dr., San Jose, 408.247.4878.

Best Piercing Studio
Body Exotic

Their motto is "Taking the Art of Body Piercing Seriously," and guess what—they're not kidding. The Best of Silicon Valley wins for this outfit have been as multiple as the piercings your goth little sister has gotten there. Ear, face, genital, it's like a scene from The Wild One with this place: "Hey, Johnny, what are you going to get pierced?" Brando: "What've you got?" Plenty, considering that lead piercer Bil has done over 27,000 piercings. Ironically, he first began working here to fill a hole he perceived in Silicon Valley culture—now we look to him to create them. 957 W. San Carlos St., San Jose, 408.993.9684.

Best Yoga Studio
Yoga Source

Yoga Source began in Palo Alto in 1994, and has sort of swirled out to the surrounding areas since then—which is very yogalike in itself, it should be noted. It's caught on particularly in Silicon Valley, which offshoots in San Jose, Santa Clara and Los Gatos. What's the secret? Perhaps it's that Yoga Source has done such an enlightened job of promoting and offering so many different varieties of hatha yoga. Seriously, it is near impossible not to find a method that's right for you. While different branches may specialize in particular systems, as a whole the sheer amount of disciplinary territory covered is staggering. Multiple locations.

Best Kitchen/Cooking Store
Domus

Whether you want to drop 20 bucks for a garlic press or not, Domus can be a wickedly fun place to browse. Need a $14.95 chocolate shaver or a $26.95 Atlas Deluxe Cookie Press? Domus has them and more. Just when you thought you'd never find an authentic tortilla press in Los Gatos, enter Domus. They've got it all. The selection of cookbooks ain't so bad either. Even if you're not looking for kitchen stuff, Domus makes for a killer gift place. There's stuff for him, her and kids. Chicks love this place, so if you're in the doghouse with your old lady, take her to Domus. Yes, we're speaking from experience. 40 N. Santa Cruz Ave., Los Gatos, 800.99DOMUS.

Best Garden Store
Yamagami's Nursery

Here are our Top 5 reasons Yamagami's can't help but be the No. 1 pick for this category: (1) they've been in business in this community for more than five decades; (2) their newsletter is called "What's Growin' On," and man, it is completely addictive, with the kind of tips you can actually use; (3) the staff is friendly and warm; (4) the selection is amazing; and (5) they've got offbeat classes that allow you hands-on experience at the U-Plant-a-Pot table. Bonus reason: it is statistically impossible not to find the seed you need at Yamagami's. 1361 S. De Anza Blvd. #2, Cupertino, 408.352.3347.

Best Neighborhood
Willow Glen

No matter what you think about Willow Glen—good or bad—you have to admit that the quaint little locale is a damn neat place for families to stroll around. On any given weekend afternoon, you'll find the downtown area jammed with locals and visitors alike. The older-generation folks will complain about the yuppification of the whole area, but there are some pretty damn good restaurants here, too. As soon as folks started making shirts that said Willow Glen 95125, modeled after Beverly Hills 90210, you knew exactly all you needed to know about Willow Glen.



---
Send a letter to the editor about this story to letters@metronews.com.
---
[ Silicon Valley | Metroactive Home | Archives ]