Best of Silicon Valley 2005
Intro
Food & Sustenance
Arts & Culture/Music & Nightlife
Shopping & Services
Love & Romance
Editors' Short List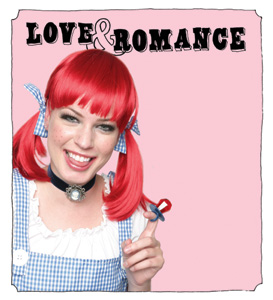 Readers' 10
BEST DATING WEBSITE
Match.com See write-up
RUNNERS UP: Myspace.com; Yahoo.com
BEST THEATER FOR MAKING OUT IN
Century 16 See write-up
RUNNERS UP: AMC Mercado 20 3111 MISSION COLLEGE BLVD., SANTA CLARA; Capitol Drive-In 3630 HILLCAP AVE., SAN JOSE
BEST ROMANTIC RESTAURANT
La Foret See write-up
RUNNERS UP: La Fondue 14510 BIG BASIN WAY, SARATOGA; Sent Sovi 14583 BIG BASIN WAY, SARATOGA
BEST HOTEL
Fairmont See write-up
RUNNERS UP: Hotel Valencia 355 SANTANA ROW, SAN JOSE; Hotel De Anza 233 W. SANTA CLARA ST., SAN JOSE
BEST JEWELRY STORE
Tiffany's See write-up
RUNNERS UP: Joe Escobar Diamonds 450 E. HAMILTON AVE., CAMPBELL; Shane Co. Direct Diamond Importers 21255 STEVENS CREEK BLVD., CUPERTINO
BEST FLOWER SHOP
Bunches See write-up
RUNNERS UP: Bloomers 3493 S. BASCOM AVE., SAN JOSE; Flower Flour 896 WILLOW ST., SAN JOSE
BEST WEDDING REGISTRY
Macy's See write-up
RUNNERS UP: Crate and Barrel MULTIPLE LOCATIONS; Target MULTIPLE LOCATIONS
BEST STATIONERY STORE
Papyrus See write-up
RUNNERS UP: Out of the Envelope 307 N. SANTA CRUZ AVE., MONTE SERENO; Signed and Sealed 1314 LINCOLN AVE., SAN JOSE
BEST LIMOUSINE SERVICE
Le Grande Affaire See write-up
RUNNERS UP: El Paseo Limousine 180 E. SUNNY OAKS AVE. #4, CAMPBELL, 408.379.9000; Wine and Roses Limousine Service 408.283.5466
BEST PLACE TO RENEW YOUR VOWS
Mountain Winery See write-up
RUNNERS UP: San Jose Heritage Rose Garden SPRING AND TAYLOR STREETS, SAN JOSE; Vasona Lake Park 333 BLOSSOM HILL ROAD, SAN JOSE
Love & Romance
Editors' 10
BEST OUTDOOR DATING SPOT WHEN IT'S POURING RAIN
Hakone Gardens 21000 BIG BASIN WAY, SARATOGA
BEST CHEAP MOVIE DATE IN THE WESTERN WORLD
Cinema Saver 577 E. CALAVERAS BLVD., MILPITAS
BEST FALL EVENT FOR UNLEASHING YOUR INNER KINK
Folsom Fringe '05 SEPT. 23–25, SAN JOSE, folsomfringe.com
BEST PLACE TO FIND SOMETHING TO MAKE THINGS RIGHT AGAIN WITH YOUR SIGNIFICANT OTHER
Ikebana Arts 580 N. SIXTH ST., SAN JOSE
BEST PLACE TO HIT ON WICCAN CHICKS
San Jose Metaphysical Bookstore 1231 KENTWOOD AVE. #E, SAN JOSE
BEST PLACE TO REUNITE WITH THE MUMMIFIED CAT YOU LOVED IN A PAST LIFE
Rosicrucian Museum PARK AND NAGLEE, SAN JOSE
BEST PLACE TO EAVESDROP ON OTHER PEOPLE'S ROMANTIC CONVERSATIONS
Los Gatos Coffee Roasting Company 101 W. MAIN ST., LOS GATOS
BEST PLACE TO COO SWEET NOTHINGS OR SOCCER-TALK OVER A TRI-TIP
Time Deli & Catering 349 S. BASCOM AVE., SAN JOSE
BEST PLACE TO BROADEN YOUR TEA HORIZONS TOGETHER
Ten Ren Tea Co. of Milpitas 1732 N. MILPITAS BLVD., MILPITAS
BEST PLACE TO TAKE YOUR DATE AT MIDNIGHT
Midnight Movie Madness CAMERA 12, 201 S. SECOND ST., SAN JOSE
---

Best Dating Website
Match.com

In the old days, they had arranged marriages—the arrangers were mostly grandmas and the arrangees blushing young adults who didn't know the first thing about finding a mate on their own. Now, in the age of love marriages, you can still have one, but the arranger is a computer program, not a grandma. Enter Match.com, followed by a host of other dating websites that haven't managed to knock it from the top spot. You can still choose to do things the old-fashioned way—that is, search for your own love by browsing through profiles. But, hey, in the digital age, it's love marriages that are antiquated. Better to sit back and let Match.com arrange things for you.

Best Theater for Making Out In
Century 16

A theater's a theater, you say? Well not to our newspaper's readers, who are evidently very experienced at quantifying such things, blush-inducing as they are. Century 16, Mountain View–style, takes the cake, beating out its San Jose rival, Century Capitol 16. After all, why make out at Century Capitol when there's a drive-in right next door? Besides, word's out that the Mountain View theater is nicer (read "newer") and even plays better flicks. Mountain View all the way. 1500 N. Shoreline Blvd., Mountain View. 650.960.0970.

Best Romantic Restaurant
La Foret

When it comes to restaurants and romance, the French seem to always take the cake. Pakistani joints can try to make all the tandoori chicken or spicy dhal masala they want, but who wants to romance someone with raw onion breath? With La Foret, think the French countryside. Wild game. Special sauces. Herbs. Maybe a rack of lamb. And, of course, make sure to get a good view of Los Alamitos Creek. 21747 Bertram Road, San Jose. 408.997.3458.

Best Hotel
The Fairmont

Any luxury hotel can arguably win this category. But what sets the Fairmont apart, in terms of romance, at least, is the tea. And not the nickel bags of Lipton tea either. Nah, this is the real stuff. What, in heaven's name, could be more romantic than participating in the Fairmont's afternoon tea tradition? At about 25 big ones a pop, it ain't cheap. But impressive, no doubt, for the significant other. And heck, the Fairmont learned about tea at the Hyde Park Hotel in London—and who better to learn tea stuff (stuff including not only edible and drinkable stuff, but also etiquette) from than the place that serves the Queen Mother tea in Britain? Scones and finger sandwiches. Cider and English tea. It's hot! 170 S. Market St., San Jose. 408.998.1900.

Best Jewelry Store
Tiffany's

Everybody's been there. Forgot the birthday. Or the anniversary. Or the bride at the altar. This demands more than just some wilted flowers. Only the bling can make it better. Tiffany's might be the obvious choice, but our readers also declare it the best. Your wallet doesn't have to be loaded; there are enough goodies for people with big bills and small. No joke. 2855 Stevens Creek Blvd., Santa Clara. 408.243.7771.

Best Flower Shop
Bunches

They're not at Santana Row anymore, but no matter. Our readers still found them. Bunches has been doing it right for love-struck couples steadily. Of course, they sell fresh flowers daily and do it European-style—in buckets and by the bunch. They'll cut the flowers, arrange 'em and deliver them to the doorstep you desire. "We're well known for people walking in and having arrangements made at the counter," says a proud employee. 14 1/2 N, Santa Cruz Ave., Los Gatos. 408.395.5451.

Best Wedding Registry
Macy's

Sometimes it's old faithful that works best. Forget the newbies, the alternatives, the ones trying something unique. When you're having a wedding, you want everything to be right. And Macy's has been doing it right for too long. Our readers—sensible at heart—won't discount that. Apologies to the wannabes. Get an account set up at Macy's, and you won't worry about a thing for your first five years of marriage. Guaranteed. Multiple locations.

Best Stationery Store
Papyrus

The staff at Papyrus was, quite literally, shocked at hearing about the win. "What, exactly, is romantic stationery?" asked a long-time employee. But, no matter. They were happy to get the honor and quickly acknowledged that they sell lovey-dovey stuff. "Our stuff is definitely more on the feminine side," the staffer continued, "but colorwise we have enough of a mix that we don't just sell reds and pinks." Multiple locations.

Best Limousine Service
Le Grande Affaire

A limo's not an essential. But it's a must. (If that makes any sense.) Maybe the French name worked, because Le Grande Affaire—it certainly sounds better than "The Grand Affair"—took the top spot. San Jose's made for cruising, with its wide streets that go on and on. You'll be better off, in the eyes of your partner, if you sport a limo rather than a moped. 2590 Lafayette St., Santa Clara. 888.301.5466.

Best Place to Renew Your Vows
Mountain Winery

Vistas, landscaped gardens, redwoods—it's not easy to be romantic. But the Mountain Winery in Saratoga has pulled it off. It's not so remote that it doesn't remind you of Silicon Valley, and it's picturesque enough to make you want to renew your vows every year. And, for South Bay fans, that balance is the key. It's easy—if you've got the funds—to fly off to Hawaii to renew those vows. But the valley is the place where you live. Stay rooted and check out the winery. 14831 Pierce Rd., Saratoga. 408.741.2822.



---
Send a letter to the editor about this story to letters@metronews.com.
---
[ Silicon Valley | Metroactive Home | Archives ]