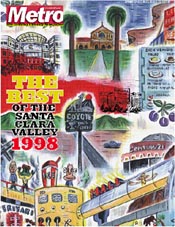 For the Week of
September 17-23, 1998

Cover: Best of the Santa Clara Valley
In Metro's annual Best of the Santa Clara Valley edition, our readers voice their curiously strong opinions on "The Best" in everything from restaurants to record stores to razor cuts. Our editors also share their own favorite picks in this fantasy land known as Silicon Valley.




News: Rod to Ruin
The unstoppable Rod Diridon has been ratted out by the academic community, where not everyone appreciates his 'politics as usual' style.

Public Eye: Zoe Lofgren bummed out about Monicagate.

Man of Iron: Historic foundry will fall to the ground after 70 years, to put up a parking lot.






XO Marks the Spot: All the critical indicators point up for singer-songwriter Elliott Smith.
Taking It to the Streets: Yeska, Horchata and more highlight the annual downtown San Jose SoFA Festival. Plus, a complete schedule of events at the SoFA Festival in downtown San Jose this Sunday.
Audiofile: Reviews of the latest CDs by Option.FM, the Murmurs and Outgrabe.



Binding Freedom: In the art of the Cartagena brothers at MACLA, there is no painless way to learn the truth.



Raking Over Igor: Opera San José's Rake's Progress is long on music, light on action.
Language War: Teatro Visión satirizes English-only movement with I Don't Speak English Only!.



Please don't forget to write! Metro welcomes letters. Like any great work of art, they should be originals -- not copies of letters sent elsewhere. Include address and daytime phone (for verification purposes only). Letters may be edited for length and clarity or to correct factual inaccuracies known to us. Postal: Metro Letters, 550 S. First. St., San Jose, CA 95111. Fax: 408/298-0602. . Emailers, please include name, city of residence and phone number. Letters printed will list email address unless otherwise specified. Letters to the editor are not currently published in the online version of this paper.