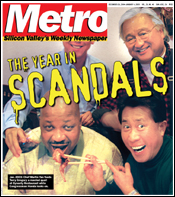 For the Week of
December 29, 2004-January 4, 2005
Cover Story: 2004: The Year in Scandals:
Also: The year in quotes, plus 2004's most memorable pop music scandals.
News: No Cod for Me
Enviro-friendly fish choices seems to be catching on among diners across the country.
The Fly: This week's political bites.



Biter: How to stop worrying and love big spending.
Techsploits: The outcome of the 'Brand X' case has the potential to change the cost of broadband cable Internet access.
Rev: Yelling at boom car drivers or passive-aggressively involving the police seems like a losing proposition. Boom car drivers are people, too.



Unreeling The Year: 'The Incredibles' and 'Sideways' led the way in a 2004 riven by the culture wars.
Year of the Mutant: Get ready, baby: it's going to be a bumpy ride.
Verve: Kevin Spacey's 'Beyond the Sea' is a musical that knows its limits.
Little Birds: 'The Woodsman' offers sympathy for a short eyes.



Riding the Storm Out: In 2004, pop music was a mess of contradictions.
Singled Out: MP3 blogs and iTunes boosted the singles market. Here's an impartial list of the best from 2004.



Our Utopia: Eating abroad at home, on South De Anza Boulevard.
5 Places to Love: Party Like It's 2005.



War and Regret: TheatreWorks looks at timeless social tensions in 'All My Sons.'



Please don't forget to write! Metro welcomes letters. Like any great work of art, they should be originals — not copies of letters sent elsewhere. Include address and daytime phone (for verification purposes only). Letters may be edited for length and clarity or to correct factual inaccuracies known to us. Postal: Metro Letters, 550 S. First. St., San Jose, CA 95111. Fax: 408/298-0602. Email: letters@metronews.com. Emailers, please include name, city of residence and phone number. Letters printed will list email address unless otherwise specified. Letters to the editor are not currently published in the online version of this paper.