Off the Cutting Edge
Sara Bir's blog.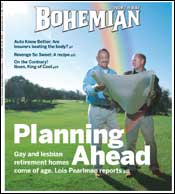 For the Week of
February 22-28, 2006
Cover Story: Planning Ahead:
Gay and lesbian retirement homes come of age. Lois Pearlman reports.
News: Getting Dinged:
Auto-body shop owners accuse insurers of steering customers wrong.
Briefs: Floods 'n' FEMA.
Open Mic: The Shootist.



Rev: If we run out of oil, we can always grow more corn. Right?



Critic's Picks: A guide to the week's best arts, theater and music events.



Breech Birth: Michael Winterbottom wrestles Laurence Sterne's unfilmable 'Tristram Shandy' to a cinematic draw.
Bad Kids: A real-life kid wrangler takes a look at 'Nanny McPhee.'



Making Peace: Mary Gauthier finds her way to mercy.



Recipe For Retribution: I spent 20 hours making chocolate cakes, and all I got was this dumb article.
Swirl n' Spit: Quivira Winery.
News of the Food: Nibble, savor, sip at Artisan Market.



Ibsen Rules: Just in time for the centennial of his death, is Henrik Ibsen becoming cool again?



Please don't forget to write! The North Bay Bohemian welcomes letters commenting on our coverage or other topics of local interest. Please keep all letters at 300 words or less (we reserve the right to edit them for length and style) and sign them (unsigned letters will not be published). A local phone number must be included for verification. Postal: North Bay Bohemian Letters, 216 E Street, Santa Rosa, CA 95404. Fax: 707/527-1288. . Emailers, please include name, city of residence and phone number. Letters printed will list email address unless otherwise specified. Letters to the editor are not currently published in the online version of this paper.