Off the Cutting Edge
Sara Bir's blog.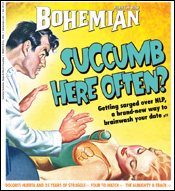 For the Week of
March 8-14, 2006
Cover Story: Succumb Here Often?:
Getting sarged over NLP, a brand-new way to brainwash your date.
News: Voice of the Worker:
Bilingual KBBF-FM returns to its roots.
The Byrne Report: Wake-Up Call.
Briefs: Krug Worker Woes.



Rev: DMV SOS ASAP.



The Big Four: Introducing the North Bay's newest arbiters of taste.
Critic's Picks: A guide to the week's best arts, theater and music events.



Blue Danube: New film shows how Heidegger got out of the boat.



Eight Noble Truths: In praise of the 8-track, bastard stepchild of formats.
Alone Together: Rock reflects the singular in the collective.



Cutting the Mustard: In which we learn an unusual amount about one certain condiment.



Pleasantly Pissed: SRP scores a straight flush with 'Urinetown.'
Winter Tales: Notes from Ashland in the crisp nonsummer.
Hearts in Darkness, Flights of Fancy: The Oregon Shakespeare Festival opens its 2006 Season with flying lawn chairs, spirited name droppers, heartbreaking hideaways, mysterious wintry trees--and not a bear in sight.



Please don't forget to write! The North Bay Bohemian welcomes letters commenting on our coverage or other topics of local interest. Please keep all letters at 300 words or less (we reserve the right to edit them for length and style) and sign them (unsigned letters will not be published). A local phone number must be included for verification. Postal: North Bay Bohemian Letters, 216 E Street, Santa Rosa, CA 95404. Fax: 707/527-1288. . Emailers, please include name, city of residence and phone number. Letters printed will list email address unless otherwise specified. Letters to the editor are not currently published in the online version of this paper.