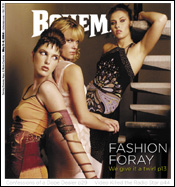 For the Week of
May 5-11, 2004
Cover: Fashion Foray
Wade in the USA: Small local companies like Ujena Swimwear and X-Treme Wear Company tread the choppy waters of indie sportswear and defy globalization by manufacturing locally.
DIY Madness: Craft on, you crazy diamonds.
Snails 'n' Spice: Clothes and boys and everything nice.
News: Weed Whackers
Feds go after marijuana users with proposed drugged-driving law.



Critic's Picks: A guide to the week's best arts, theater and music events.



Taking Flight: 'Broken Wings' explores the hard road of an Israeli teen.



Camp Songs: CVB stake out new turf.
Look Back in Horror: What a drag it is getting old.



Soaking It Up: 'Wine Country Spas' a chatty treat.
Chick Lit Crit: Oh baby, where is thy sting?



Beauty of Bounty: Pilar has an unwavering devotion to freshness.
Swirl 'n' Spit: Trefethen Winery.



Parlor Games: 'High Society' provides plenty of the wrong kind of fun.



Please don't forget to write! The North Bay Bohemian welcomes letters commenting on our coverage or other topics of local interest. Please keep all letters at 300 words or less (we reserve the right to edit them for length and style) and sign them (unsigned letters will not be published). A local phone number must be included for verification. Postal: North Bay Bohemian Letters, 216 E Street, Santa Rosa, CA 95404. Fax: 707/527-1288. . Emailers, please include name, city of residence and phone number. Letters printed will list email address unless otherwise specified. Letters to the editor are not currently published in the online version of this paper.