Features
Arts Listings
Silicon Valley's Culture Calendar for the Coming Season
Intro | Arts | Music | Stage | Classical | Lit | Film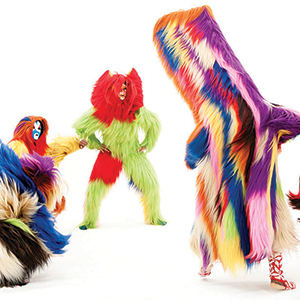 Anno Domini
San Jose
"Things, Mereology and Schemes"
In his latest installation, Spanish artist Leon Ka, aka Kafre, explores the mathematical study of parts and the wholes they form, schemes and the distinction between natural things, non-natural things and the artifacts that occur between them. Thru Oct 22.
"Art of Zines"
Hundreds of zines from basements, bedrooms and midnight copy shops from throughout the U.S. and abroad will be featured.  At the same time, Anno Domini will host panel talks for the Alternative Press Expo. Oct 7-22.
Bay Area Glass Institute
Palo Alto
"The 21st Annual Great Glass Pumpkin Patch"
The largest glass pumpkin patch in Northern California returns with an outdoor installation of over 10,000 unique glass pumpkins, which are available for purchase. Exhibit: Sep 27-30. Sale: Oct 1-2.
"Glass Pumpkin Patch at Santana Row"
Colorful hand-blown pumpkins by artists of the Bay Area Glass Institute will be on display and for sale at Santana Row with a live glass blowing performance. Oct 7-9.
Cantor Arts Center
Stanford University
"California: The Art of Water"
An exhibit exploring the way artists and photographers have portrayed California's most precious resource. The exhibition features over 50 works of water subjects by eminent artists, including Ansel Adams, Albert Bierstadt and David Hockney. Thru Nov 28.
"Soulmaker: The Times of Lewis Hine"
A hundred years ago, the photos of Lewis Hine showed the lives of child factory workers to the world. His photographs are among the most haunting images of children ever made. Thru Oct 31.
De Saisset Museum
Santa Clara University
"Bruce Beasley Recent Work: Coriolis and Torqueri"
Internationally known artist Bruce Beasley finds inspiration in what he calls "the building blocks of nature," that is, the various forces that shape and sustain the universe. Sep 30-Dec 4.
"Crossing Cultures: Belle Yang, A Story of Immigration"
Born in Taiwan and now living in Santa Cruz County, artist Belle Yang shares the story of her family's journey from China to America through vibrant paintings, illustrations and graphic novels. Sep 30-Dec 4.
History Park San Jose
San Jose
"Tattooed & Tenacious: Inked Women in California's History Exhibit"
Discover the fascinating and largely unknown history of the foremothers of modern tattooing prior to WWII. Thru Dec 31.
Kaleid
San Jose
"Iridescent"
Chemist and ceramic artists Andrew Irvine combines art and science in his latest exhibition, working with silver and bismuth lustre glazes along with a raku fuming process. The resulting vibrant and otherworldly colors pop out when hit by different light sources. Sep 2-30.
"Orbiter"
Nicole Linde draws inspiration from a variety of sources ranging from myths to space, yielding colorful oil paintings reminiscent of shapes and colors from a kaleidoscope. Sep 2-30.
"Life Anew"
San Jose based artist David Canavese blends the organic and technological with the use of various media like steel, polyurethane, paper and digital. His latest work focuses on the recently discovered creatures "Podships." Oct 7-28.
"Love is Transitory"
In 1997 Josh Marcotte began writing short stories inspired by his grandfather's upbringing in San Jose. He then started photographing the places that influenced those anecdotes and the images for "Lost San Jose" were born. This photography exhibition highlights the ever changing environment . Oct 7-28.
"Prior Art"
The influence of technology and digital media has spread to the art world with computer software like Adobe Photoshop and Illustrator.  The new series of paintings by Julie Meridian takes the viewer on a tour of analog media manipulation and vintage virtual reality that inspired the digital tools we know today. Nov 4-25.
San Jose Museum of Quilts and Textiles
San Jose
"Wedding Dress: Yesterday, Today and Tomorrow"
A richly illustrated exhibition featuring over 50 wedding dress examples from cultures around the world, spanning the last 100 years. Today's diverse wedding couture will also be on display. Thru Oct 2.
"Wedding Ring Explosion"
Mike "Mac" McNamara has made 21 Double Wedding Ring quilts for his couple friends and family, gay and straight. Mac's quilts look at how wedding quilt traditions have changed over the centuries and how 21st century quilt makers are celebrating today's marriages. Thru Oct 2.
Seeing Things Galleries
San Jose "LEOTA"
Murphy Adams and daughter Ivy Atoms' exhibition is a family affair. Named after the family matriarch, "LEOTA" captures the feminine experience from each woman's perspective. Opens Sep 9.
NUMU
Los Gatos
"Mitchell vs. Steinbeck"
Through research, documents, photos, ephemera and interviews "Mitchell vs. Steinbeck" looks at the historical events that inspired John Steinbeck to write The Grapes of Wrath and the controversial literary duel with neighboring Los Gatos novelist Ruth Comfort Mitchell through her book Of Human Kindness. Thru Oct 16.
"Script and Scribble: The History and Art of Handwriting"
The value of practicing traditional handwriting in a world that is increasingly concerned with abbreviated communication and what the possible extinction of penmanship might mean are explored. Thru Oct 16.
San Jose Institute of Contemporary Art
San Jose
"Connect and Collect: 36th Annual Art Exhibition and Auction"
Connect and Collect provides a unique opportunity for art enthusiasts and collectors to view and purchase artwork by rising artists. Sep 24-Oct 22.
San Jose Museum of Art
San Jose
"Indestructible Wonder"
An exhibit from SJMA's permanent collection exploring the delicate relationship between humans and nature. Based on the environmental art movement that was inspired by Rachel Carson's Silent Spring, the exhibition will include contemporary works by Anne Appleby and others. Thru Jan 29, 2017.
"Life and Labor: The Photographs of Milton Rogovin"
Photographer Milton Rogovin gifted a collection of photos to SJMA in 2011, and this exhibition marks their public debut. The photographs chronicle the lives and trials of miners, steel-industry workers and the poor working class in Buffalo, New York, where Rogovin lived. Thru Mar 19, 2017.
"Beauty: Cooper Hewitt Design Triennial"
San Jose is the only stop on the Smithsonian Design Museum's triennial exhibition. "Beauty" gathers more than 200 works by 63 designers worldwide to question our ideas of beauty and the purpose it serves. Works will include experimental prototypes, interactive games, fashion and architectural structures. Oct 8-Feb 19, 2017.
Triton Museum of Art
Santa Clara
"Susan Parker: Color, Form and Memory"
Parker uses specific characteristics of places—memories of being on the water, or observations of the tides—to shape her abstract paintings. She uses layers of color, form and pattern to build paintings at once eerie and tranquil that form "maps of the imagination." Thru Oct 23.
"Francisco (Pancho) Jiménez: Excavations and Interpretations"
Santa Clara's own Francisco (Pancho) Jiménez asks viewers to consider the elusiveness of dreams and memory in his first solo exhibition at a Bay Area museum. The show includes sculptures from the last seven years made from repurposed ceramic molds for decorative household objects. Thru Oct 30.
"Wendy Red Star"
Acclaimed emerging artist Wendy Red Star's work has exhibited nationwide, including in the Metropolitan Museum of Art and the Smithsonian's National Museum of the American Indian. Her insightful and biting work makes viewers consider the appropriation and misappropriation of cultural images and icons, particularly Native American ones. Sep 16-Oct 30.
Pace Gallery
Palo Alto
"James Turrell"
The inaugural exhibit of Pace's Palo Alto gallery showcases works from artist James Turrell, including his "Reflective Hologram" and "Wide Glass Series." These works showcase Turrell's interest in light and indeterminate space to extend and enhance perception. Thru Aug 28.
"Louise Nevelson"
Pace has represented the late sculptor Louise Nevelson for more than 50 years and will mount an exhibition of her work. Nevelson is known for black wood landscape sculptures, which prominent museums including the Whitney Museum of American Art and the Museum of Modern Art added to their collections in the mid-1950s. Sep 29-Nov 27.
Pace Art + Technology
Menlo Park
"teamLab: Living Digital Space and Future Parks"
An extension of the Pace Gallery in Palo Alto, this space dedicated to the intersection of art and technology will host teamLab, a lauded Japanese art collective. The large-scale installation of 20 digital works encourages viewers of all ages to immerse themselves in the "digital playground." Thru Dec 18.
Anderson Collection
Stanford University
"Nick Cave"
Eight of Cave's famous full-body sculpture "Soundsuits" will be on display at the Anderson Collection. Soundsuits are both pieces of art and performative costumes that conceal a wearer's age, gender and race. They are made from collected and repurposed objects, including buttons, beaded baskets, doilies and sequined fabric. They will be shown along with three videos by the interdisciplinary artist and a documentary on Cave, titled "Here." Sep 14-Aug 14, 2017.
Santa Clara Art and Wine Festival
Santa Clara
Set in Central Park, the festival features the talents of local and regional artists with nearly 175 booths, 25 community groups serving international foods, four vintners pouring wines, micro-brewed beer and live entertainment on three stages. Sep 17, 10am-6pm. Sep 18, 10am-5pm.
Citadel Art Studios
San Jose
"Fuse—Cut and Thrust"
Participating artists explore "Cut and Thrust," a fencing and debating term, as a theme, including the deconstruction and reassembling of work to infuse new meaning and combinations. Artwork by Joe Gegan and Trudy Levy will be highlighted, with supporting works by fellow Citadel artists. Sep 10-11.
Phantom Galleries
San Jose
"Old Gods, Chimeras, and Wunderkammers"
For its grand opening, The Pierce presents a mashup of paintings and assemblages that celebrate the imagination of Jenifer Renzel. Oct 7-Dec 30.