Features
Music Listings
Silicon Valley's Culture Calendar for the Coming Season
Intro | Arts | Music | Stage | Classical | Lit | Film
Inverts, Pvblic Bath, Anybody But the Cops, undō @ SJ Salon
Sep 1, SJ Salon
SJ Salon on 10th Street is one of the newest places holding shows in San Jose, and they're off to a strong start. Oakland's Inverts are a sludgy queercore band that channel noise-punks Flipper as much as they do current trans and queer groups like G.L.O.S.S. or PWR BTTM. With them, Pvblic Bath bring the kind of blistering noise that Providence has been known to spawn in recent years. Michigan spazzers Anybody But the Cops, and Oakland's undō open.
Cukui Music Festival @ Great America
Sep 3, Great America
Pacific and Caribbean culture will be on full display at the Cukui Music Festival, with a number of influential artists in reggae, island music, hip-hop, and Latinx-rock performing. Acts include Ozomatli, J Boog, Iamsu!, Morgan Heritage, Tribal Seeds, and San Jose rappers Drew Deezy and Rey Res. DJ sets include Cutso and Goldenchyld from the Bangerz. Tickets to the concert also include access to the park for the day.
Government Flu, Dead Pressure, AninoKo, and Time to Kill
Sep 9, SJ Salon
On tour from Poland, Government Flu are likely to blow the roof off the SJ Salon at this show. The band is named after a Dead Kennedys song, but their music most resembles other hardcore pioneers like Minor Threat, and Poison Idea. With the recent critical success of A24's punk-thriller Green Room, and a whole slew of new voices taking on the genre mantle, hardcore seems to be going through a bit of a second golden age at the moment, and San Jose is making its case as an important stop for international bands in the genre.
Dolly Parton
Sep 24, Shoreline Amphitheatre
Now 70 years old, Dolly Parton has accomplished just about everything a musician could hope for in life. She's been inducted into the Songwriters Hall of Fame, has a star on the Hollywood Walk of Fame, and been nominated for almost 50 Grammys. She comes to Mountain View in support of her 43rd studio album, Pure & Simple. The tour is supposed to be a minimalist affair, free of any big production tricks, giving the audience a chance to see one of America's most beloved songwriters with few distractions.
Drake & Future
Sep 24-25, SAP Center
Just like Dr. Dre in the '90s and Yeezy in the mid-'00s, it would be hard to overstate the influence these two emcees have had on popular hip-hop in recent years. Consider Drake's championing of The Weeknd—along with his confessional lyrical style and sluggish, lean-soaked production values—or Future's viral flow, which has been mimicked by everyone from Desiigner to G-Eazy, and it's plain to see that these two have done a great deal to shape the sounds coming from your favorite rap radio station.
Steve Gunn
Sep 27, Don Quixote's Music Hall  
Fresh off one of the highest reviewed albums of the year, the Matador-released Eyes on the Lines, contemplative folk rocker Steve Gunn stops by Don Quixote's Music Hall in Felton for what is likely to be an intimate show by a very promising young artist. Gunn's guitar playing is airy and intricate; his voice honest and unaffected. The end result is a mellow psychedelia somewhere between Stephen Malkmus' work with the Jicks and San Francisco's Sun Kil Moon.
Blink 182
Sep 28, Shoreline Amphitheatre
For some it's nostalgia, for others it's a sustained fandom, and for a few it is likely the curiosity of seeing founding guitarist Tom Delonge leave the band to pursue UFO conspiracies, only to be replaced by Alkaline Trio's Matt Skiba. Whichever it is, there's a lot of pretty compelling reasons for paying attention to Blink-182 again. After a few less-than-exciting years for the band, there seems to be a kind of latter day mystique surrounding the dick-joke pop-punks.
The Complete Philip Glass Etudes
Sep 29, Bing Concert Hall
The celebrated composer comes to Stanford's Bing Concert Hall to perform his complete set of 20 etudes. Joining Glass are four pianists widely celebrated in their own right: Anton Batagov, Aaron Diehl, Jenny Lin and Sarah Cahill (who many in the area know from KPFA). Written over a two-decade span, the etudes were only recently completed, meaning that this concert is a unique chance to see Glass perform relatively new material, as well as see how the concept evolved over his career.   
The Skatalites
Oct 1, The Ritz
Make no mistake: The Skatalites are a band absolutely at the foundation of Jamaican music as we know it. If you like Bob Marley, you have The Skatalites to thank. The drum beat used in most of Marley's most enduring songs—including "Get Up, Stand Up," "No Woman, No Cry" and "I Shot the Sheriff"—was invented by Skatalites drummer Lloyd Knibb. Although Knibb passed in 2011, the band has continued touring. Don't miss this opportunity to see these pioneers of ska, rocksteady and reggae in the flesh.
Julie Ruin
Oct 12, Rio Theater
People who say punk is dead haven't seen the Julie Ruin live. The current project of Kathleen Hanna—frontwoman for Bikini Kill and Le Tigre, and subject of the documentary The Punk Singer—is a pretty incredible sight to behold. Elements of her previous projects can be heard in her latest work, but this time around the sound she's hitting upon might best be described as a kind of riot grrrl krautrock, which uses repetitive hooks to build tension as Hanna goes wild over the whole thing.
Danny Brown
Oct 12, The Catalyst
Danny Brown is one of the best alternative rappers in the game right now. The Detroit emcee's delirious second album, XXX, is one of the most consistently surprising pieces of music to come out of any genre in at least the last decade. After a somewhat restrained follow-up (2013's Old), the Adderall Admiral comes to Santa Cruz in support of his highly anticipated new record, Atrocity Exhibition. Brown is the real deal, with a voice and delivery like no one else on the scene. And based on Atrocity Exhibition's relentless first single, it sounds like he's going to be hitting the Catalyst at the top of his game.
The Sonics
Oct 16, The Ritz
There's really no way to overstate the importance of The Sonics. You can draw a straight line from just about any rock artist in the last 56 years right to their doorstep. They basically wrote the blueprint for punk and garage rock. Whether you're into rock, punk, or garage, this is a chance to see where a lot of it began.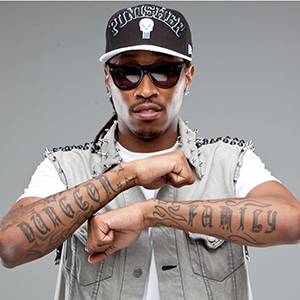 Brand New, Front Bottoms, Modern Baseball
Oct 31, San Jose Event Center
Long Island emo band Brand New has only recently begun to release new material (their first since 2009), but people's excitement about them has not waned in the intervening years.  Coming off a recent co-headlining tour with Modest Mouse, the band brings two of the biggest emo bands to have emerged from the DIY scene in recent years: The Front Bottoms, and Modern Baseball, each of whom could easily pack a large room in San Jose on their own. If you're not one for the capitalist-pagan mashup ritual of dressing up as Spongebob and begging for candy, this is the show for you on Halloween.
SEPTEMBER
Subrosa
Aug 28 - Oort Cloud w/ Purple Bong River
The Catalyst
Aug 28 - X w/ Mike Watt
Sep 10 - Andre Nickatina
Sep 16 - Sharon Jones & Dapkings
Sep  17 - David Liebe Hart in the Atrium
Sep 22 - Del the Funkee Homosapian
Sep 26 - Twin Peaks in the Atrium
Oct 12 - Danny Brown @ The Catalyst
SJ Salon (behind Alpha Printing, 1409 N 10th St)
Sep 1 - Inverts, Pvblic Bath, Anybody But the Cops, undo (see event from Stephanie Chang) @ SJ Salon
Sep 9 - Government Flu (from Poland) @ SJ Salon
Café Stritch
Aug 25 - Tim Angulo Quartet
Aug 26 - Kev Choice
Aug 27 - The Dynamic Miss Faye Carol Residency
Don Quixote's Music Hall Felton
Sep 27 - Steve Gunn
Henry Miller Library Big Sur
Sep 13 - Cass McCombs
Sep 28 - The Mekons
San Jose Event Center
Oct 31 - Brand New, Front Bottoms, Modern Baseball
Rio Theater Santa Cruz
Oct 12 - Julie Ruin
Nov 15 - Neko Case
SAP Center
Sep 24-25 - Drake & Future @ SAP Center
OCTOBER
Jazz 100: The Music of Dizzy, Ella, Mongo, & Monk
Thursday, Oct. 6, 7:30pm
Bing Concert Hall at Stanford University
$30 - $65