Arts
A Culture Warrior Rides High
Video artist Ana Teresa Fernández talks about latest exhibit at de Saisset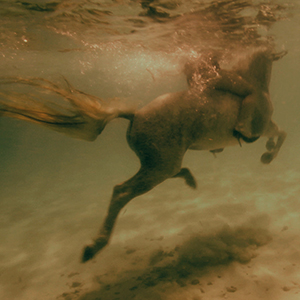 One of the artists most prominently featured in (Re)Writing the Narrative is making a valiant attempt to speak up for the disenfranchised. Ana Teresa Fernández describes her work as "trying to highlight either some event or a people or a place that has dealt with tension or aggression." In this exhibit, all three of her short video narratives address particular political tensions and aggressive stances toward women and minorities—with Fernández as the star.
What's most astonishing about her work, apart from the ravishing imagery, is her ability to feature herself in a scenario without drawing attention to an invented persona or character. She may be the protagonist but her films have nothing to do with a selfie culture helplessly devoted to vanities and narcissism. She is that rare artist who can present a strong self-image without focusing our attention on her person. Once Fernández steps inside the camera frame she sheds the self and becomes a representative: of her gender in Arrastre, as one of the 43 missing Mexican student-teachers in Erasure, or as an emissary of hope at the Mexican-American border in Borrando La Frontera.
For Arrastre, she wanted to invert the masculine mythologies in which a boy enters manhood by mastering a horse. In this six-minute video, Fernández rides a white stallion in the water of a Yucatan cenote, or sinkhole, a so-called sacred well. The film is shot from below the surface, emphasizing the horse's powerful balletic leg movements.
Somewhere in the midst of all this turbulence, on stiletto heels no less, Fernández manages to mount and then ride this kicking, untamed animal. But the narrative isn't just about an artist's mastery over her medium and practice (see Picasso's Boy Leading a Horse). She chose this cenote, a famous tourist site, for a reason.
On a family visit there in her childhood, she says the tour guide "talked about how these places were used as offerings to the gods, where there are hundreds of bones of virgin women found because they were sacrificed."
She isn't presenting her own physical bravado and courage for the viewer's admiration. Fernández performs her filmed narratives, she says, "in a light that makes the viewer want to come to it, that makes the viewer have a little bit more empathy." She's standing in for the virgins, "coming of age by attempting to ride this wild stallion, changing the narrative and the history and providing a different context."
(Re)Writing the Narrative
Thru Dec 1
de Saisset Museum, Santa Clara
scu.edu/desaisset