Arts
San Jose's Most Notorious Painter Exhibits at Cantor Arts Center
Astley D.M. Cooper drank heavily and paid his bar tabs with nudes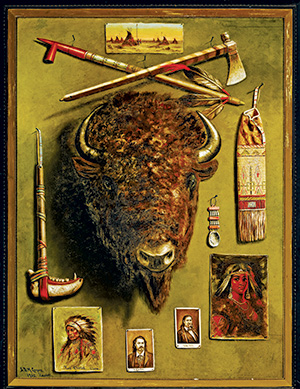 At the dawn of the 20th century, when San Jose's population was around 30,000, Astley David Middleton Cooper (1856-1924) was the town's most renowned painter. A bon vivant and unapologetic drunk, Cooper worked in a faux-Egyptian building at the corner of 21st and San Antonio, paid off his own bar debts with nude paintings, and threw the most raucous parties San Jose had ever seen. To this day, he has a cult following of collectors throughout the South Bay.
But Cooper was more than a lush with a lascivious brush. Case in point: there is only one half-nude in a new show of Cooper's works at Cantor Arts Center at Stanford. "Astley D. M. Cooper and Mrs. Stanford's Jewels," features 15 works, including Wild West scenes, landscapes, oddball portraits, a few seascapes, a giant buffalo head and his famous still life of Jane Lathrop Stanford's jewelry collection. Some of the pieces on display were even a surprise to the show's curator, Annie Ronan, who just finished her Ph.D. in Stanford's Department of Art & Art History.
"I didn't realize he painted landscapes," Ronan says, on a recent afternoon as she walks through Cantor's Lynn Krywick Gibbons Gallery. "He's mostly known as a Western painter. It turns out he was working in all these different genres. And the cool thing is that he's also directly referencing cinema in a lot of ways."
Some of the works could almost qualify as pre-cinematic. Santa Cruz Woods in Morning Light 1887, for example, is just downright eerie, but indicates a fine-tuned sense of the phantasmagorical. It almost looks like several H.P. Lovecraft book covers 100 years later. Devil and the Lady from 1898, seems straight from F. W. Murnau.
Both of these come from the accumulation of Ed Peterson, proving that members of the Cooper Cult often constitute stories themselves. Peterson is about to retire from the Santa Clara County Crime Lab, where he displayed Cooper paintings above his desk because he didn't have room for them anywhere else. Other collectors who donated works include Greg and Petra Martin, who supplied Trophies of the West, a painting of a gigantic buffalo head surrounded by smaller replicas of other Cooper paintings. He apparently knew how to recycle his own work for profit. History San Jose also loaned a few pieces.
"It was kind of an Indiana Jones moment, discovering all these paintings just hiding around San Jose," Ronan says.
The namesake painting in the show, Mrs. Stanford's Jewel Collection (1898), required no digging, as Stanford already owns it. As the story goes, Jane Stanford commissioned Cooper to paint a still life of her jewelry, but the teetotaller did not approve of Cooper's lifestyle. She insisted he show up nicely dressed and sober. As a result, he bailed from the scene and finished the painting at home before displaying it in a local saloon. Stanford later dispatched an assistant to fetch the painting.
Most of all, though, Cooper was famous for the San Jose scene he helped create around the turn of the century. At that time, saloons often displayed paintings by local artists to stimulate conversation. One joint at 53 N. First St. owned so many Cooper nudes that it was named the Louvre Saloon after the Louvre in Paris.
"He wasn't just going to a dive bar and throwing a painting on the wall," Ronan says. "They called themselves 'art cafes' and they were places to contemplate works of art. Exhibition spaces, really. And Cooper was the king of that local art world."
But even with such a reputation, Cooper's work traveled the country, appeared in international expositions and sold for prices rarely paid for contemporary American art. In the 1890s, for example, he sold works for more than $60,000. He was the most accomplished San Jose artist of his time.
"We hear the story, 'Oh, this guy was drunk all the time, he put paintings in bars,' but here was a serious artist who really defined what kind of art was being done in this area," Ronan says. "And speaking in a very clear voice. You get a lot of his personality in his works."
Astley D. M. Cooper and Mrs. Stanford's Jewels
Thru Nov 16, Various Times, Free