Arts
Mexico Movement
Ballet Folklorico de Mexico celebrates tradition, mythology and history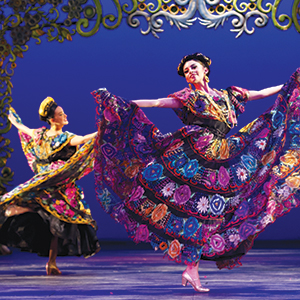 Though the nation we now call Mexico was formally founded a little more than 200 years ago, the country has a vast and storied history. Recognized by archaeologists as one of a handful of "cradles of civilization," the region was home to some of the very first urban settlements anywhere on the planet.
Among the many accomplishments of the pre-Columbian Mesoamerican people: the creation of a complex hieroglyphic system, the development of mathematics and the domestication of cacao. The arrival of Spanish conquistadors was devastating for the indigenous population. However, while the Europeans attempted to impose their worldview on the continent wholesale, the final result of the often violent intercontinental clash was a new and unique culture—one that incorporates elements of Spanish, Afro-Caribbean and native customs into a colorful panoply.
This is the world that Ballet Folklorico de Mexico founder Amalia Hernández Navarro set out to capture when she created her Mexico City-based dance company back in 1962, according to her grandson, Salvador Lopez.
Lopez joined the company in 1985 and took over as executive director after Hernández's death in 2000. He says he mostly works to maintain his abuela's vision, while adding modern flourishes here and there.
The troupe will perform a program that touches on many of the country's most pivotal historical moments and potent myths when it comes to the Hammer Theatre Center this Sunday.
Dancers will depict the Aztec discovery of the Valley of Mexico, home to the ancient Aztec city of Teotihuacan and present-day Mexico City. In another well-known routine that has been with the company since its earliest years, performers will re-enact the a deer hunt. Of course, there will be many flowing, colorful dresses and live mariachi players.
The company is still celebrating the 100th birthday of Hernández, which was in 2017, and this current tour serves as something of a retrospective.
Lopez says he believes the dancers in his group serve as cultural ambassadors to Mexico. "Dance is an international language," he says. "This is a deep expression of how we see our own culture."
Ballet Folklorico de Mexico
Oct 28, 2pm & 7pm, Sold Out
Hammer Theatre Center, San Jose
hammertheatre.com