Arts
'Brian Wall: Squaring the Circle,' Features Recent Work from Sculptor
The de Saisset Museum's latest exhibit showcases the minimalist,
Zen Buddhist-inspired works of veteran sculptor Brian Wall.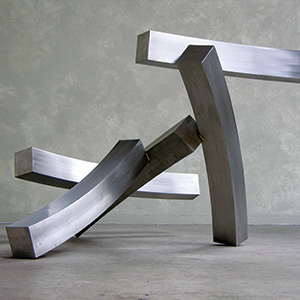 More than any other media, sculpture has undergone a transformation from striving for the most realistic representation (statues and busts) to virtually whatever an artist can put together in three dimensions, using whatever materials he or she chooses. As a result, Jeff Koons can amass a boat load of flowers, Fred Sandback can stretch yarn from ceiling to floor and Felix Gonzalez-Torres can heap a pile of cough drops in the corner and call it a sculpture.
Perhaps that's why Brian Wall's current exhibition, on view at Santa Clara University's de Saisset Museum through June 14, is such a breath of fresh air. Featuring six of the artist's trademark steel sculptures installed inside the museum and three much larger pieces sited outside on the lawn. Complimenting the sculptures is a display of fourteen Sumi ink drawings, reflective of the artist's life-long adherence to Buddhism. It's a quiet, contemplative exhibition with plenty of opportunities for the viewer to make their own personal associations with the work, rather than being bombarded by overt messaging and propaganda.
Brian Wall has had a long and successful career as both an artist and an educator. Born in 1931 and raised in England, Wall was part of the avant garde artist colony at St. Ives in the 1950s. He was an assistant to sculptor Barbara Hepworth before moving to London where he began exhibiting his own work. He was Head of Sculpture at the Central School of Art and Design in London for a number of years before moving to California in 1974 in order to teach at UC-Berkeley.
"Unlike so many artists who create their best work when they are young, Wall's greatest accomplishments occurred in later years," Sue Kubly, co-curator of the exhibition, says of Wall.
Since his retirement from teaching, Wall spends part of each day in his Oakland studio, where hoists and pulleys move large pieces of shaped steel into place. The sculpture, says Wall, "grows out of itself." Eschewing the use of draft designs or maquettes, the artist says that his work "evolves out of an emotive feeling." He likes working directly with the steel, which he says is easy to use because it can be cut, moved around and welded quickly.
"Eventually the work will respond to what I want," he says, adding that he "rarely has to take a piece apart in order to start over."
Art historians have placed Brian Wall within the constructivism movement—an attribution he quickly dismisses. "It doesn't fit because my work is not oriented toward architecture," he says. Instead, he explains, "I feel my work is a response to my way of evolving and developing an idea."
Wall's ideas find their expression in solidly geometric sculptures in which segments of circles and squares are taken apart and welded together in an almost ethereal kind of dance. In "Fugue" (2012), cantilevered sections of burnished steel seem to defy gravity like a house of cards in which one segment is dependent upon another. Nexus points are visible, with welding not polished or chased because Wall wants to show "the hand of the artist."
"Elegy" (2012) consists of six segments of gently arcing steel, resting against each other like dominoes, with the last piece somehow floating above the ground. With all the possible permutations of shapes, one does wonder how and why the artist makes the connections that he does. There is an austere and minimalist feeling to Wall's work, perfectly in keeping with his Zen Buddhist beliefs.
According to Kubly, "Brian's work is relevant because of its purity and the way it is uncluttered in a world of chaos. There is a spiritual quality it transmits."
This quiet approach continues with the Sumi ink drawings, where calligraphic lines and large areas of pigment create abstract shapes. They are almost like Rorschach tests, open to individual interpretation. The day I visited, several students claimed to see their favorite Disney characters in several of the drawings.
That sort of playful reaction would probably please Brian Wall. He says he loves all forms of sculpture, including the anything-goes world of conceptual art.
"People should be involved in whatever they do," he explained. "We are here to make a difference."
Accompanying the exhibition is a fully illustrated catalog, Brian Wall: Squaring the Circle, published by Hackett Mill Gallery, with essays by co-curators Sue Kubly and Peter Selz.