Arts
South First Friday: Bryan Bost Paintings at Pho 69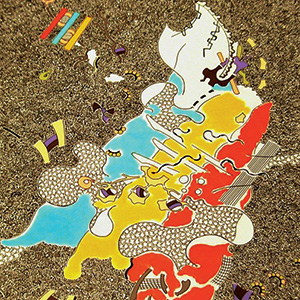 Bryson Bost loves soap operas. "I like that thought that it's kind of a wild cast of characters. ... It's kind of a drama of sorts between everyone. Certain characters are having affairs, certain ones have a mysterious past." But Bost's characters are colors, not people. In his paintings, swooping globs of color overlay intricate pen patterns like those one might find in a mosque, or a distant map. "The color is really doing all the work. Then I just kind of have to go about listening to the color itself," which tells him how to fill in the patterns, he says.
When talking about his paintings Bost often casts himself as passive, and the painting—with its busy colors and characters—as active. He doesn't feel responsible for them most of the time. "Any time like this that I get an interview or a sale, I'm absolutely surprised," he says.
The riotous color and shape of his paintings come as much as a surprise to anyone meeting Bost as they do to him. Sitting in his Santa Cruz home, one might take him for a local surfer: light shaggy hair, tan, laidback.
But a local he is not. He only arrived a few months ago from Oakland, following his fiance. Their engagement fell apart soon after the move. When asked if any paintings resulted from this time, he pointed to Light Mother Light, a triptych viewable on his website. The emotion this viewer gets from the piece is not typical following a serious break-up. It is certainly not calm, but not angry or sad either. Blue, yellow and red dashes catch the eye, and only upon further viewing do the large black splotches become apparent throughout.
Women, along with music, play large roles in Bost's work and life. "As you can see," he says, leading the way into his home, "this is a goddess household." Pictures of Hindu goddesses and Christian saints adorn the walls throughout his house. In his bedroom, a photo of his girlfriend sits on shelves that also hold pictures of Saint Theresa and the Virgin Mary. It is the approachability and nurturing of goddesses that attracts him, in contrast to the stern authority of most male deities.
Bost credits his father, an artist and writer himself, with encouraging his art through this kind of nurturing, rather than dictating his son's style, method or even medium. For a good seven years Bost thought he was meant to be a writer. But the five novels he wrote never received much response. When he moved on to art, the response was much more positive. "I had to surrender to the fact that you don't get to choose what you want to do. Sometimes you have to choose what other people believe you are best at," he says. "You could be bitter about it or you could say, 'Well, I guess that's my calling. It's just a sign.'"
Bryson Bost
Show opens Sep 6, part of South First Fridays