Arts
Review: 'Calendar Girls'
City Lights Theater tackles life and death with a tasteful tease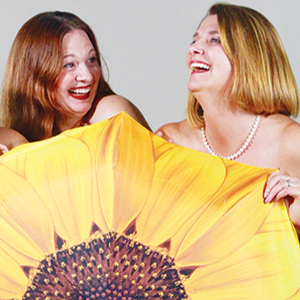 Brassieres fly and guts bust in City Lights Theater Company's hilarious new production of Calendar Girls.
Based on the 2003 hit movie by Tim Firth—the play (also written by Firth) has, since its 2008 premier, run continuously on London's West End, spawning clones around the world. Now for its holiday schedule, City Lights has taken up Calendar Girls to hilarious effect. In case you are one of the four people who haven't seen the movie, here's a quick plot synopsis:
The play opens in the village of Knapely, Yorkshire, at a Women's Institute meeting in a church hall. A group of ladies are practicing tai chi to another's church hymn accompaniment. The sight is both strange and silly, setting the tone for the rest of the play. That's when Anne's husband, John, appears and shocks the group with his dramatic weight loss. The ladies' subsequent compliments hide a real dread, and before long he is dead from leukemia.
Anne finds solace in her women's group—which decides, after some prodding from her friend Chris, to assemble a nude calendar to raise money for cancer research. The idea strikes most of the group as preposterous; but as Chris reminds them "the last phase of a flower is the most glorious." The calendar becomes an overnight success—a global phenomenon, in fact.
What the ladies had thought would be a trifling—if sultry—act of goodwill, spirals out of their control. It forces each of them to confront their own demons and resentments.
As often is the case with an ensemble cast, it can be hard to differentiate between the rapidly-speaking characters. Yet, to their credit, each actor stands out as an individual personality without transforming into a stereotype.
Jessie, played by RuthE Stein, is a former schoolteacher and the oldest of the group—and, as such, possesses the most wisdom. Her hysterical "ruminations" are muted by her unflinching sarcasm. Karen DeHart as Celia is delightfully scandalous—but at the right moments. She also exudes a confidence and an innate elegance not seen in the other characters. Chris, played by Anne Younan, is a sardonic jester, working as a foil for the more serious (and bereaved) Anne (played by Deb Anderson).
While charismatic and funny, Chris has a deeper sense of cynicism that rears its head by the finale. Jeremy Ryan, as Lawrence, plays the determined and awkward, but nevertheless professional photographer, who fumbles through the nude photoshoot, running out of the room every time one of the ladies undresses.
The standout performance comes from Mary Lou Torre, who plays Ruth. Her utter lack of a sense of a humor tickles the audience; her droll, polite, even strange, behavior makes her hilariously endearing and—oddly—the most palpably real character in the play.
The show is both warm-hearted and as dry as gin, a hard combination to pull off without some awkwardness—and it takes a few moments for the ensemble to find its groove. But when it does, the play becomes hugely entertaining. For such a tightly controlled play, there is a sense of spontaneity that devolves into rambunctiousness—though in a resolutely British way.
The spare but precise use of stage elements, props and lighting come together to, if not transport you to Yorkshire, certainly make you forget you're in San Jose. Elements like a Westlife T-shirt and a TESCO bag are the cherry on top.
The true story of Northern English women baring their breasts for a good cause has become a self-fulfilling prophecy, whereby real women (including a middle-aged friend of mine in Oxfordshire) have made the film real by creating their own charitable calendars. To this reviewer, it's the sentiment of finding the best in even the worst situation that has endured through all its iterations. City Lights' production of Calendar Girls is a bitingly hilarious, poignant and life-affirming comedy.
Calendar Girls
Nov. 17 - December 18th
City Lights Theater