Arts
Post No Bills
Some live arts cancelled, others postponed or streaming online during quarantine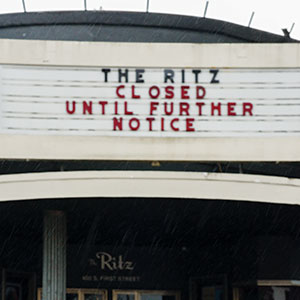 The text on the marquee said it all: "The Ritz Closed Until Further Notice." The news came as a disappointment to fans of Xavier Dprehpaulezz—the imaginative blues singer and songwriter who performs under the moniker Fantastic Negrito—who was scheduled to wow the crowds at The Ritz on March 19.
As the county and state ramp up efforts to prevent a spike in novel coronavirus cases, bars, nightclubs and live music venues are shutting down, and it is unclear when they will open again.
Furthermore, a "shelter in place" order, passed down by the Santa Clara County Public Health department on Monday, means that no one will be heading out of the home for anything deemed "non-essential" until at least April 4—that includes theater, museums, stand-up comedy and rock & roll.
But that doesn't mean the arts will be entirely inaccessible or laying dormant during the quarantine. Arts groups large and small are working to make their presence both felt and seen during these extraordinary times.
Some, like the Hammer Theatre Center and the New Ballet and plan to livestream programs and classes over the web. The Hammer streamed a performance from the Swiss mask theater group Mummenschanz on Monday and Tuesday nights of this week. The New Ballet is offering free online classes to the local community at newballet.com/live.
In an effort to support and show solidarity with the local arts community Opera San Jose has started a relief fund to help its own musicians, artists and artisans who have been impacted by the coronavirus.
While numerous concerts, plays and other forms of live performance have been cancelled outright, many are only being postponed.
The announcement that the NHL would temporarily hang up its skates took a big chunk out of the SAP Center's calendar. Axel, a Cirque du Soleil-on-ice program, which was to run from March 24-28, is also cancelled. Officials with the NHL have said the season is merely on pause and are asking patrons to hold onto their tickets until more information is available. And while ticket holders for Axel will be eligible for a refund, the touring division of Cirque du Soleil is working to reschedule the dates.
The Montalvo Arts Center has announced that it has postponed all live events through April 11. That includes Masters of Hawaiian Music on March 22; The Second City: Laughing for All the Wrong Reasons on March 29; and performance artist Meow Meow on April 9. The center is currently still selling tickets to programs after April 11—including songwriters Steve Dorff and Graham Parker on April 17 and 18, rock & roll photographer Ethan Russell on April 23 and comedian Paula Poundstone on May 7.
Several shows scheduled for the San Jose Civic have been cancelled, including stand-up comic Lewis Black's March 26 performance and French electronic producer Tchami, who was slated to play the venue on March 28. Indie rock legends Wilco have said they will reschedule their March 29 show at the Civic.
Stanford Live, the organization behind all of the university's performing arts programming, has cancelled all shows and events through May 15. The list of cancellations includes a conversation with celebrated novelist Margaret Atwood on April 8 at Bing Concert Hall. The author of A Handmaid's Tale was to speak live in a sold-out event, which has not been rescheduled.
Paul Miller, the multi-talented technologist and artist behind DJ Spooky, was to present a live soundtrack performance to D.W. Griffith's landmark silent film Birth of a Nation, with a live string quartet, on April 15 at Bing Concert Hall. This event has also not been rescheduled.
Stanford is still selling tickets to the 2020 Frost Music & Arts Festival, featuring Mac Demarco. That show is slated for May 16.